Pioneer Elite SC-37 A/V Receiver
Price
: $2,200
At A Glance
: THX Ultra2 Plus certification including Volume Plus • Energy-efficient ICEpower amplification • Cornucopia of listening modes
Listening a la Modes
Must...write...lead.... Knew I shouldn't have left...this...for...last.... Overwhelmed with features.... All those listening modes (gasp).... Running out of space.... Help me.... Help me....
Perhaps I overdramatize. But Pioneer does challenge both the conscientious critic and the discerning consumer with this upper-crust A/V receiver. If you expect a $2,200 product to deliver a rich selection of sonic possibilities, you won't be disappointed. This is an AVR for surround audiophiles with an exploratory bent.
ICEcapades
Pioneer has two A/V receiver lines, of which Elite is the higherend. The SC-37 is the top model among six new ones. Among five older ones, the only one that outranks the SC-37 is the SC09TX ($3,999). However, the latter is getting long in the tooth—it dates from 2008 and uses HDMI version 1.3a, which is not 3D capable.
The SC-37 is certified for 3D-friendly HDMI 1.4a. But its most revolutionary feature is ICEpower amplification. Like Class D amps in general, ICEpower converts an analog input signal into a train of pulses, amplifies the pulse train with rapidly switching output devices, and finally filters the amplified signal to recover the analog waveform (the only kind your speakers will accept). One potential downside is that the switching process generates high-frequency noise that has to be filtered out. This makes Class D controversial in the high-end audio sphere, although there are several high-end implementations. Rotel uses ICEpower in A/V receivers and power amplifiers, and the Jeff Rowland Design Group uses it in its twochannel products. The upside of Class D is that it converts the majority of power input into sound and dissipates far less energy in the form of heat. In a world of climate change and potential energy scarcity, ICEpower and Class D make a lot of sense.
By the objective standards of THX, this AVR is formidable. It boasts THX Ultra2 Plus certification, which means it can produce sound levels of up to 105 decibels in rooms of up to 3,000 cubic feet with viewing distances of 12 feet or more from the screen (and Ultra2 speakers). The Plus part refers to THX Loudness Plus, a listening mode that operates when used at volume levels below the THX reference level. Because the reference level is pretty loud, this would benefit a great proportion of listeners. Loudness Plus adjusts frequency response to account for the way human hearing perceives the relationship of low and high frequencies at lower volumes. It also adjusts the surround channels to restore spatial detail that can get lost at low volumes. Other low-volume listening modes (not present here) include Dolby Volume and Audyssey Dynamic Volume/EQ. They all work well but differently. An AVR doesn't need to have more than one, but it is highly advisable to have at least one. The SC-37 is also AIR Studios Monitor certified—meaning it has been fine-tuned with the participation of George Martin's legendary recording production team.
Attractive features abound. You can control the SC-37 via Web browser. Or if you prefer, a free iControlAV app can turn your iPhone or iPod touch into a remote control. This black box is nothing if not iFriendly—Pioneer even supplies a white cable with an Apple docking connector at one end and USB plus composite video (corresponding to front-panel jacks) at the other. Pioneer's remote can operate over IR or multizone-capable RF, which requires no line of sight and thus has major advantages. Further custom savvy includes Crestron and Control4 interface compatibility. Broadband-related fun comes in the form of access to a Rhapsody music subscription account, Internet radio, and DLNA 1.5 to access content from a PC via router. If you'd prefer Bluetooth, you'll need the AS-BT100 Bluetooth adapter, a $99 accessory.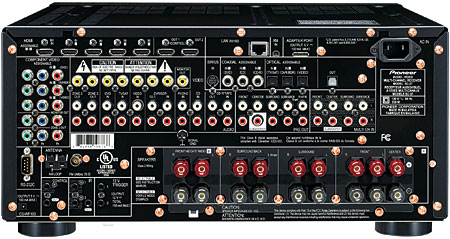 Setup
Although the SC-37 is limited to seven amp channels, it has nine sets of binding posts. You can use the extra set of terminals for one of the following: Dolby Pro Logic IIz processing with two extra height speakers; a proprietary listening mode with two extra width speakers; biamplification of the front left/right channels; or a spare pair of B speakers. Isn't it wonderful to have choices? (You don't have to answer that.)