Phase Technology V52 Speaker System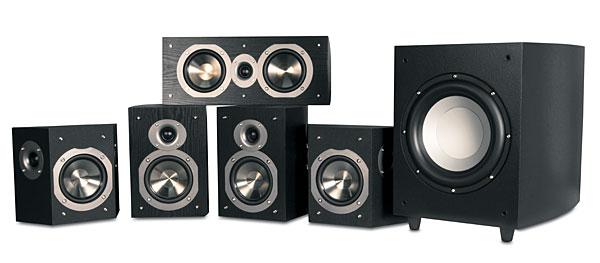 Price
: $1,880
At A Glance
: Innately musical monitors • Bipole/dipole surrounds • Powerful subwoofer
Phase Technology is one of the great American loudspeaker makers. The man behind that achievement was Bill Hecht, a genuine first-generation audio pioneer. This review can't begin without noting his passing last fall at age 89, the end of a life devoted to bringing movies and music into both the public and private realms.
Hecht began his career as an expert in Cinemascope Stereophonic Sound, installing systems at New York's Radio City Music Hall and other pleasure palaces. His company United Speaker Systems (USS) launched in 1955 as he hand-built speakers, including drive units, in his garage. USS got a boost when Avery Fisher offered a commission to build the first Fisher loudspeakers. Hecht earned several patents, most notably for developing the soft-dome tweeter. He also patented a self-damping woofer voice coil, a manufacturing process for flat piston drivers, silicon-injected drivers for resonance damping, and a basketless midrange/woofer mounting system.
Hecht remained chairman of his company until the end of his life. Phase Technology continues as a U.S.-controlled speaker manufacturer under the ownership of MSE Audio and the guidance of Ken Hecht, son of the founder. So the products reviewed here are not the spawn of a brain-dead brand name with no link to its illustrious past. They are as well designed and well voiced as any speakers that have ever worn the Phase Technology badge. They've got the DNA of greatness.
Greatest Hits
Our subjects hail from the newly revised and affordably priced Velocity line. It includes the V626, a dual 6.5-inch tower ($420/each); the V62, a 6.5-inch monitor ($240/each); the V52, a 5.25-inch monitor ($170/each); the V5520, a 5.25-inch center with passive radiator ($280); and the V-Surround-II, a 5.25-inch bipole/dipole surround ($250/each). Reviewed here are the V52 monitor with the center and surround models along with the Power FL-10 subwoofer ($760). Eight- and 12-inch subs are also available (FL-8, $640; FL-12, $920).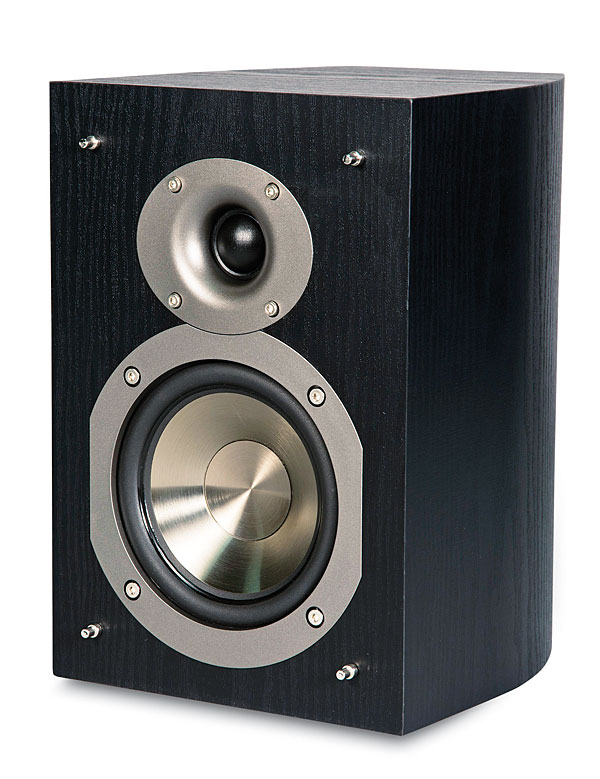 One Phase Technology hallmark shared by all Velocity models is a 1-inch soft-dome tweeter, a blend of silk and synthetic textiles, sealed in a viscous coating; the surround model has two of them firing in opposite directions from a three-sided baffle. The V52 monitor, V5520 center, and V-Surround-II also share a 5.25-inch woofer, made of vapor-deposited titanium over an injection-molded polypropylene cone. A 5.25-inch passive radiator is added in the horizontal center.
A key element in the Phase Technology design philosophy is the trademarked Absolute Phase crossover. This is after all a brand that calls itself Phase Technology. The Absolute Phase crossover ensures that the drivers in a two-way design are both acoustically and electrically in phase, "and thus moving in unison," as the literature informs.
Off-axis response here is intended to closely approximate on-axis response over a defined part of the frequency range, both horizontally and vertically. There are several practical results: The sweet spot is enormous. You can sit a little too high, a little too low, or a little off center and still get timbrally balanced and highly communicative sound. Playing surround material, the soundfield is seamless, with commendably continuous panning in every conceivable direction. Cut down to stereo, a pair of the V52 still produces a solid soundstage with less of the hole-in-the-middle effect that afflicts many speakers as your head deviates from the sweet spot.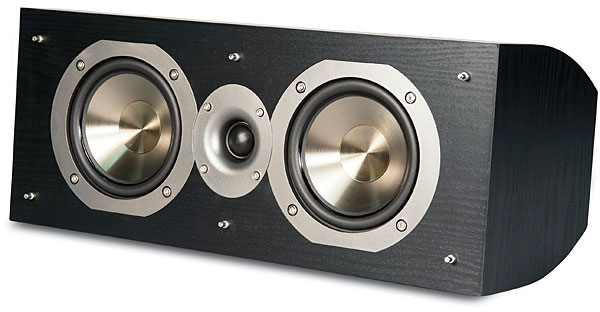 Another designed-in strength of the Velocity speakers is resonance control. Fiberboard enclosures curve in toward the rear, minimizing the bass-muddying coloration that occurs when standing waves bounce between parallel cabinet walls. The enclosure's walls start as a piece of 1.5 inch fiberboard and are shaved to thicknesses varying from 0.625 to 0.75 inches to break up vibration modes.
Phase Technology also makes a big deal of what it calls Low Level Linearity, pointing out that most listening is done at background levels. While the frequency perception of human hearing changes at low levels—that's how nature made us—a mediocre speaker design can make matters worse with muffled highs and anemic bass. The drivers in these speakers are responsive enough to continue communicating when the signal level drops.
Associated equipment included a Pioneer Elite VSX-53 A/V receiver, Oppo BDP-83SE universal disc player, Micro Seiki BL-51 turntable, Shure M97xE phono cartridge, Onix OA 21s integrated amp serving as phono preamp, Lenovo Win7 laptop loaded with high-resolution audio files, and a Wadia 121 USB digital-to-analog converter. All movie demos were Blu-ray Discs with DTS-HD Master Audio soundtracks. All music demos were in high-resolution media, either analog or digital.