Panasonic SA-XR70 Digital Surround Receiver Page 2
OPERATION Setup was quick and painless. The first order of business was to assign sources to appropriate inputs, such as telling the receiver that my DVD player was feeding the HDMI input. I also set speaker size ("large" all around, thank you very much). Had I needed them, there's a choice of three bass-cutoff frequencies for small front speakers (see "key features," previous page), allowing for some flexibility in blending satellites with a subwoofer.

MOVIE PERFORMANCE I started my audition with the Blue Man Group's The Complex Rock Tour Live, a DVD concert video that marries the group's multimedia percussion extravaganza with rock & roll guitars and vocalists like Tracy Bonham. This is a stereo recording, which gave me a chance to check out the receiver's surround-processing modes. DPL IIx really kicked the concert into high gear. In fact, the sound field it created was better than some manually engineered mixes I've heard. It added realistic ambience to the rear without overpowering or muddying the front mix.
PLUS Single-cable HDMI digital A/V input and output. Excellent audio/video performance. Good selection of sound-field modes.
MINUS Onscreen menus through composite-video output only. Does not upconvert A/V sources to HDMI output.
Although I'm not generally a fan of simulated sound-field modes, the Panasonic's modes (Live, Pop/Rock, Jazz, and so on) sounded decent with this live recording. Playing stereo tracks also let me check out the DPL IIx Dimension, Center Width, and Panorama controls (not all receivers have these), which tweak the front/rear and front/center balance of a stereo mix. One negative: when you're using the HDMI input, you can't experiment with DLP IIx or other surround modes.
I can happily report that picture quality via HDMI was superb. This latest-generation connector is the best so far. The progressive-scan picture from the player was beautifully clean and detailed whether I took the HDMI signal directly from the player or through the receiver.
MUSIC PERFORMANCE After whetting my appetite with the Blue Man Group's live concert video, I figured their 5.1-channel DVD-Audio and DTS album The Complex would fully satisfy my hunger. The surround mix sounded awesome. It doesn't compromise for low-budget, small-speaker systems - in tracks such as "Above," low-end percussion, guitar, and synthesizer are aggressively panned to all five channels. If you have an underpowered amplifier or dinky speakers in back, the sound just won't cut it.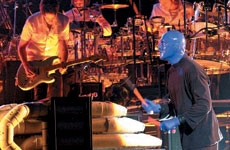 Even with the volume cranked, the Panasonic SA-XR70 receiver delivered all the impact of The Complex, Blue Man Group's live DVD-Audio disc.
The SA-XR70 (and my M&K speakers) really delivered the goods on this complex (pun intended) music. On tracks like "Piano Smasher," subtle sounds are moved circularly around the sound field. This continuum was evenly reproduced without gaps or hiccups in the field.
Even when I cranked the volume to near-concert levels, the sound was absolutely clean in all six channels. Pistol-shot percussion hits had realistic impact. The amps in home-theater-in-a-box systems don't have the juice, and while bigger amps might have played even louder, Panasonic's SA-XR70 hit the sweet spot. Most important, it had plenty in reserve and never distorted. Purists may scoff, but this new generation of digital amps is the real deal.
BOTTOM LINE If you just want to impress your friends, go ahead and buy a traditional huge A/V receiver. But if you want high-quality performance and easy setup at a budget-friendly price, the SA-XR70 has it all in spades - which is also pretty impressive. Sure, it lacks a few niceties you'll find in high-end receivers. But it delivers the basics, and then some, at a very generous price.
LATEST VIDEO