Panasonic SA-XR70 Digital Surround Receiver
A surround sound receiver has a lot in common with a boat anchor. They are both formidably large, usually painted black, and heavy - the heavier, the better. And if you lift with your back (instead of your knees), both can precipitate a trip to the chiropractor.
Fast Facts
RATED POWER 100 W x 6 into 6 ohms from 20 Hz to 20 Hz with maximum 0.09% THD (channels driven in pairs) DIMENSIONS 17 x 3 1/4 x 14 7/8 inches WEIGHT 9 1/2 pounds PRICE $500 MANUFACTURER Panasonic, panasonic.com, 800-211-7262
Fortunately for your vertebrae, there's a new breed of surround receivers. Although they're trim and often share the silver-and-chrome styling of a home-theater-in-a-box console, don't confuse them with their low-end cousins. These new receivers, like Panasonic's SA-XR70, use digital amplifiers to pump out goodly amounts of power and sport many high-end features.
At first glance, the SA-XR70's diminutive size and pretty face might encourage you to take it less than seriously. But that would be a mistake. It delivers 100 watts each to six channels, and it offers 6.1-channel Dolby Digital EX and DTS-ES decoding as well as Dolby Pro Logic IIx and DTS Neo:6 processing for upgrading stereo and other sources. It's also one of the first receivers to offer the hot new High Definition Multimedia Interface (HDMI), which means that instead of running a bunch of cables for the audio and video connections from a DVD player, you could use only one. The small, rectangular HDMI digital connector can deliver images up to 1080p resolution plus six-channel sound. I have two things to say about that: 1) Sweet. 2) It's about time.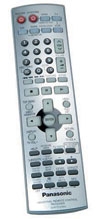 SETUP Given a spiffy new fully digital receiver, it only made sense to mate it with a correspondingly spiffy DVD player. So I selected a Panasonic DVD-S97 for the job. This slim player has all the bells and whistles I could want (like Faroudja upconversion to 720p/1080i) and, most important, sports an HDMI output. With two HDMI cables (one comes with the player, none with the receiver), I was able to quickly connect player to receiver and receiver to a 50-inch, HDMI-equipped Sam-sung HDTV.
Plugging in the HDMI cables, I checked out the SA-XR70's rear panel. I expected it to be pretty bare, because HDMI makes everything simple, right? Instead, it was jam-packed with RCA jacks and other analog and digital connectors, which is good because it lets you hook up all your "old-fashioned," non-HDMI gear.
Key Features
• HDMI input and output • 6.1-channel Dolby Digital EX, DTS-ES, and DTS 96/24 decoding • Dolby Pro Logic IIx and DTS Neo:6 processing for 5.1- to 7.1-channel playback from 2- and 4-channel sources • Selectable high-pass crossover for front channels (100, 150, or 200 Hz) • 2 component-video inputs, 1 output • 4 composite/S-video inputs (1 on front panel); S-video and 2 composite-video outputs • 4 digital audio inputs (2 optical, 2 coaxial), 1 optical output • 6-channel analog audio input • 5 analog audio inputs (1 on front panel), 2 outputs • Subwoofer line output • AM/FM tuner with 30 presets • Headphone jack • Preprogrammed system remote control
On the downside, the onscreen displays are sent only to the composite-video output. Not a big deal - the menu is pretty sparse to begin with and mainly provides access to one-time setup choices. A more serious deficiency is that composite- and S-video input sources aren't upconverted to component-video or HDMI format. What goes in is what comes out, through the corresponding connector. That defeats the elegance of HDMI, because you'll still need to run wires to your TV for non-HDMI sources. It also means you'll need to keep your TV's source-selection button handy to switch inputs.
LATEST VIDEO