Onkyo TX-NR3010 A/V Receiver Page 2
Speaking of radio, if you have diverse tastes in Internet radio, this is the receiver for you. Among the streaming services it sports are vTuner, Pandora, Spotify, Rhapsody, Sirius/XM iRadio, Slacker, LastFM iRadio, Aupeo, and MP3tunes. It does not, however, support connection of a Sirius/XM satellite antenna—Sirius/XM comes via iRadio only.
A few noteworthy events occurred during setup: The receiver took 90 minutes to update its firmware. This may have been due to the Cisco SimpleTap feature being available via update. Audyssey MultEQ XT32 directed me to adjust the sub's volume dial with a test tone so that an onscreen bar indicator read 75 dB. The bar took several seconds to respond to each setting change, but after about two minutes, I nailed it. Getting the sub's volume within a range that Audyssey can handle can only be a good thing. It gives the room correction a better chance at getting the bass right—and bass adjustment is often the single biggest contribution a room-correction scheme can make to your system's performance.
As usual, Audyssey identified my speakers as large (with 40-hertz crossover), and I upped the crossover to the THX-approved 80 Hz. The bass response of my speakers is down 10 dB at 40 Hz, according to our original measurements, so the Audyssey-approved settings would have resulted in a big bass hole. Pretty much all receivers do this. I was hoping MultEQ XT32 would be hip to this phenomenon, but it wasn't.
The receiver detected an Ethernet connection immediately, and once I OK'd media sharing on my Lenovo Win XP desktop PC, I could use DLNA to pull music off the hard drive. I also plugged the optional UBT-1 Bluetooth adapter ($60) into the front-panel USB jack, and once I'd figured out that the pairing process would work only if the receiver were set to its USB input, I was able to stream from a 2G iPod touch.
Associated equipment included five Paradigm Reference Studio 20 v.4 speakers, a Paradigm Seismic 110 subwoofer, Oppo BDP-83SE universal disc player, Lenovo Win 7 laptop, and Wadia 121 digital-to-analog converter (connected to the laptop via USB for access to high-res audio files). All movie demos were Blu-ray Discs with DTS-HD Master Audio soundtracks.
On the Cool Side
The TX-NR3010 was a strong all-around performer. It had plenty of power when the going got tough. Its personality was on the cool and clinical side, with no added warmth, though it certainly had the clean and controlled top end of a carefully designed receiver. It brought consistent satisfaction and occasionally moved my note-taking hand to superlatives.
The Flowers of War was the highlight of the movie demos, telling the story of women sheltering in a cathedral during World War II's brutal siege of Nanking. The opening credits mentioned Joshua Bell on solo violin, and sure enough, just as I read his name, he popped up in the soundtrack. The violin, as well as the choir singing, was set well back from the space between the speakers, showing off the receiver's fine depth perspective (this would recur with the orchestral selection in the music demos). A handful of military scenes featuring shots and grenades showed off the receiver's ability to depict trajectories and to control traumatic bass events.
The most aggressive demo was Real Steel, in which father (Hugh Jackman) and son bond over their common interest in giant robotic boxers. (Sugar Ray Leonard is credited as boxing consultant.) This clattery and thunderous soundtrack was the only one that moved me to engage Audyssey Dynamic EQ and, at its lowest setting, Dynamic Volume—the amp was just too brutally honest about the barrage of sonic mayhem to be tolerable anywhere near reference level. Amid the noise, Alexi Murdoch's opening song was the best Nick Drake impersonation I've heard on a movie soundtrack.
7 Below is a standard—well, below-standard—story of callow travelers trapped in a remote haunted house with a creepy guy. The low thunder constantly pervading the first half was a stronger character than any of those portrayed by actors, except maybe Val Kilmer, and here the receiver's objective personality served the material well, filling the soundfield with vivid rumbling and churning information. Though not laid back, the presentation had ease, but with a controlled sense of authority. In all movie selections, no matter how the voices were recorded, dialogue clarity was satisfactory, always a big part of any receiver's job.
High on High-Res
Lately I've been grooving on high-res 24/192 downloads of Blue Note albums from HDtracks. Wayne Shorter's Speak No Evil places the leader's sax and Freddie Hubbard's trumpet on either side of the soundstage with Herbie Hancock's piano and the rhythm section of Ron Carter and Elvin Jones in between. Though the receiver did nothing to sugarcoat the top end of the twin lead instruments, it did deliver them with the kind of meticulousness that was easy and pleasurable to listen to. Carter's bass and Hancock's piano were both superbly imaged between the speakers—in fact, to make sure none of the stereo-to-surround modes were engaged, I checked the settings and double-checked by putting an ear to the center speaker.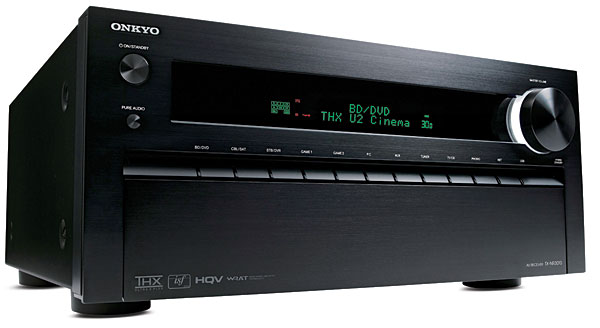 Otis Redding's Sittin' on the Dock of the Bay (also from HDtracks in 24/192) offered this receiver's knockout moment and was a particular triumph for Audyssey MultEQ XT32. When comparing room-corrected and pure-signal modes, I often find the room-corrected version more revealing in some ways, especially imaging and bass, but also unpleasantly thinner, harder, and unmusical. In this case, there was no contest: XT32 delivered all the imaging and bass optimization but with none of the listening fatigue lesser room-correction systems often introduce. It was effortlessly and unerringly musical. The unvarnished signal (in Onkyo's Pure Audio mode) was vague and washed out by comparison. The receiver also tapped gratifyingly into the characteristic warmth of the recording—especially Redding's emotionally subtle vocal shadings—without fumbling the groove or dumbing down the bite of Steve Cropper's electric guitar in "Let Me Come on Home."
The Complete Overtures of Haydn were performed by Manfred Huss and the Haydn Sinfonietta Wien on a Bis CD remastering of a Koch/Schwann recording. The austere sound of the period instruments— especially the violin's acerbic edge—were tailor-made for exposing the receiver's clinical top end, with or without room correction. In compensation, the receiver brought out the depth of the recording. This added some welcome complexity to the string sound and accentuated the slap of the brass instruments against the hard walls of the venue.
The Onkyo TX-NR3010 has a feature set that is practically unique, including MHL smartphone connection and InstaPrevue HDMI-select, both of which are good functional steps forward. I can't stress enough how significant Audyssey MultEQ XT32 is—any manufacturer that wants to compete at upper-echelon price points had better get on that bandwagon fast. The receiver-as-amp, at more than two thousand bucks, sounded merely as good as it should, not transcendent. Even so, that extra power should come in handy if you insist on running all nine channels with the latest disposable modes—or if your basic 5.1-channel array just needs a little more power. Onward into the future.