Onkyo's New Mid-Priced AVRs Boast IMAX and THX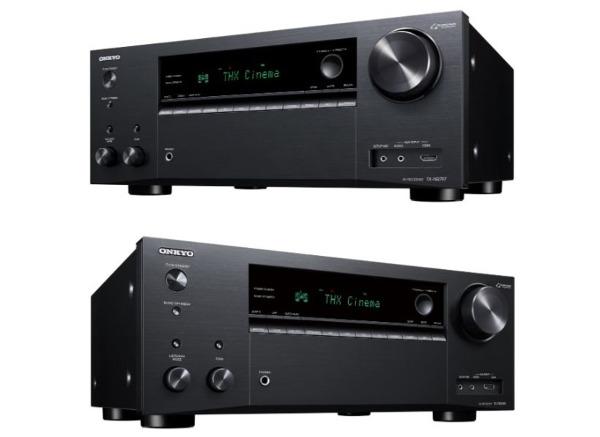 Onkyo is covering the home theater bases with two mid-priced AV receivers that boast THX Select certification, processing for both Dolby Atmos and DTS:X immersive surround sound, and the company's first implementation of
IMAX Enhanced
technology.
The 9.2-channel TX-NR797 ($699) and 7.2-channel TX-NR696 ($599) are FTC-rated to deliver 100 watts/channel into 8 ohms and accommodate 5.2.4 or 7.2.2 and 5.2.2 Atmos/DTS:X speaker layouts, respectively, in addition to Dolby Surround and DTS Neural:X up-mixing for legacy formats.
A future firmware update will activate IMAX Enhanced processing on the TX-NR797 and Dolby Atmos Height Virtualizer (on both models), which creates a virtual surround and height effect without having to add additional speakers; the update will also activate DTS Virtual:X processing on the NR696.
The NR797's IMAX Mode activates DTS:X decoding that's optimized to "reproduce the full dynamic range of IMAX theatrical sound mixes available in digitally re-mastered IMAX Enhanced content." To date, only a handful of IMAX Enhanced titles have been released but more are on the way, including the IMAX original film, Space Station, slated for release July 9.
In addition to supporting hi-res audio and 4K/high dynamic range (HDR) passthrough, both models include a refined HDMI board, isolated network board, and strengthened power-supply line to combat noise plus a custom-built high-current/low-noise power transformer, custom capacitors, and "discrete non-phase-shift" amp topology for stability with 4-ohm speaker loads. Connections include a phono input and six (NR696) or seven (NR797) HDMI inputs and two HDMI outputs.
Onkyo's AccuEQ Advance room calibration system, which measures sound at nine positions, is featured on the NR797. The NR696 is equipped with AccuEQ with subwoofer EQ plus AccuReflex phase-adjustment for optimizing sound-field clarity with Dolby Atmos-enabled speakers (both models).
Both AVRs provide ready access to Amazon Music, Spotify, Pandora, Tidal, Deezer, TuneIn internet radio and support Bluetooth streaming and multiroom audio via Works with Sonos, Chromecast built-in (with a software update), AirPlay 2, DTS Play-Fi, and Onkyo's FlareConnect. The Sonos certification lets the receiver tie into a Sonos system when a Sonos Connect amplifier is in place.
Onkyo said it has paid special attention to making amplified audio distribution easy to use. The NR696 has separate Zone 2 speaker outputs, enabling connection of a 7.2-channel surround system and Zone 2 speakers with switching to a 5.2-channel plus Zone 2 layout for simultaneous playback of unique or synced audio sources without needing an external amplifier. The NR797 adds a third digital-to-analog converter (DAC) and assignable speaker outputs to enable unique or synced source playback in Main, Zone 2, and Zone 3, depending on the surround system layout. Both also support front-channel bi-amping.
The AVRs also feature a Zone 2/Zone B line-out supported by a Zone 2 DAC. When set to Zone 2 mode and connected to a compatible audio component, the same or different digital sources can be played in either or both rooms at the same time.
New features include a Stereo Assign Mode that switches playback from Front L/R to Height speakers (or surround/surround back depending on configuration) for ambient background listening and a five-step Vocal Enhancer for movie dialogue.
For more information, visit onkyousa.com