Norah Jones Gone Wild!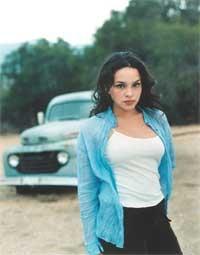 Don't know why anyone should be surprised that Norah Jones is loosening her shirt more and more these days. After all, growing up, the ingénue liked Mötley Crüe! "My neighbor and I would go listen to Mötley Crüe all the time," she says of the boys at right. And in her concerts, she's been known to do a gritty cover of "Ride On" by the boys Down Under, AC/DC.
Now she's getting around town on CD, too. Okay, her vocals for "Virginia Moon" on the acoustic half of In Your Honor weren't raucous. But hey, this was the Foo Fighters - just look at 'em up there! And take a gander at Norah hanging out at the pool hall with her side project, The Little Willies (Milking Bull/EMI). Love that name - even if it's actually an homage to Willie Nelson. There's nothing little about our honky-tonk woman's frisky vocals on "I Gotta Get Drunk." Speaking of which ...
... who's that hanging out at the liquor store, asking Norah to come away with him? Why, it's Mike Patton - and damned if she doesn't do it for a track on his new project, Peeping Tom (Ipecac). That track, "Sucker," has Norah oozing: "What makes you think you're my only lover / The truth kinda hurts, don't it, motherf---er." Wowzer! Feels like Norah's far from home after all!
more of this month's entertainment Back to Homepage What's New on S&V