No Time to Die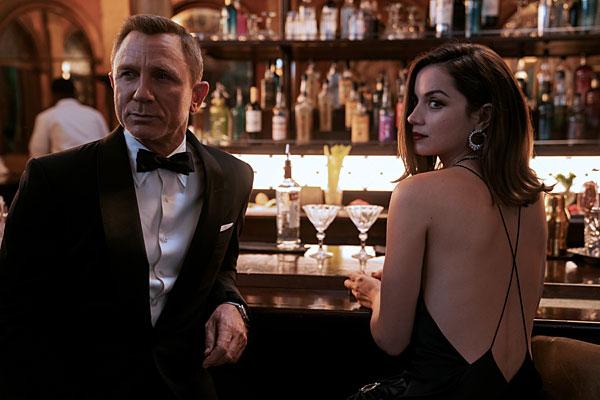 No Time to Die
does much to evoke the feel of classic 007 adventures while also creating something new, different, and quite entertaining.
The clarity in the sprawling vistas and picturesque global locations is nothing short of breathtaking, with hard delineation and crisp outlines at various levels of focus. At the same time, close-ups can be stark and immediate, a boon to Mr. Craig's mug which has gained so much character over the years. Contrast and highlights are pleasing owing to the Dolby Vision high dynamic range implemented for this Ultra HD video master. Colors are remarkably strong throughout, with the no doubt symbolic use of warm twilight tones in many scenes.
The accompanying Dolby Atmos soundtrack provides an effective underscore to the action, serving to heighten our engagement from the quieter beats to the intense swells. In one early moment an aggressive hail of bullets pelts an impenetrable car from all directions (with us inside) and this scene is surely destined to be one of my favorite audio moments of 2021. Hans Zimmer's first-ever Bond score draws from a range of musical inspirations, at times channeling John Barry's weepier moods. Dialogue is consistently well-balanced within all the commotion.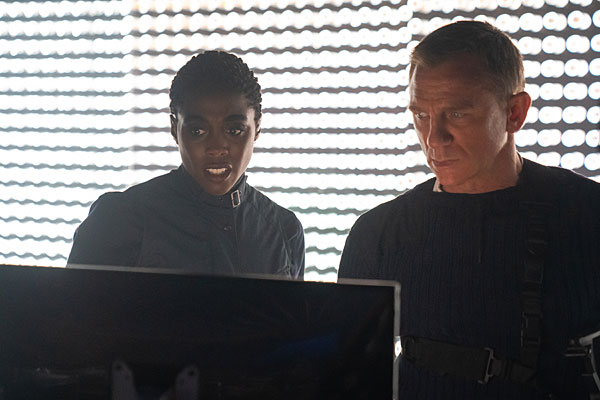 Four extra featurettes are mostly predictable in their subject matter but classier than usual in their execution. The elaborate "Being James Bond" is the standout among the bonus content, an interesting tribute to Daniel Craig that explores his decade-and-a-half tenure as Bond using voiceover and keenly edited behind-the-scenes footage. Unfortunately, there's no audio commentary and, in a real head-scratcher, the supplied digital copy version of the movie is Apple-exclusive.
ULTRA HD BLU-RAY
STUDIO: Universal Studios/MGM, 2021
ASPECT RATIO: 2.39:1
HDR FORMAT: Dolby Vision, HDR10
AUDIO FORMAT: Dolby Atmos with TrueHD 7.1 core
LENGTH: 163 mins
DIRECTOR: Cary Joji Fukunaga
STARRING: Daniel Craig, Léa Seydoux, Ana de Armas, Lashana Lynch, Rami Malek, Ralph Fiennes
Daniel Craig's fifth and final outing as the world's most famous secret agent (umm...) is a fitting farewell to an era that saw old-school spy James Bond struggling to find his place in the contemporary world. That's no small task when his reputation as a gun-toting, martini-swilling, two-fisted womanizer precedes him, and so the plots often revolve around his apparent unsuitability for the job of protecting England and the rest of the planet—before he proves the haters wrong, of course. This time, a frightening new technology has the potential to target specific individuals or wipe out vast populations with equal efficiency, and the evil master- mind who intends to use it has a very personal connection to Bond. The stakes are high and the thrills real, with plenty of the adrenaline-pumping car chases and wild stunts for which this enduring franchise has become legendary. Although a bit longer than it needs to be,