NJ Record Shop Is Home to Many Classic Gems
Darren Revilla is an avid collector of vinyl LPs and vintage audio gear. If you're looking for an album from an obscure band no one (except collectors) has ever heard of, he's the guy you ask. He's also the owner of Revilla Grooves and Gear, the retro-cool shop specializing in vinyl LPs and vintage audio gear he opened five years ago in the heart of Milltown, New Jersey, 15 minutes from the main campus of Rutgers University in neighboring New Brunswick.
I wrote about Revilla's passion for vinyl in 2016, around the time the store was celebrating an incredibly successful first year. That has success has continued unabated. Two years ago Revilla moved into a more spacious location just down the block. Apart from accommodating twice as many record bins (for a total of around 15,000 records), the new spot has more wall space for highlighting special finds like a near-mint copy of the 1958 Miles Davis classic Milestones (yours for a hundred bucks), and a lot more room for showcasing vintage gear that runs the gamut from classic receivers, preamps, and power amps to open-reel tape decks, turntables, and speakers.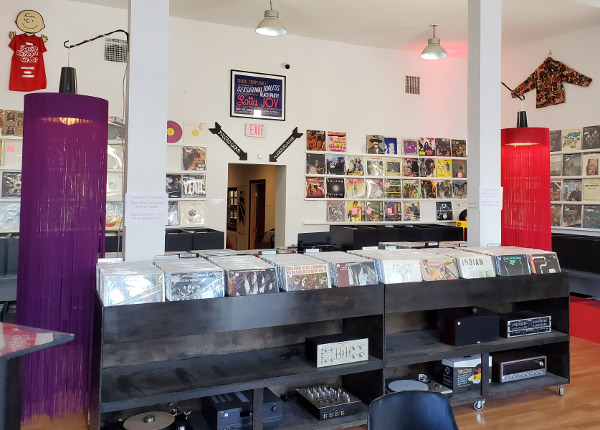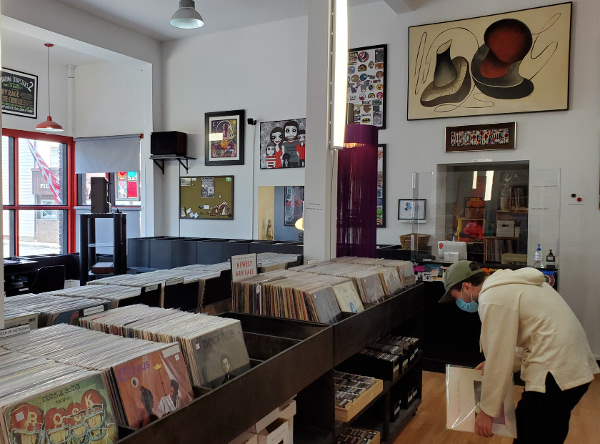 The store has something else the original location didn't have: a listening room so customers can audition gear they're interested in buying. "It has been a huge plus," Revilla says. "People get so excited. Last week I had a guy who asked if he could come in and do a little YouTube video as part of a record tour in and around New Jersey. He had no idea we had a listening room so when he walked in and saw the setup, he said, 'This is my dream room — this is what I want in my house.'"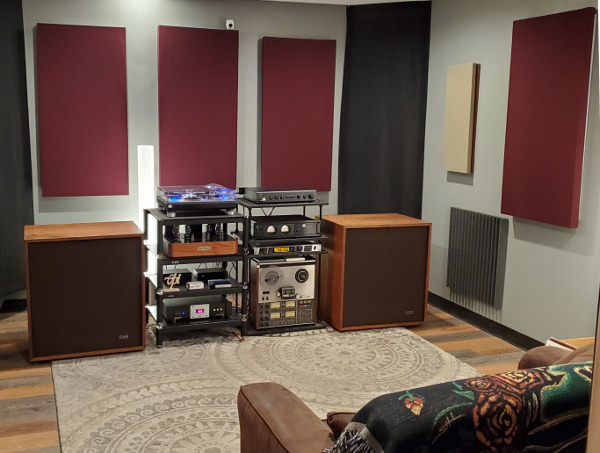 Like most retailers, Revilla had to get creative to keep his business afloat during the pandemic lockdown so he began offering gear online. "I kept hearing that the online market for gear was wild so I tried my hand for the first time in over five years at selling online again [on audiogon.com under the user name "drevhud"] and, sure enough, it was true. The stuff was flying out the door between March and June. "It's become such a great part of what we do here that I have people who come in just for the gear. And it keeps them coming back."
That's because Revilla has a steady flow of classics coming through the door. "The way it generally goes is somebody brings us a piece of gear they haven't touched in 20-30 years and they always say, 'It was working the last time I used it,'" he says with a chuckle.
Equipment that arrives in working order is typically tested, cleaned up, and put out for sale. Common fixes include "pots (potentiometers) that are always dirty and noisy and lights that are almost always out." Gear that's dead on arrival goes out to the electronics restoration specialists at Branson Sound Works in Hampton, NJ for an electronics (and sometimes cosmetic) overhaul.
Recent acquisitions include a slate of gear from the 1970s: two classic stereo receivers and a set of Altec Lansing Valencia 846B speakers (shown above and in the listening room photo) featuring the company's signature compression driver (a.k.a. horn) above a dual-ported 15-inch woofer. The 846B is not as big as the iconic Voice of the Theatre that dates back to the 1940s but, at 30 x 27 x 20 inches, it ain't small (or light) either; each speaker weighs 114 pounds.
The speakers are on consignment for a friend of the shop — singer/songwriter/producer and longtime Patti Smith bass player Tony Shanahan. "They're in beautiful shape," Revilla says. "If you have a low-power amp, this is the perfect speaker; Altec's original spec sheet lists "pressure sensitivity" as 97 dB SPL, measured at 4 feet with a 1-watt input. In other words, it doesn't take much to drive these speakers to insane volumes.
Dating back to 1976, the Marantz 2240B receiver has undergone a complete electrical restoration and is encased in the original solid-wood case, which was an upgrade back in the day. It's spec'd to deliver 40 watts RMS a channel into 8 ohms and boasts bass, midrange, and treble controls, two sets of speaker outputs, and a super-cool "gyro-touch" AM/FM tuning dial. The condition of the wood is a little rough but the receiver's overall condition is good. Check out classic-audio.com for more detail on the 2240B.
"When customers come in and see the blue lights they go batty for it," Revilla says. "Everybody loves the lights on these old receivers — they also love the wood box. A lot of folks who come into the store are just getting back into the audio game and will jump at a piece in this price range ($470) because they know the Marantz name and love the way it looks. Then you plug it in and demo it for them and they're sold because it sounds great and is simple to operate."