Vinyl Obsession: Revilla Grooves on Main Thrives in the Age of Streaming
I'm sure I wasn't the only local who was surprised (or puzzled) to see an old-school record shop open up in Milltown, NJ, 15 minutes from Rutgers University's main campus in New Brunswick. A welcome addition but I wondered how long a store specializing in LPs and vintage audio gear would last. Could it survive in the age of Spotify? A year after opening its doors, Revilla Grooves on Main is not only surviving but
thriving
, according to Darren Revilla, who turned his longstanding love of vinyl into an online business called Revilla Grooves and Gear five years ago. He still uses Revilla Grooves and Gear when he sells records online or at shows like Brooklyn's famous
WFMU Record Fair
.
Revilla, a former DJ, has been collecting records since he was a kid. He began asking his mother to buy him records when he was 8 and eventually joined the RCA Record Club before graduating to "digging" at the Englishtown Auction, one of the area's oldest and largest flea markets. In 1995, he bought his first collection from a local he knew as Filthy Rich, the Record Bum. "He'd go around finding records in the garbage or at flea markets and resell them," Revilla recalls. "At the time I was a novice and didn't know anything about buying collections so I bought his entire room for a thousand bucks, which turned out to be about 2,000 records. Over time I ended up throwing way most of those records but I did score the Velvet Underground's White Light/White Heat and a record that's really important to me: Journey to Bliss by Emil Richards & the Microtonal Blues Band." That was the first of many collections to come.
His first encounter with the Princeton Record Exchange, a legendary record store in nearby Princeton, NJ, was a memorable one. "I was so hyped to go to the store that I forgot to put money in the parking meter and got a ticket," Revilla recalls. "But it didn't matter: I was at the gates of heaven. You could find Neil Young's Harvest in the dollar bin back then. I remember getting Zappa's We're Only in it for the Money and Just Another Band from L.A. for two, three dollars and I was like, oh, this is amazing. That was a crazy time when collecting went from a mild addiction to I gotta go to this store once a week." In 1997 he got a job there, which he describes as "the most exciting thing that ever happened to me at that point."
Revilla's vinyl obsession continued to grow. While working at the Exchange he learned the business "inside-out" and amassed a collection of 7,000 albums, some of which began selling online. And then it happened. In 2006—now married, the father of a 5-year-old daughter, and juggling DJ gigs and his longstanding day job at a catering company—he hit the motherlode, just as he was about to give up records: The parent of one of his daughter's friends tells him about a "serious" record collection that had been owned by his deceased father. After three years of hearing about it, Revilla finally gets the call to come over.
"I go to the house and it's a basement full of 78s—probably15,000 records—and some gear. That was really the early beginnings of what would become this store. I know a little about 78s so I go right to the Vocalion section. He had them all alphabetized by label and in number order. I start looking and these are real blues records from the 1920s and '30s. After spending an hour down there I tell Steve's mom I want to make an offer. I say I'm willing to pay this much, take a week to think about it, but can I have these three or four records right now? She says okay, take 'em in good faith. One of them is a Muddy Waters pre-Chess but it's hammered, really destroyed—I put it up online and got $30 or $40, which is great for a record in that condition. Then I pulled Albert Ammons, the piano player—I didn't know much about it at the time—but it was a 12-inch 78, Blue Note No. 2 with a pink and black label. The promos at that time had pink labels. This has got to be something. I put it online for a one-week auction and it sells for $1,300 to a guy in Japan. That was my first taste. This is serious. So my collection went from 7 or 8,000 to over 20,000. Now records are everywhere."
The experience was a turning point that put Revilla on the path to opening Revilla's Grooves on Main in 2015.
I have 20-year-olds who are looking for the cheaper Neil Young records — just like I was when I was in college. They're as excited as can be.
S&V:
So I have to ask—what did you pay for that collection?
Revilla:
I paid $10,000 but made that back on probably 10 records. So now I'm knee deep in 78s and vintage gear and we have our second kid. Then I get a call from Steve George (whose father owned the 78 collection) and he says, "Now you really owe me." He connects me with his father's best friend's wife and they invite me in to see his collection, which is equal in size to the George collection. They were hesitant at first but I ended up doing the same deal with them and cleared out the basement. The records were all 78s—blues, jazz, and dance bands—but they weren't as great as the previous collection so I had to sell a few dozen records to pay it off.
After I bought that second collection (also for $10,000) I was really determined to get out of my day job. So I started traveling up and down the East Coast buying more collections. A year and a half later, I left my job and never went back. The very next day I was doing eBay full time and running 40-50-100 auctions a week with items starting at $20. All the while I kept telling myself I'm never going to own a store. Why would I want that burden?
In 2014 I did my first WFMU Record Fair in Brooklyn, which is a big, big record show. I went all out with matching crates and a big banner and I've never made so much money in one day. And I'm brand new to this—I've done maybe three or four shows. So I started doing more record shows and I was meeting more and more vendors who have stores and/or sell online. I put myself out there so they were starting to find me and now I have guys from Brooklyn to Tokyo coming to my house and storage unit buying whole boxes of records at deep discounts. I wasn't selling as much stuff online as I had been and friends keep telling me, you should have a shop. The whole time I'm saying, no, I'm not going to open a shop.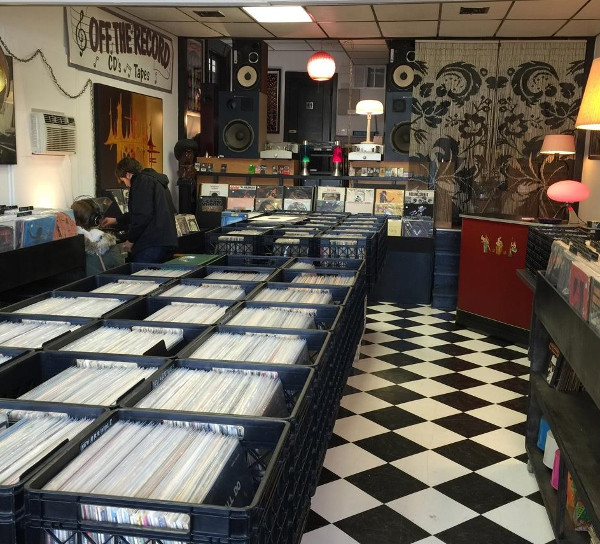 Finally, I asked a friend who's a realtor to start looking for spots. A couple things open up but they weren't very good and I'm thinking if that stamp store on Main St. ever goes out of business that would be the place. Then, no joke, all the stuff in the windows comes down and they put up newspapers. I'm like, that's it. I pursued it and got the lease.
The owner was wary at first. A record store—are you crazy? I said, trust me, trust me. And the property manager said, give this guy a shot. He seems legit. I already had my business license so it's wasn't like I was starting from scratch.
S&V: So here we are coming up on your one-year anniversary—congratulations! How's it going?
Revilla: I'm very surprised at how well it's gone. I thought I'd be nervous and struggling but I have diverse options for selling so it has not been a struggle. I'm finding success.
S&V: What's the mix of people walking in off the street versus those coming in with a recommendation or through the network, so to speak?
Revilla: The mix is amazing. It makes me feel really good about music all over again. There used to be certain records you wouldn't buy when you were out in the field because you'd have them forever or you'd have to toss them but these are things people are looking for today. It's really exciting. I have high-school kids coming in who just want to build up a great classic rock collection. So for them a $3 Rush record, Fly by Night, is fantastic. It used to be that you'd have to sell a VG-ish Fly By Night—one that's not clean enough for a collector—for a dollar, or not put it out at all. These kids are looking for inexpensive records and they're so happy to get them.
S&V: And they're actually playing them?
Revilla: They're actually playing them. I have 20-year-olds who are looking for the cheaper Neil Young records—just like I was when I was in college. They're as excited as can be.