New Gear: Onkyo CS-445 and CS-V645 Stereo Systems
Anonymous (not verified)
|
Nov 8, 2010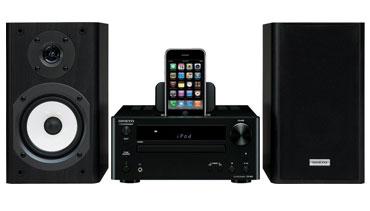 The holidays are approaching, which means big box electronics stores are starting to dangle mostly-awful iPod dock speaker systems in front of would-be consumers like bait. Thankfully, Onkyo isn't taking that approach, instead they have announced two new stereo systems designed for small spaces or even your shelves.

Both systems have a 40 watt amplifiers and two, two-way bass-reflex loudspeakers with 1-inch soft dome tweeters and Onkyo Micro Fiber woofer cones. The higher-end CS-V645's receiver is a CD player and upscaling DVD player in addition to its duties as an iPod docking station. It also has an FM tuner with 20 presets. It will be available in December for $400.

When you step down to the CS-445, you'll only pay $329, but you'll get slightly smaller speakers and give up the DVD playback, though. On the plus side, you do add AM radio and a total of 40 preset radio stations. It will be available this month.

While neither one is really suited to be your main listening station, they seem like the might be great options for guest rooms or other small spaces that still deserve big sound.
WHERE TECHNOLOGY BECOMES ENTERTAINMENT