MUSIC REVIEWS: Ry Cooder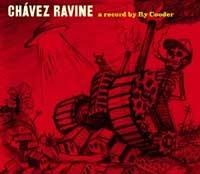 Chávez Ravine Nonesuch/Perro Verde
---
Music •••½ Sound ••••
Guitarist Ry Cooder's latest project is a concept album centering on L.A.'s Chávez Ravine, a Mexican-American cultural enclave that was paved over in the 1950s. Ultimately, Dodger Stadium was built there.
Cooder moves between songs about the vanished Ravine culture (and the political chicanery behind its demise) and actual tunes from the '40s and '50s, newly performed by barrio legends like pachuco singer Lalo Guerrero. Some of the tracks evoke the period, referencing the Red Scare vis-à-vis the repression of social progress, TV's Dragnet (Jack Webb is sampled at one point), and even that exemplary Cold War phenom the UFO. Yet the most effective cuts here are the less ambitious ones.
This CD is a valuable history lesson, but the songs that stick are those like "Muy Fifí," "Chinito Chinito," and even Leiber/Stoller's "3 Cool Cats" - all of which have a lot of irresistible Chicano charm.
LATEST VIDEO
WHERE TECHNOLOGY BECOMES ENTERTAINMENT