MUSIC REVIEWS: The Cash Family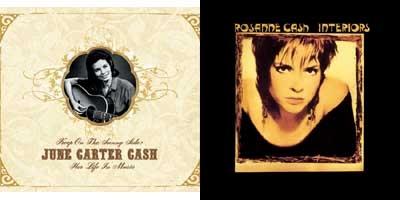 "I hear the Man a-comin' / He's rolling 'round the bend - on 104 tracks!" Or so you'll sing in praise of the Man in Black's big boxed set, The Legend (Columbia/Legacy). His name, of course, is Johnny Cash, and the box serves up four CDs of songs that include seven previously unreleased performances. Spring for the deluxe limited edition and you also get a bonus CD of his 1954 radio debut, a bonus DVD of his 1980 TV special, a coffeetable book, and a lithograph.
Speaking of DVDs, there are other Cash titles for your collection: The Man, His World, His Music (1968-69 doc, Sanctuary), Ridin' the Rails (1974 TV special on trains, Rhino), and Live at Montreux (1994, Eagle Eye).
Columbia/Legacy also celebrates Johnny's wife, June Carter Cash, with the two-CD Keep On the Sunny Side: Her Life in Music. And his daughter Rosanne Cash sees Expanded Editions of Seven Year Ache, King's Record Shop, and Interiors in late August. Come November: the biopic Walk the Line, with Joaquin Phoenix and Reese Witherspoon.
WHERE TECHNOLOGY BECOMES ENTERTAINMENT