MUSIC REVIEWS: The Band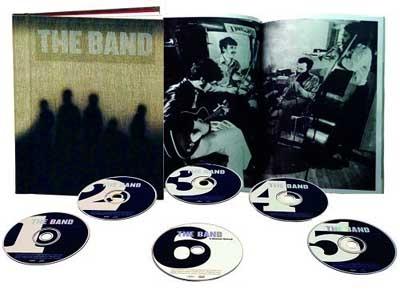 A Musical History Capitol
---
Music ••••½ Sound ••••½
The Band Eagle Vision
---
Program ••••½ DVD Picture/Sound •••• Extras None
This is a pretty good time to be a fan of the Band. They recently appeared in all their rarely seen 1960s glory in Martin Scorsese's Bob Dylan documentary,
No Direction Home
, and now they're really getting their due via a superb boxed set and a fascinating look at the making of their most celebrated album.
A Musical History is, not to mince words, definitive and indispensable. An all but perfect overview of the Band's career, it has five CDs arranged more or less chronologically, with scads of previously unreleased and rare tracks. And the sixth disc is a DVD of concert appearances, including their 1976 stint on Saturday Night Live, released uncut for the first time.
The first CD is the most revelatory, including some of the intriguing flop singles the Band did before hooking up with Dylan and making history. The fifth CD is the least interesting; there's no use pretending that their final work wasn't their patchiest. But overall, there's so much gorgeous music here, it's almost embarrassing. If you haven't listened to the Band lately - if you think of them only as a sort of country-rock institution - you're going to be very moved. It's not a stretch to say, for example, that "The Night They Drove Old Dixie Down" is one of the most remarkable songs written in English in the second half of the 20th century. The only fly in the ointment: Rob Bowman's liner notes. They're informative, but they're also rather gracelessly written.
The Eagle Vision DVD is from the company's acclaimed series of Classic Albums - and here, the album in question is the Band's self-titled second release, from 1969. Most riveting are scenes with co-producer John Simon, drummer Levon Helm, and songwriter/guitarist Robbie Robertson isolating parts from the multitrack master tapes. There's wonderful early rehearsal footage, too, as well as poignant interviews with late bassist Rick Danko. Best of all, keyboardist Garth Hudson improvises some of his Charles Ives-like solos. He says very little (mostly, he laughs), but the music speaks volumes.