MUSIC REVIEW: Ray Davies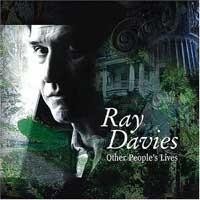 Other People's Lives V2
---
Music •••• Sound ••••
Given his daunting back catalog, it's understandable why Kinks leader Ray Davies took years to be satisfied enough with new material to release the first true solo studio album of his four-decades-plus career. Worth the wait? You bet.
Other People's Lives
is a panoramic collection by this ever underheralded, ever influential songwriting giant. Time spent in pre-hurricane New Orleans inspired several tracks here: the travelogue of "The Tourist," the swampy "The Getaway (Lonesome Train)," the R&B-tinged "Thanksgiving Day." The overall mood is reminiscent of 1971's rootsy Kinks klassic
Muswell Hillbillies
- but not the tone. The rapping "Stand Up Comic," the riff-driven "All She Wrote," and the hook-filled "Over My Head" all sound as fresh as most of what passes for rock these days. Fresher, actually.
WHERE TECHNOLOGY BECOMES ENTERTAINMENT