MUSIC REVIEW: Joss Stone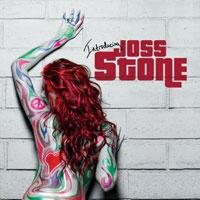 Introducing Joss Stone Virgin
---
Music •• Sound •••
Joss Stone apparently thinks she has more than one chance to make a first impression. She debuted in 2003 with
The Soul Sessions
, an album of obscure R&B covers that announced her voice as one to be reckoned with. She followed that in 2004 with
Mind, Body & Soul
, which she called her first "real" album. Now she has titled her third set
Introducing Joss Stone
, as if to say that this is
really
her first "real" album.
But Joss Stone is no Shelby Lynne - and at 19, she's a little young to be making repeated arguments for new beginnings. Besides, her progress is more cosmetic than substantive, as she has crossed her conception of old-school soul with latter-day hip-hop. Introducing derives as much from Mary J. Blige and Missy Elliott as it does from Aretha Franklin and Mavis Staples. That would be an audacious hybrid, had she pulled it off. But the album fails to convey a sense of Stone as an artist in her own right, despite the fact that she has written nearly all of her own lyrics for the first time. Instead, we get a collage of influences delivered with strained, affected vocals that we're supposed to receive as incontrovertible evidence of soul.
Stone's close-miked singing is precocious in the negative sense, as she oversells her lyrics with a heavy-breathing delivery that borders on Mariah Carey-like excess. Maybe it's the overheated way she sings "Bay-bay-ay-ay" and the calculated cracks in her voice. Maybe it's the tired turntable scratching and audible vinyl ticks, nested awkwardly in Seventies-style soul settings. Maybe it's the way she bears down on every syllable as if imparting words of earth-shattering significance. For whatever reason (all of the above?), this album rubs me the wrong way. It reaches a crescendo of overkill on "Music," a well-meaning love song to, well, music, which borrows the chords from the Spinners' "I'll Be Around" but is oddly joyless and culminates with an incoherent rap from space case Lauryn Hill.
If Introducing is supposed to be Stone's most naked (see CD photos) and honest self-representation, why has she dyed her hair, covered herself with Sixties-era body paint, and concealed her essence within a contrived and derivative soul/hip-hop hybrid? Is it possible that there's less to Joss Stone than meets the eye?
more Entertainment reviews Back to Homepage What's New on S&V