MUSIC: Father and Son Thompson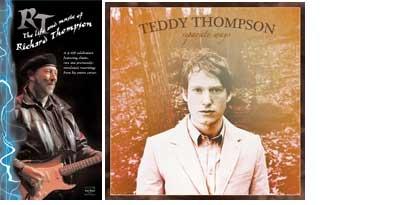 Richard Thompson RT: The Life and Music of Richard Thompson Free Reed
---
Music ••••• Sound ••½ to ••••
Teddy Thompson Separate Ways Verve Forecast
---
Music ••• Sound ••••
Announced last year but delayed until now,
RT: The Life and Music of Richard Thompson
is a treasure trove of rare and previously unreleased material that will enthrall knowing cultists. And for the uninitiated, the boxed set will go a long way toward catching them up on a remarkable career.
First, the numbers: 5 discs, 85 tracks, and 5½ hours of music spanning 34 years (1971-2005). A bonus CD comes with the first 5,000 copies, and a lily-gilding 172-page book fills out the box. Mostly live, with a sprinkling of studio and home-demo work, the material is truly raw: wild variations in sound quality and unfaded track transitions suggest an amateur taper's enthusiastically compiled sampler. But the recordings capture a vibrancy that beats any production polish.
The songs are organized into categories like "The Essential Richard Thompson" (as voted by fans) and "Covers and Sessions" (with covers ranging from the Who to Britney Spears). His 1970s work with then-wife Linda is well represented, and these performances show her at her most nuanced - a revelation compared with her more typically one-dimensional vocals on their studio albums. Thompson's guitar solos are especially impressive on a disc of "Epic Live Workouts" ("Calvary Cross," "Drowned Dog, Black Night"). And even the most devoted fan may never have heard some of the "Real Rarities," which include many of his funniest concert moments ("Dragging the River," "My Daddy Is a Mummy," "Dear Janet Jackson"), highlighting the sharp humor that belies a chiefly dark body of work.
The limited-edition sixth disc offers another 17 tracks of Thompson as performer or composer, mostly compiled from other Free Reed collections (for the likes of Fairport Convention and Martin Carthy). This batch of extras is less essential and more peripheral to Thompson's career, but it does have some intriguing standouts, like Elvis Costello's version of "End of the Rainbow" and Fairport's odd take on "The Lady Is a Tramp," a 1969 BBC Radio recording featuring one of Thompson's earliest vocals.
Overall, the box is skewed toward the unplugged. Of course, Thompson is no slouch on acoustic guitar - and to be fair, much of his touring over the past 25 years has been solo acoustic. But some of his songs ("Shoot Out the Lights," "Valerie") scream for the full-band electric treatment, which they don't get here. In contrast, the 1993 three-disc compilation Watching the Dark offered much more in the way of electricity, although it relied more heavily on previously released studio recordings. Taken together, the two packages complement each other nicely.
The accompanying book, written by producer Nigel Schofield (surely a candidate for Thompson's No. 1 fan), is a gorgeous finishing touch to the box. Fat, glossy, and colorful, it includes a 24-chapter career overview, a detailed discography, rare archival photos, notes on every track (including those on the bonus disc), and an absorbing 12-page interview with Thompson himself. Here, with trademark caginess, he describes his music as "not English traditional, but an extension of that, going off at a slight tangent. Forward, but not straight forward."
In the shadow of this imposing talent, Thompson's son Teddy has released his second album, Separate Ways, which is satisfying in a Crowded House sort of way. Guests include Richard & Linda and Teddy's fellow next-gen singer/songwriters Rufus and Martha Wainwright (whose father, Loudon, collaborated with RT in the 1980s). TT shows none of Dad's edginess but plenty of his lyrical moodiness. Perhaps in 34 years, these unassuming beginnings will have blossomed into the seasoned magnificence of his father's life and music.