Murder on the Orient Express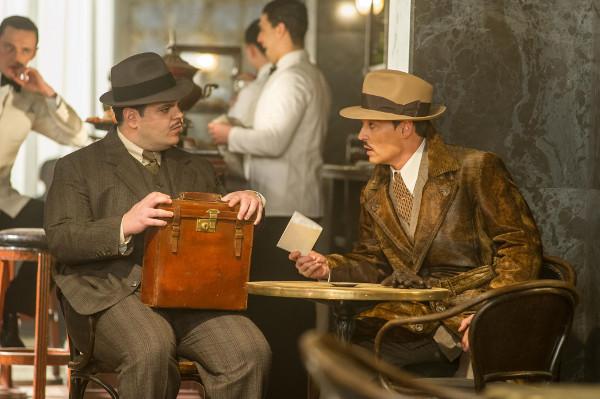 Murder on the Orient Express
, playing the author's beloved Belgian detective Hercule Poirot. In a story based on the infamous 1930s kidnapping of the Lindbergh baby, someone is murdered on Poirot's train, and the perspicacious detective must uncover whodunit amongst the gathering of motley passengers. A lavish production with early 20th century glamour, this
Orient Express
is expansive in its visual style and features taut suspense and direction. The A-list cast of actors includes Branagh, along with Penélope Cruz, Willem Dafoe, Daisy Ridley, Leslie Odom Jr., Josh Gad, Johnny Depp, and Judy Dench.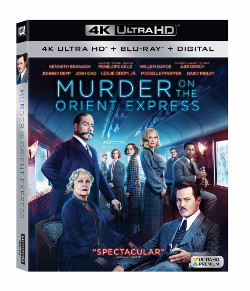 Shot in the 65mm 5-perf vertical format on Panavision 65 HR and Panavision Panaflex System 65 Studio cameras and mastered with a 4K DI with Dolby Vision for theatrical exhibition, Orient Express arrives on 4K Ultra HD in a HEVC 4K transfer with HDR10 framed at 2.39:1. The image is as good as it gets and showcases the incomparable beauty of 65mm film. Texture and depth-of-field are astounding, and the enhanced color that HDR brings dazzles not just with on-the-nose flesh tones and rich midnight blues, but nuanced shading in clouds and earth tones during the film's early part. The wide dynamic range provides fantastic shadow detail, evident in a shot of a lamp lit in the corner of a dark cabin.
Orient Express gets a Dolby Atmos mix for this Ultra HD release, one that effectively engulfs the viewer in the experience of riding the rails. Cutaway scenes provide the most roar as the sound of the train fills the overheads, but the mix is well-balanced overall with lush atmospherics and clear dialogue.
Fox loaded this release with an abundance of highly watchable special features, including a stellar audio commentary with actor/director Kenneth Branagh and screenwriter Michael Green. Most noteworthy is the brief, but no less interesting Agatha Christie: An Intimate Portrait, which explores the author's life and career through archival photos, snippets of an audio interview, and a new interview with Christie's grandson, Mathew Prichard. A three-part "making of" featurette, Unusual Suspects, clocks in at over 17 minutes, providing a cornerstone for the ample behind-the-scenes featurettes. A Blu-ray disc and Movies Anywhere digital copy are here as well.
Studio [and film release year]: Fox, 2017
Aspect Ratio: 2.39:1
Audio Format: Dolby Atmos with TrueHD 7.1 core
Length: 114 Mins.
Director: Kenneth Branagh
Starring: Kenneth Branagh, Penélope Cruz, Willem Dafoe, Daisy Ridley, Leslie Odom Jr., Josh Gad, Johnny Depp
Kenneth Branagh has spent his career as an actor and director tackling the classics, from Shakespeare to Mary Shelley, and this time out he dives into Agatha Christie's famous mystery