Monoprice Wows Enthusiasts with Price-Busting AV Gear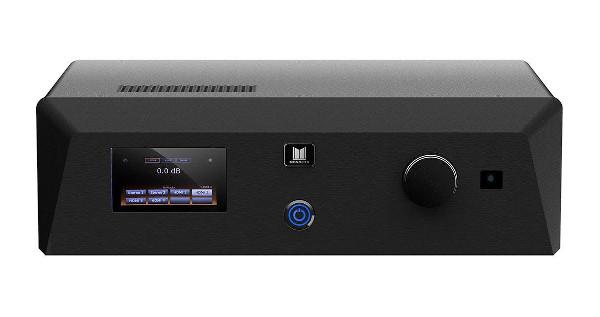 Monoprice shows no signs of pulling back from its mission of delivering quality AV gear at prices "significantly below industry standards."
The Brea, California-based company unleashed 11 audio products at CEDIA Expo 2019, ranging from a $100 portable digital-to-analog converter (DAC) to a 16-channel home theater processor that sells for $4,000 — all part of its three-year-old Monolith line.
In speakers, the company pulled the wraps off the Monolith THX-460T/465T floorstanding speaker that mates a 1-inch silk-dome tweeter and 2-inch silk-dome midrange driver with four 6.5-inch woofers in a slender 55-inch cabinet. The tower is THX Ultra-certified and offered with or without an up-firing Dolby Atmos-enabled driver complement at $1,000 or $850, respectively. It's rated down to 29 Hz or 45 Hz when its port is plugged.
The only other new speaker offering is the Monolith M-215 subwoofer, a 16-Hz-capable design with two 15-inch drivers in a vertically oriented ported enclosure that will sell for $2,500.
In AV electronics, Monoprice is showing the Monolith HTP-1 Home Theater Processor featuring up to 16 output channels with flexible speaker assignment, Dirac Live room correction, the latest generation AKM4493 digital-to-analog converters (DACs), and onboard Dolby Atmos, DTS:X, and Auro-3D surround processing. The processor will sell for $4,000 when it ships in late 2019.
The company is also rolling out three compact DACs, all designed by Alex Cavalli: The Monolith Liquid Gold Balanced Headphone Amplifier and DAC ($1,000), a smaller version of Cavalli Audio's Liquid Gold Amp offering computerized control of all features, including turn-on sequencing and DC offset detection; the Monolith Liquid Platinum DAC ($500), featuring an AKM4499 chipset and the choice of unbalanced RCA or balanced XLR inputs along with USB, optical, and coaxial digital inputs; and the Monolith Liquid Spark DAC offering an AKM4493 chipset for only $100.
Monoprice's CEDIA offerings are rounded out by the $400 Monolith Balanced Headphone Amplifier featuring THX Achromatic Audio Amplifier (AAA) technology, described as a low-noise/distortion amp that's capable of powering even the most demanding headphone, and four new planar-magnetic headphones: $600 Monolith M1570 and $400 Monolith M1070 ($400), both featuring a 4-inch planar driver, the $300 Monolith M570, featuring an open-back wood housing and a 3 x 4-inch planar driver, and the $150 Monolith M350 in-ear model for on-the-go listening.
For more information, visit monoprice.com.
Related:
Sound & Vision Top Pick: Monoprice Monolith THX-365T 5.1.4 Speaker System