Mobile Home Wonder
Nearly 5 years ago, I read an article in the Lifestyles section of the Orange County Register that caught my attention. A family in an average Orange County neighborhood put in a front projector and large screen to enjoy big screen movies at their house with friends and family. They told of how wonderful it was to see movies at home this way and I wanted to explore that experience.
Phase I
During this time my wife and I had moved in to take care of her aging parents in a large mobile home ( 2 bedroom but almost 2000 sq. ft.) they had retired to years before. They had a nice size living room that seldom got used so I determined it would be perfect to try out big screen movies at our house. After doing my homework, 6 months and $4,000 later I had an Optoma 1080i front projector, a 108 in. pull down screen, a Yamaha 5.1 surround sound receiver with a Sony DVD player. Home movie viewing was everything I had hoped for!
Phase II
Two years ago I decided to take our home theater experience to the next level. After checking a number of my past issues of Home Theater Magazine for ideas, I began a makeover of that living room into a dedicated home theater. I've never been afraid of starting a project in our homes over the years but this one kept expanding. Fortunately for me, my father-in-law probably said ok every time somebody wanted to add more supports under his coach. "That has worked out well for me.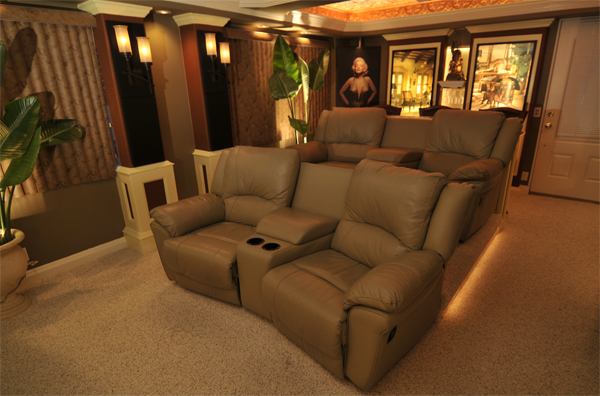 With only dark paneling on the walls, I added wallboard to all the theater walls for sound control. Columns were built not only for theme and appearance but to hide my Klipsch speakers around the room. Actually I have the potential for 11.x surround as technology catches up with my column locations. After the seating was set up for optimum viewing and sound enjoyment, lighting was my next challenge.
Like seeing a good movie, I wanted my room to take me someplace exotic every time I came into it. Presently I have 15 separate lighting circuits (most all dimmable) that change lighting scenes from floor to ceiling, from bar to stage, from warm tones to mystic blues. I don't always know what music I want to listen to until it happens and that goes for my lighting scenes. Lighting makes the room-at least until the movie starts. Actually I put in a separate electrical panel just for the theater room that could handle 6,000 watts of power if I this obsession for lighting never lets up.
With 5 adult children and 3 grandchildren thus far, a full pallet of entertainment is a must. The 2 flat screens under the arch (that can both be pulled out away from the side wall), are up to the task for internet access, Wii, PS3, Karaoke, and separate sports channels on the weekend. We had a coat closet just outside of the former living room that turned out to be a natural for conversion to an equipment closet. I built the rack that rolls out for easy equipment servicing and have a quiet but powerful built-in fan to pull in cool air when a lot of the AV equipment is active. Every step of construction I did myself but I brought in a licensed electrician to check my electrical work. His only comment was that much of my wiring was "overkill". I thought electrical work was like speaker wiring- the better the grade of wiring the better the results.
The 4 leather seats fully recline for a siesta or great music listening. Sometime this year I hope to put in a star ceiling where the recliners will again earn their keep. In the back of the room, under the (lighted of course) copper ceiling, is a bar that can seat 4, a lighted wine cabinet, and (2) 24 in. x 60 in. backlit panels. They can accommodate 2-sided movie posters or 2-sided prints of family or scenes from the other side of the world. In between the backlit panels is a working 8mm movie projector that reminds my grown children of how far home movie technology has come in one generation. The build-out of this room went way over projected costs (especially for a mobile home) and construction time. But having a room like this…priceless!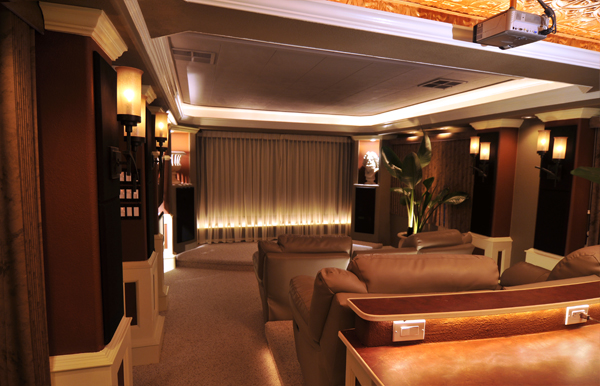 Phase III
Since my AV equipment is sneaking up on 5 years old, it's time to upgrade just about everything. My Home Theater Magazines have been continually educating me and I plan to use this knowledge to make some informed choices on equipment. Currently I use an I pod Touch as a wireless keypad and mouse as well as accessing our music library. Nevertheless, the new I Pad has everything I could hope for and will be added to the room very soon. Also, I want to put in 4 steering wheels at the back bar for some competitive road racing. There seems to be no end to the electronic toys parade. The theater room at our house is ready. Bring it on!