McIntosh MX134 Preamp/Processor & MC206 Amplifier
Despite its conservative McIntosh combo is one hell-raising stack of gear.
My 12-year-old son, Nikolas, pays close attention to the equipment that rotates through my home theater system. In addition to being genuinely interested in the stuff, he also has a vested interest in keeping track of the gear and how it operates, since he's determined to destroy his brain cells by playing video games on the system after school with his brother. I've warned the two of them that it's a slippery slope: First it's video games, then it's on to cocaine and heroin. Unfortunately, they're oblivious to these—and most of my other—parental concerns. The first thing this young rapscallion said when he saw the McIntosh MX134 pre/pro sitting in the rack was, "Gee, Dad, it looks old!" Well, the MX134, along with its companion MC206 six-channel amplifier, doesn't exactly look old—it doesn't sport any rust or faded lettering—but "old school" is certainly an apt description.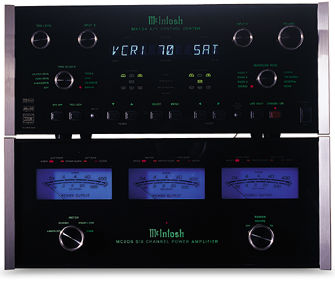 It's a look you'll either love or hate. Without hesitation, I love it. Its full-front glass faceplate, large knobs, soft-blue LEDs, understated green-backlit lettering, and rock-solid feel make the MX134 ooze character and class. The design and performance of the MC206, with its polished-glass faceplate and trio of large, alluring, blue meters, is the electronic incarnation of Teddy Roosevelt's famous phrase, "Speak softly and carry a big stick." (I try to type softly and do a parenthetical shtick, but that's another story.) Together, the pair presents a vision of substance and quality that not only looks expensive but looks like it's worth every darn penny. There's no attempt to be hip or trendy; it's just classic class.
Although the once-staunchly proud American-owned McIntosh became a staunchly proud Clarion-owned company some time ago, McIntosh has pretty much remained faithful to their roots of unpretentious design and engineering integrity. Open up one of their preamps or amps, and you'll find plenty of handwritten initials on the circuit boards, a testament to the amount of human-hand craftsmanship that goes into building these beautiful boxes. I must admit that I've always had a soft spot for McIntosh. Although they've been a little sluggish coming to the home theater party, it's nice to see this soft-spoken giant standing tall again.
The MX134 is two preamps in one, combining a full-fledged home theater pre/pro for primary use with a two-channel A/V preamp that controls a second zone plus the recording outputs. Even though I'm absolutely infatuated with multiroom gear, I'll be the first to admit that multiroom systems can sometimes be frustratingly difficult to operate. The MX134 is a stellar example of how it should be done.
The inputs for zone A, the theater zone, are selectable via remote or by turning the knob located immediately to the right of the central blue LED display window, which indicates the selected zone A source, the volume level, and the zone B source. The zone B inputs are selectable either via a knob, symmetrically located to the left of the display window, or from a remote keypad (McIntosh or Xantech). Aside from the choice of input (which is available from the front panel because zone B controls the record outputs), you can only access other zone B functions from a keypad or remote eye located in that zone. (If you're a keypad fan, you can also use one to control zone A.) Conveniently, there's a system-off button on the front panel that allows you to shut down both zones simultaneously, plus a record-lock button that prevents zone B listeners from spoiling a recording-in-progress by changing inputs. For homes that require more zones, the McIntosh CR16 Multizone A/V Control Center adds another four zones (actually, you can use six CR16s for up to 24 more zones). All you need is a single DB37 cable to connect all of the MX134's A/V inputs to the CR16.
All 11 of the MX134's A/V inputs are available in any zone, although only analog audio and composite/S-video are output to the additional zones. You can rename any of the A/V inputs and assign the six digital inputs and two component video inputs to any input you choose. If an input isn't needed, you can turn off access in the setup menu, which makes it quicker to toggle through the available sources. An unusual feature is the ability to add the optional TM1 AM/FM tuner module. John Henkel, senior electronics design engineer at McIntosh, says that the $500 TM1's performance is identical to that of the separate MR85 tuner, but its cost is significantly lower because it's just the guts of the tuner.
There are so many other cool things about the MX134, it's hard to decide where to begin. Take the volume control, for instance. John Henkel calls it a "digitally controlled analog volume control." It's actually a ladder network of resistors that are added to or subtracted from the analog circuit by a digital controller. It's very precise (all eight channels track within 0.5 decibels), wonderfully responsive, and totally quiet—with no audible pops or clicks when you make adjustments at any level. John explained that another unique aspect is the inclusion of an op amp capable of handling +/-15-volt swings as compared with others that commonly only accommodate +/-5-volt swings. The wider input range results in a better signal-to-noise ratio and an unhampered, naturally neutral sound. The MX134 enthusiastically handled the multichannel aggressiveness of "Our Man in Istanbul" from Steve Stevens' Flamenco.A.Go.Go yet preserved every subtle nuance of Bucky Pizzarelli's live quintet performance in a New York jazz club on the Swing Live DVD-Audio release.