May 2023: News & Gear from Around the World of AV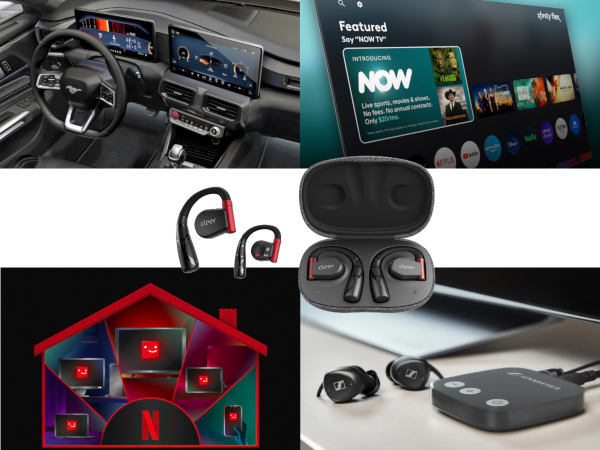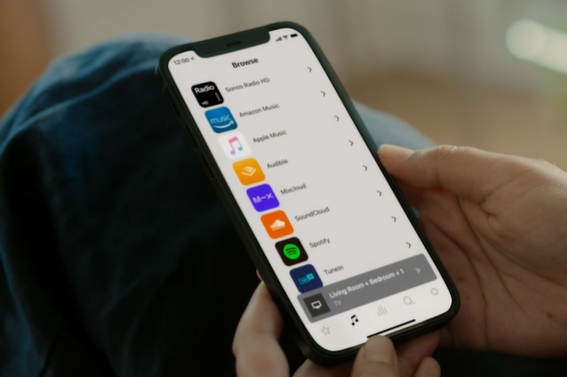 Sonos: You Can No Longer Play Music Stored on Your Android Phone
In case you missed it, wireless speaker pioneer Sonos quietly issued a notice earlier this month to inform users that it is "removing the ability to play audio files directly to Sonos using the 'On this device' menu in the Sonos app for Android." The change went into effect on Tuesday (May 23).
The company goes on to recommend alternate ways to play files stored on an Android device:
1. Stream music stored on your Android device to a Sonos product that supports Bluetooth. These include Move and Roam portable speakers and the recently introduced Era 100 and Era 300 speakers. Sonos provides more detail here.
2. Move the music to a Sonos-supported streaming service that lets you upload and stream your music online. Options include: Apple Music, YouTube Music, Deezer, and Plex but Sonos notes that "some of these services [which must be added to the Sonos app] require a premium subscription to work with Sonos."
3. Move or copy the music from your phone to a network-attached storage (NAS) drive and share it with your Sonos system so you can browse and play tunes from the Sonos app. Sonos provides guidance on this approach here.
The notice can be found in the Support section of sonos.com.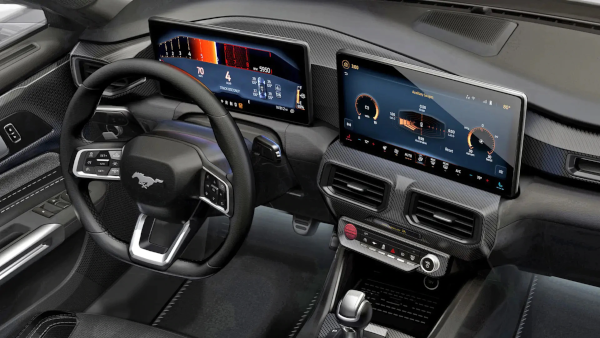 Ford Will Keep AM Radio In 2024 Vehicles After All
Ken Pohlmann recently wrote about Ford's decision to
deliver the 2024 Ford Mustang due out this summer without AM radio
. On Tuesday, the automaker reversed course and announced that it will include AM on all 2024 Ford and Lincoln vehicles.
The reversal didn't come out of thin air — it was in response to the AM for Every Vehicle Act bill introduced in the U.S. Senate on Monday. The proposed legislation raised public safety concerns, noting that "AM radio is one of the most reliable ways to share life-saving information during public safety emergencies."
Ford CEO Jim Farley issued this statement on Twitter:
"After speaking with policy leaders about the importance of AM broadcast radio as a part of the emergency alert system, we've decided to include it on all 2024 Ford & LincolnMotorCo vehicles. For any owners of Ford EVs without AM broadcast capability, we'll offer a software update.
"Customers can currently listen to AM radio content in a variety of ways in our vehicles — including via streaming — and we will continue to innovate to deliver even better in-vehicle entertainment and emergency notification options in the future.
"Thanks to our product development and manufacturing teams for their quick response to make this change for our customers."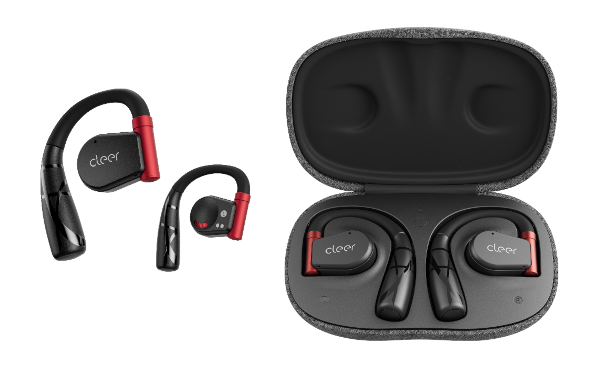 Cleer Audio Ships Open-Air Earbuds
San Diego-based headphone specialist Cleer Audio is now shipping an updated version of the ARC II open-ear wireless earbuds it previewed at CES 2023. Priced at $190, the ARC II Sport earbuds are water-resistant and sit on — not in — your ears so you can enjoy music without sacrificing spatial awareness; each bud has a hinged hook that fits snuggly around the back of your ear to keep it in place.
The earbuds have large 0.6-inch drivers and feature Qualcomm's Snapdragon Sound technology, which supports spatial audio with dynamic head-tracking and includes aptX Lossless Bluetooth for delivering CD quality (16-bit/44.1-kHz) audio wirelessly. Multipoint connectivity is also supported for switching between two connected devices and the earbuds are rated to provide up to 8 hours of playtime per charge with an additional 27 hours possible with the charging case.
Earbud touch controls are used to select tracks, adjust volume, answer/end calls, and access a voice assistant — or you can open the free Cleer+ app, which also provides an equalizer for customizing music playback. A nifty "anti-loss detection" beeps if you drop an earbud, making it easier to find.
The ARC II Sport earbuds are offered in red or black with red highlights. For more information, visit cleeraudio.com.
Netflix Begins Sharing Crackdown
For months you've heard the rumblings about Netflix cracking down on password sharing. Well, the time has come. On Tuesday (May 23), the nation's top streaming service started reaching out to subscribers it suspects are sharing the service outside of their household.
In a news release on Netflix.com, the company wrote:
"A Netflix account is for use by one household. Everyone living in that household can use Netflix wherever they are — at home, on the go, on holiday — and take advantage of new features like Transfer Profile and Manage Access and Devices."
The announcement included the official email the company is sending out. Titled "An update on sharing between households," the letter reads in part: To control how your account is used, you can:
• Check who's using your Netflix. Review which devices are signed in to your account. Sign out of the devices that shouldn't have access and consider changing your password.
If you want to share Netflix with someone outside of your household, you can use these features:
• Transfer a profile. Anyone on your account can transfer a profile to a new membership that they pay for.
• Buy an extra member. You can share your Netflix account with someone who doesn't live with you for $7.99/month more.
The letter concludes with a link to the Netflix Help Center. Read the complete text here.
Sennheiser Updates TV Clear Wireless Dialogue-Enhancement System
Sennheiser, the respected headphone company whose consumer business was acquired by Swiss hearing-care specialist Sonova in 2022, has announced an improved version of the TV Clear wireless transmission system it introduced a year ago.
The TV Clear transmitter connects to the optical digital or analog audio output of a TV, laptop/tablet, or phone and sends signals via Bluetooth to a set of wireless earbud for a more personalized viewing experience. The system provides five Speech Clarity levels that progressively amplify high frequencies by up to 20 dB to help make dialogue more intelligible.
In addition to improved sound quality, the updated TV Clear Set 2 system is easier to set up than its predecessor and includes earbuds' whose acoustic apertures and ear adapters have been re-engineered for a better fit, especially with smaller ears. The earbuds now come pre-paired to the transmitter and buttons on the earbuds have been re-engineered to make it easier to adjust volume and set Speech Clarity level.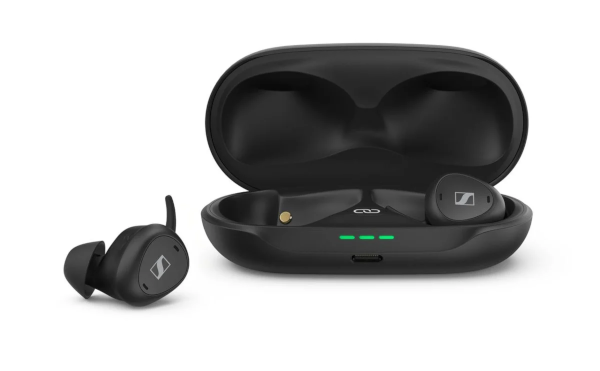 Transmission bandwidth has also been doubled and the updated transmitter adds Dolby compatibility to ensure seamless connection with S/PDIF digital audio outputs. Sennheiser has also updated the TV Clear companion app with new ways to customize the system, including a visualized volume control, improved feedback on charging status, and double-tap gesture configuration. Like its predecessor, the updated earbuds support Qi wireless charging, multipoint connectivity, and are rated for up to 15 hours of play time per charge plus another 1.5 hours with the charging case.
Slated to ship in mid-June, the TV Clear Set 2 is priced at $400. For more information, visit sennheiser-hearing.com.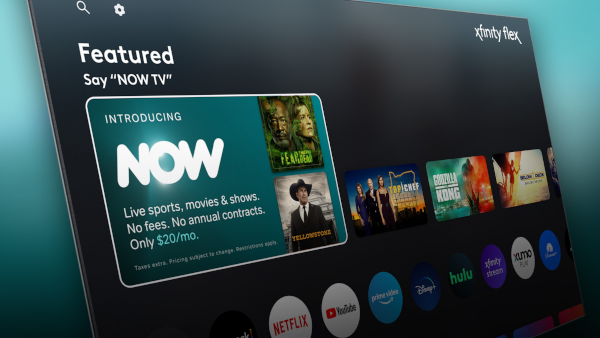 Comcast Ready to Launch its Own Streaming Service
Comcast has announced plans to make a new streaming service available to its Xfinity Internet customers in the coming weeks. Dubbed NOW TV, the service will cost $20/month and feature more than 40 live channels from A+E Networks, AMC, Hallmark, and Warner Bros. Discovery plus another 20-plus free ad-supported channels from NBC, Sky, and Xumo Play and a free subscription to Peacock Premium.
The free channels will include NBC News NOW, Sky News, and channels from Xumo Play in a variety of genres including Action Movies, Black Cinema, Bollywood & Indian Cinema, Comedy Movies, Comedy TV, Crime TV, Documentaries, Drama & Action TV, Family Movies, Food TV, Movies, Game Shows, Her Movies, Horror & Thriller, Kids TV, Reality TV, Sci-Fi & Fantasy Movies, Travel & Lifestyle TV, and Westerns.
NOW TV will be accessible through the Xfinity Stream app on supported devices, including Xfinity Flex, Fire TV, iOS- and Android-powered devices, and via casting through Apple AirPlay and Google Chromecast. Comcast says TV customers who sign up for the new service will be able to cancel anytime through Xfinity.com.