The Matrix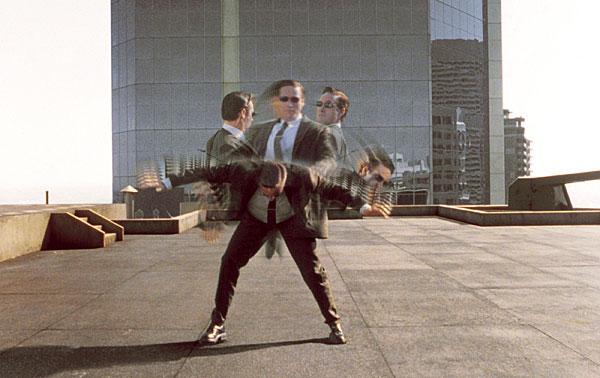 The Matrix was a massive theatrical hit in 1999 and is widely considered the movie that helped launch DVD into the mainstream, selling over one million copies during its first week on store shelves. For years, it was only available in a Blu-ray boxed set, probably because that was the only way the studio could sell the inferior sequels. Fortunately, Warner Brothers has chosen to release this iconic film on Ultra HD Blu-ray sourced from a new 4K scan with HDR that has been supervised by the original director of photography. It also has a new Dolby Atmos soundtrack.
I've sat through this film countless times and this is by far the best it has ever looked on home video. The color balance that leaned heavily towards green on previous disc releases is now more balanced, with blue hues in the "real" world, and green in the "data" world. Previous releases sported a green tint that made everyone look sickly, but that's been fixed. Furthermore, the black levels are to die for, and the level of detail to be seen in skin textures and clothing is off the chart.
The lobby scene from the original DVD helped to sell countless home theater systems over the years, and I'm sure this disc's stellar new Dolby Atmos soundtrack will do the same. Bullets fly through the soundstage; casings ping and bounce off the floor; tiles erupt with such force that you can't help but duck and cover. One huge improvement the new soundtrack brings is low-frequency effects, which are mixed more prominently than on past releases.
The disc's supplement package is massive and ports over most, if not all, of the featurettes from the previous home video releases. The Ultra HD Blu-ray contains five commentaries, while the included remastered Blu-ray version ports over an In-Movie PIP Experience. The remaining bonus features explore the story origin, special effects, score, and trailers from the ground-breaking production. You'll need to set aside six hours to get through them all.
Ultra HD Blu-ray
STUDIO: Warner Brothers, 1999
ASPECT RATIO: 2.40:1
HDR FORMAT: Dolby Vision and HDR10
AUDIO FORMAT: Dolby Atmos with TrueHD 7.1 core
LENGTH: 136 mins.
DIRECTOR: The Wachowski Brothers
STARRING: Keanu Reeves, Laurence Fishburne, Carrie-Anne Moss
Thomas Anderson leads a double life. During the day, he is a computer drone for a big corporation; by night, he's Neo, hacker extraordinaire. Morpheus opens Neo's eyes to the real world, a vast wasteland where most of humanity has been enslaved by machines that use our bodies as a power source. To reclaim the Earth, Neo must reenter the Matrix in order to overthrow the machines and discover his true destiny in life.