Love and Monsters
In a world infested with giant, hungry bugs, what's left of mankind has hunkered down in underground colonies where they're safe (mostly) from being eaten alive.
How this post-apocalyptic nightmare began is explained in the brief opening sequence of
Love and Monsters
, but in short it was mankind (as usual) that messed things up.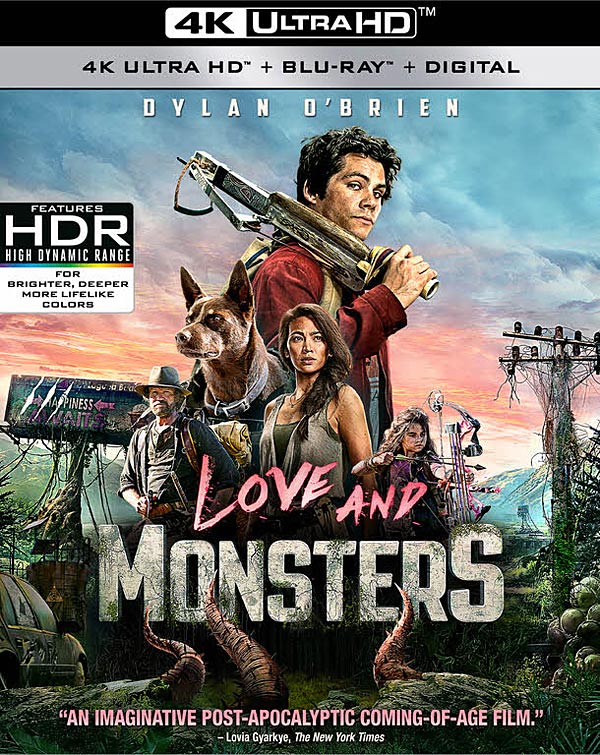 Joel is the junior member of one such colony. But when he makes radio contact with another where his former high school sweetheart lives, he resolves to brave, alone, the purple-people-eater-infested 90 miles between them. And, oh yes, he's a natural-born coward who freezes up at the tiniest hint of danger. But along the way, a pair of fellow wanderers help him bring out his inner Indy, and a resourceful dog named Boy also joins the journey. Bringing a cute, loyal dog into an action movie is reassuring. Even if everyone else becomes lunch for creepy-crawlers (no spoilers—I'm not saying they do!), there's one movie rule that's rarely breached: never kill off the dog.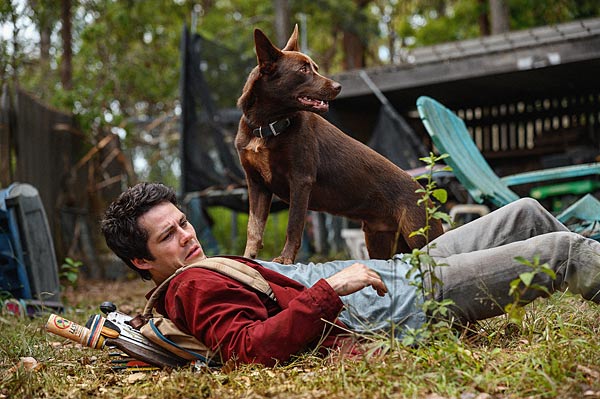 A quest-adventure with scary but not horrific scares and overlaid with a light helping of humor, Love and Monsters is far more modest in scope than most of today's CGI-centric epics. But the special effects are nonetheless impressive, with bug-encounters that range from looney-tunes to truly frightening. The 4K Dolby Vision transfer is also fully engaging. Bright HDR highlights aren't often evident but do have their moments, particularly in a night scene with giant, self-illuminated, and fortunately harmless jellyfish floating about in the air. Detail is excellent, as is the color, particularly the green foliage smothering the human-abandoned landscapes.
The audio on this Ultra HD disc isn't Dolby Atmos, but the DTS-HD Master Audio soundtrack is nevertheless impressive, from the quiet rustle of leaves to dynamic action with bass that will keep both you and your subwoofer engaged, complemented by an impressive score. I was never disappointed.
The limited extras found here include deleted scenes and two short "making of" featurettes. Love and Monsters is also available on Amazon Prime Video. I didn't compare the disc with that source, but it's hard to imagine the movie looking and sounding as good from any streaming service than it did in Ultra HD on a 65-inch, Dolby Vision-capable TV, complemented by uncompressed 7.1-channel sound.
ULTRA HD BLU-RAY
STUDIO: Paramount, 2020
ASPECT RATIO: 2.35:1
HDR FORMAT: Dolby Vision
AUDIO FORMAT: DTS-HD Master Audio 7.1
LENGTH: 109 mins.
DIRECTOR: Michael Matthews
STARRING: Dylan O'Brien, Jessica Henwick, Michael Rooker
(Cue deep, sonorous narration.)