LG SN8YG 3.1.2 Atmos Soundbar Review
PRICE
$799
AT A GLANCE
Plus
Good sound quality with movies and music
AI Room Calibration feature
HDMI eARC connectivity
Chromecast built-in and Google Assistant
Minus
Could use an extra HDMI input
THE VERDICT
The Verdict: LG's affordable 3.1.2 soundbar performs well with movies and music and features new room correction processing.
It was around this time last year that I reviewed LG's SL8YG, a 3.1.2 soundbar equipped with upfiring 2.5-inch drivers and both Dolby Atmos and DTS:X processing. What was notable about that model, as well as other soundbars to arrive from LG in 2019, was the company's effort to go upscale via a sleek new design and custom audio processing from England's Meridian Technologies. The new SN8YG reviewed here continues that upward trajectory, mostly through the addition of a few key features.
Design-wise, the SN8YG has a similar look to last year's model. The soundbar's 2.2-inch height allows for placement in front of a TV without worry about intruding on the screen's bottom, and its curved edges and aluminum mesh wraparound provide a welcome respite from the blocky, insubstantial look of some other bars. A sizeable alphanumeric LED display indicates active input, volume level, and audio processing mode among other status info. LG's wireless subwoofer has a 7-inch driver and mirrors the soundbar's look. It's also compact enough that it can be easily tucked away out of sight.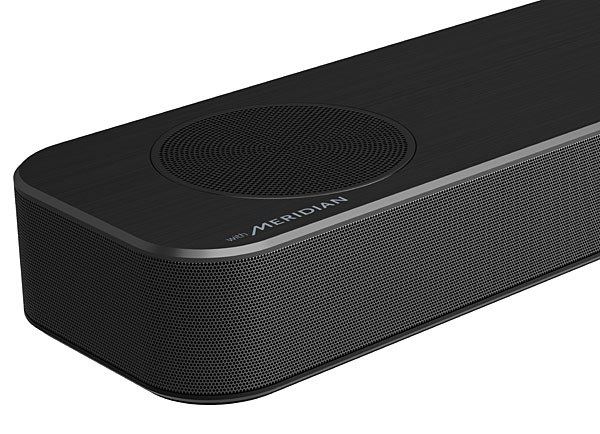 New features found on the SN8YG include an HDMI output with eARC for routing uncompressed high-res and Atmos soundtracks back from a compatible TV, AI Room Calibration to customize the sound to your room, and AI Sound Pro processing to adjust sound for specific content. The bar's 4K HDMI Pass-through also supports HDCP 2.3 content protection—the latest version—along with Dolby Vision. Carryover features include Bluetooth and Chromecast built-in for wireless audio streaming, playback support for up to 24-bit/96kHz high-res audio files (from an attached USB drive), and Google Assistant.
Along with that HDMI eARC port, the LG's other connections include an HDMI input, an optical digital audio input, and a USB port. The only other thing I'd ask for would be a second HDMI input to connect a DVR or game console, but any limitation there can be handled by connecting sources directly to an HDMI eARC-connected TV and using the set for A/V switching. If you want to expand your setup for 5.1.2 surround, the SN8YG can be paired with LG's optional SPK8-S wireless surround speakers ($180/pair).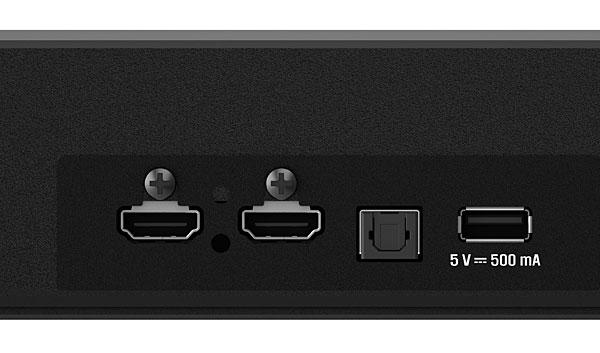 LG's remote control is small but outfitted with all the controls you'll need to carry out functions like volume adjustment, input and audio mode switching, and EQ adjustments. There's also a dedicated button to activate Google Assistant, though you can also do that by simply saying, "Hey Google." While Google Assistant can be used to adjust volume, launch a Pandora music station, and carry out other basic tasks, I only used it once to find out the time after waking up in the middle of the night and quickly regretted that decision when the soundbar loudly blurted out, "It's 3:17 a.m."
LG's Wi-Fi speaker control app adds options to activate dynamic range control for nighttime viewing and A/V synchronization to fix any lip sync issues. You can also use it to adjust subwoofer, center, rear, and overhead speaker levels on the fly and to run the soundbar's AI Room Calibration routine.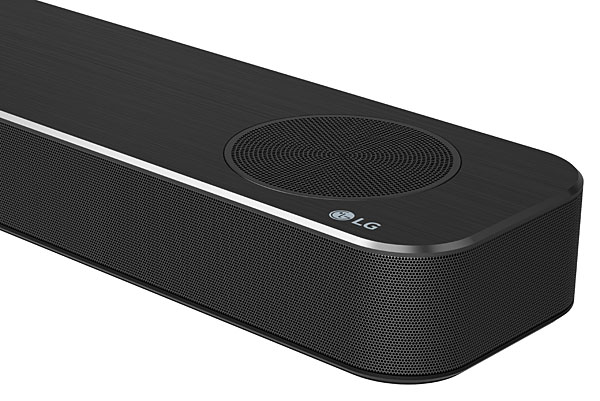 Setup And Performance
After setting the SN8YG up in my bedroom system and connecting its HDMI output to my TV's HDMI ARC port, I plugged my Ultra HD Blu-ray player into its HDMI input. I linked the soundbar to my network in the Wi-Fi speaker control app, and next ran AI Room Calibration. This had a clear effect on the sound, most notably in the lowest bass region covered by LG's sub. At first, I used Chromecast to stream music directly from apps on my phone, but later switched to Roon music management and library software, which can recognize Chromecast built-in devices like LG's soundbar as endpoints for streaming.
Watching 1917 on Ultra HD Blu-ray disc, the barked dialogue of the British soldiers as they made their way through the trenches was clear without being overly crispy, while the sound of their boots trudging through the narrow, muddy pathways conveyed the stifling character of that space. Later, as they crossed through no-man's land toward the German front, the droning strings and relentless, throbbing bass of James Newman's score were conveyed in a surprisingly potent manner by the SN8YG soundbar system. When a pair of biplanes flew overhead, the bar's upward-firing drivers also did an impressive job of rendering the soundtrack's vertical dimension by bouncing the effects off my bedroom's 9-foot-high flat ceiling.
Streaming the sci-fi drama Dark from Netflix (a kind of German Stranger Things), in a scene where a girl rides a bicycle across a forest road and encounters a dead bird, the multilayered a cappella vocals on the 5.1 soundtrack swelled beyond the boundaries of the soundbar. The effect wasn't exactly room-filling, but it did create an impressive wall of sound at the room's front. Switching from Movie to AI Sound mode helped to tone down some looseness and bloat in the bass, and also added focus to the intense, chanting voices.
Listening to the track "Burlap String" by Americana artist Courtney Marie Andrews, LG's soundbar conveyed vocals, guitar, and piano in a natural manner. With Music audio mode— a selection that engages the upfiring speakers—active, the song's pedal steel guitar delivered a fairly strong sense of atmosphere for a $600 soundbar. Once again, turning on AI Sound yielded audible benefits, in this case by taming a thumping quality to the kick drum and tightening the focus of voices so they stood our more clearly against instruments in the background.

Conclusion
Having previously reviewed LG's SL8YG soundbar, I can definitively state that the new SN8YG offers similarly good performance. And the extra features the SN8YG gains such as AI Room Calibration and HDMI eARC connectivity make it a competitive soundbar option at its $600 price. Strongly recommended for anyone looking for a quick and easy way to add Atmos to a bedroom system—just don't ask it to tell you the time in the wee hours of the morning.