LG 65UF9500 LCD Ultra HDTV Review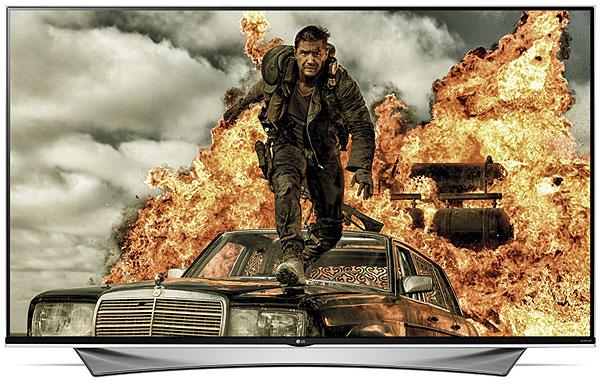 PRICE
$2,800
AT A GLANCE
Plus
Accurate out-of-box color
Superb webOS 2.0 smart interface
Solid value in a 65-inch set
Minus
Moderate black levels and contrast
No future-proofing for enhanced UHD content
3D crosstalk
THE VERDICT
LG's 65-inch Prime Series looks great with most content while offering sexy design and superb ease of use at an attractive price.
LG Electronics has impressed enthusiasts with stunning (and mostly expensive) OLED displays, but the company competes aggressively in traditional LED-driven LCD flat panels, too. The 65UF9500 reviewed here is a 65-inch Ultra HD model near the top of that line, and one of two models designated as Prime Ultra HDTVs (the other being a 79-inch version priced at $7,500). The Prime feature package includes, among other things, a wide color gamut option, enhanced brightness for highlights, and LG's webOS 2.0 smart TV platform. Of course, it can't boast the deep blacks and infinite contrast of LG's OLEDs. That said, does it deserve a space among today's top "regular" TVs? Let's take a closer look.
Design on a…Quarter
LG and competitor Samsung have taken the lead in pushing flat-panel design, and not just with curved screens. Most TVs from other manufacturers now look dated or downright pedestrian, but the 65UF9500 suffers from no such indignity. The set looks elegant from the front, with a thin mirror-finish bezel that is only slightly wider at the bottom, where a defeatable standby light is cradled by a sculpted notch below the LG logo. The pedestal's wedge profile rises front to back and lifts the set a couple of inches off its base (you'll need a resting surface at least 46 inches wide). Behind the TV, the pedestal's convex back edge conforms beautifully to the concave curve visible up front. There's also a striking all-white backside that is the antithesis of the industrial-looking, "nobody will see it anyway" approach taken with most HDTVs. And this is among the thinnest display panels I've seen, short of the OLEDs. From front bezel to back edge, it's barely 3/8 inch deep, and even where it's broadened by the jackpack and circuitry, the TV specs in at just 1.9 inches without the stand. The screen is so thin that it required careful handling during setup to avoid flexing the panel.
The LCD panel is of the IPS (in-plane switching) variety, which sets it apart from most of today's LCDs. The chief benefit of an IPS panel is an extremely wide viewing angle. Most other LCD sets sold today noticeably lose contrast or shift colors when you move to a seat that, sometimes, can be as little as 10 or 15 degrees off center at a normal viewing distance. But the 65UF9500's flat (non-curved) IPS screen showed no off-axis image shift at all from my seating distance 9 feet away, or even up close. However, IPS panels are known to sacrifice some native black level to achieve this benefit, a subject I'll address later.
Future-proofing of UHD sets is a consideration for any purchase today. As our video technical editor Tom Norton is fond of correctly pointing out, again and again, there is much more to the Ultra HD standard than just 4K image resolution. Beginning probably with the launch of UHD Blu-ray in late 2015 or early 2016, we're going to start seeing content encoded with a wide color gamut that goes beyond the limits of today's Rec. 709 standard. In addition, high dynamic range (HDR) metadata will allow properly equipped TVs to deliver noticeably brighter and more realistic highlights than are typically achieved today.
LG isn't claiming this type of future-readiness for the Prime series, though it includes similar highlight-boosting and gamut-widening technology that can be noticeable with today's Rec. 709 content, and it offers both the HDMI 2.0 ports and HDCP 2.2 copyright management to make it compatible with UHD Blu-ray. LG's ColorPrime Nano Spectrum feature, when activated, is said to deliver 122 percent of Rec. 709 color, with much of that extension visible in the reds. That's also 97 percent of the so-called P3 gamut that is used for digital cinema and is said to be the target now for enhanced UHD content for home viewing, though again, LG is not claiming the UF9500 will now or ever recognize a P3 encoded signal and carry that information to the screen. Meanwhile, the set does support Ultra HD at up to 60 hertz in 4:2:0/10-bit color, but switching on the HDMI Ultra HD Deep Color function allows it to support 4:2:2 and 4:4:4 at 8-bit depth.
Another LG feature, Ultra Luminance, uses a combination of local-dimming pixel and backlight management to boost highlight luminance a claimed 10 to 30 percent. Note, however, that the 65UF9500's LED Plus backlight is edge lit, which limits how effectively it can goose individual elements in the image without affecting the area around them. A true HDR implementation would be best executed with a full-array local-dimming backlight with many zones, or, ideally, a fast-acting self-emissive display technology like OLED. The latter is where LG will be driving its HDR stake in the market.

This was my first extended go-round with LG's webOS 2.0 smart TV platform and the latest generation of their gyroscopic Magic Remote. After I spent a bit of time getting acclimated to them, both proved engaging and effective. The Magic Remote had a certain amount of annoying pointer drift, but it was easily corrected (at least for a while) with a quick left/right shake of the remote. I found the set's graphic interface attractive and intuitive. The built-in off-air program guide and the ease of navigation for my scanned broadcast channels were outstanding, and the combination of the floating Magic Remote pointer and accurate voice-command search on the remote made the integrated Web browser surprisingly functional.
Hitting the smart TV Home button brings up the horizontally scrolling tiles for the webOS 2.0 navigator, which allows access to favorite apps and the LG Content Store, some utility apps like a scheduler, and all the set's inputs. Netflix, Amazon, Vudu, Hulu Plus, YouTube, and Spotify were preloaded, but others were available in the store. The set includes onboard HEVC and VP9 decoding for streaming content from 4K sources like Netflix and YouTube.
The 65UF9500 has a native 120-Hz panel and delivers an effective refresh rate of 240 Hz when you engage the TruMotion 240 feature. It offers several settings that include one called Clear Plus, which seems to use black-frame insertion to reduce blur without interpolation (though it dims the image), and a User setting with separate sliders for De-Judder and De-Blur. Turning down De-Blur could improve motion while minimizing soap-opera effect, but there were no settings besides Off that eliminated it completely, so that's what I used.
The 65UF9500's sound system is branded by Harman/Kardon and sounded just fine, though only about as dynamic as I've heard from today's typical flat panels. There are onboard Dolby Digital and DTS digital audio decoders; each seemed to recognize the multichannel bitstream in its format when I presented it to the TV's HDMI input via my Oppo Blu-ray player, and each decoder played the sound in stereo on the set's internal stereo speakers. But the optical audio output that some might use to feed a soundbar never delivered anything but two-channel PCM to my surround processor, even though I set the output to its Bitstream setting in the menu. Dolby Digital 5.1 bitstreams captured over the air through the set's tuner did pass properly, though. (To be fair, we've seen some odd interactions lately between the late-generation Oppo players and TVs that claimed the ability to pass a multichannel bitstream; for example, the Vizio E Series also reviewed in this issue passed 5.1 bitstreams presented by an Xbox One but not from an Oppo. I was unable to retest the LG with a different brand's player before our print deadline, however.)
Eyes on the Prize
Among the LG's picture presets are two ISF Expert modes, both of which measured fairly well out of the box. I calibrated Expert 1, which required some tuning to bring excessive blue and suppressed green grayscale levels in balance; still, since those levels were close enough to start with, the changes weren't really visible. The red, green, and blue color points defining the Rec. 709 gamut were also off a bit, but close, and when the set's CMS controls proved less than fully effective at dialing them in, I just reset to the default and lived happily with it. There are four gamma preset options, including one for the new BT. 1886 spec; I settled on 2.2, which measured close to its marking after calibration (2.24) and looked best with the widest range of material.
With most content, the LG looked really stunning. I watched a lot of casual TV captured through the set's antenna input and built-in tuner. From my 9-foot viewing distance, I found that 1080i broadcasts were very sharp and displayed natural, accurate color when scaled up to the 2160 x 3840-pixel screen. On the other hand, 720p broad- casts (think Fox, ABC) could sometimes look a touch softer, depending on the show—though not always, and much less so beyond about 12 feet.