Lexicon MC-8 Pre/Pro and RT-10 universal disc player
Lexicon's next generation arrives with a bang.
You can't please everybody, especially in the home theater world. Lexicon came close in 2000 with the release of the MC-12, an end-all pre/pro that carried on the company's tradition of performance but also addressed the few issues that people had with earlier Lexicon controllers like the MC-12's direct predecessor, the MC-1. Almost everyone, myself included, loved the MC-1's sound, tweakability, and just about everything else. As with any high-profile piece, though, people did raise questions about the MC-1—some legitimate, some not. The MC-12 directly addressed the important issues, like the lack of analog bypass and a six-channel input. (Remember that, when the MC-1 debuted, SACD and DVD-Audio were still just a twinkle in the audiophile's eye.) Even many of the peripheral issues, such as aesthetics, got some attention on the MC-12. The only remaining issue was price, as the MC-12 cost a few thousand dollars more than the MC-1. True, but Lexicon didn't replace the MC-1 with the MC-12; they simply provided the MC-12 as another option.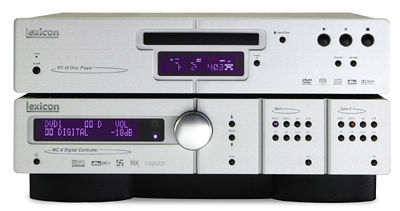 Now comes the MC-8 ($5,995 unbalanced; $6,995 balanced), a model that will become a highly effective middle-ground piece for Lexicon. It offers a feature set much closer to that of the MC-12, a price identical to that of the MC-1 (which it will essentially replace), and the same sound that has been winning over home theater lovers since the CP-1. Like the MC-12, the MC-8 is stacked with common and uncommon features. The only obvious feature differences between the two are the number of secondary zones (the MC-8 has one, while the MC-12 has two) and the number of rear-panel connections, which, depending on your system, may or may not affect you. The MC-8's full processing slate includes Dolby (EX, Digital 5.1, and Pro Logic II), DTS (ES Discrete and Matrix, 5.1, Neo:6, and even 24/96 soundtrack decoding), and THX (postprocessing and Ultra 2 Music and Cinema). The MC-8 is THX Ultra 2–certified, as well. Naturally, Lexicon's well-regarded LOGIC7 decoding is aboard for yet another 5.1-plus-channel option, and some solid DSP modes round out the slate. Four 32-bit Analog Devices SHARC DSP engines supply the main processing power, and a separate Cirrus Logic DSP engine handles compressed audio sources. All of the channels' digital-to-analog converters can handle a 24-bit/192-kilohertz resolution.
Lexicon offers both a balanced and an unbalanced version of the MC-8. The balanced MC-8 that I reviewed supplies eight XLR outputs for the main zone and a stereo pair for zone 2. Both versions have eight single-ended RCA outputs for the main zone and a pair for zone 2. Digital audio gets four optical and four coaxial inputs, plus a coaxial output that you can use for zone 2. There are eight highly flexible analog input pairs. You can configure these for a 5.1-channel input and five stereo inputs, two 5.1-channel inputs and two stereo inputs, or simply eight stereo inputs. You can assign full bypass to any, or all, of the configurations. Video gets three full-bandwidth component inputs and an output, six each of S-video and composite inputs, and S-video and composite output sets for the main zone and zone 2. Control connections include two 12-volt triggers, an IR input, and two RS-232 ports for software upgrades and control-system link-up.
Like its predecessors, the MC-8 is a tweaker's dream. Attempting to cover its features and controls in three pages is futile, so let's just say that there's not a whole lot it can't do. It's hardly insignificant to note that the MC-8 can do just about everything the MC-12 can (and the MC-12 can do more than just about any pre/pro around). That $3,000 difference does not materialize into anything less in terms of control or capability. There's a wide variety of dedicated tweaks for the numerous processing-mode options—surround rolloff, dedicated channel-output level, and front steering, to name a few—and there are several global adjustments. Lexicon standards like tilt control (in many people's minds, this is a far-more-effective method of EQ) and selectable crossover settings for each channel (in 10-hertz increments) are aboard, too. I've only scratched the surface of what the MC-8 will let you do. If you can't coax a Lexicon pre/pro into a profile that meets your tastes, there may be no satisfying you.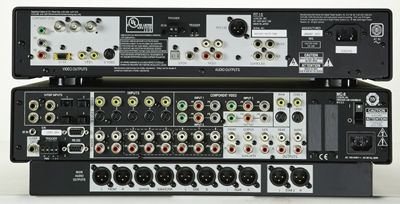 As important as the MC-8 is for Lexicon, its running mate here, the RT-10 universal disc player ($3,495), may initially somewhat overshadow it. The RT-10 not only represents Lexicon's first foray into consumer source components, but it's also the first high-end SACD/DVD-Audio/DVD-Video player. The RT-10 is based on one of the more-popular high-resolution combination-player platforms that's currently circulating, but Lexicon has made enough tweaks to give it a unique feel. The features list is expectedly ample, highlighted by compatibility with almost every 5-inch-disc format (including DVD-R, DVD-RW, and MP3), progressive scanning (via BNC, RCA, or Mini-D ribbon connectors), 24-bit/192-kHz DACs on all six audio-output channels, bass management, 3:2 pulldown, and 12-bit/108-megahertz video conversion. The RT-10's three digital audio outputs (optical, coaxial, and AES/EBU) will pass 96-kHz signals. Additional outputs include two composite, one S-video, and a stereo analog audio pair, in addition to the six primary analog outputs. A trigger input and IR input are also aboard. The RT-10's resolution measures out at full capacity, and the player passes PLUGE, offers nearly perfect downconversion of anamorphic material to letterbox, and has clearly superior color reproduction.
It took all of 10 seconds of listening for me to confirm that the MC-8 exhibits its siblings' same uncanny ability to maintain a board-flat frequency response while delivering both an easy-going sense of warmth and musicality and a dynamic capability that's unrivaled by most pre/pros, even in the high end. Even through the midpriced Boston Acoustics speaker system I began with, the MC-8/RT-10 combo (joined by Lexicon's LX-7 amplifier) offered a silky, soothing sound with two-channel music that the combo's unflinching sense of resolution considerably boosted. As it should, the MC-8 gives poorly engineered material nowhere to hide—thankfully, there's no artificial sweetening in the MC-8's profile—but it gives even mediocre material a richness and vibrancy that many other pre/pros simply can't capture. As I shifted over to the Revel speaker system (see my review in this issue), the MC-8/RT-10 combo's prowess became even more obvious. I've heard few systems at any price—from source to speakers—deliver such a pure-sounding midrange, including a virtually flawless presentation of both male and female voices. I ran some of my favorite pipes through this system—Muddy Waters, Howlin Wolf, Ralph Stanley, and Sister Mahalia Jackson—and I was floored by each voice's body, tonality, and sheer naturalness.