Let Us Entertain You
Who needs to go out when you have your own theater and sports bar? This high concept theater and entertainment center is the vision of Spiro Razatos, an action film director and former stunt man who has been in the entertainment industry for over 25 years. The Spirovision Theater was intentionally designed to have the vintage look and feel of theaters that Razatos enjoyed as a child with his father. Yet, his theater is state-of-the-art with the latest technology and equipment.
A portion of the homeowner's 3-car garage was closed off and rebuilt to the specifications necessary for a home theater, such as staggered studs and a sub floor. After the framing was completed, conduits were run for the theater equipment to allow for future upgrades and changes in technology. A coat closet at the entrance of the theater was turned into a ticket booth.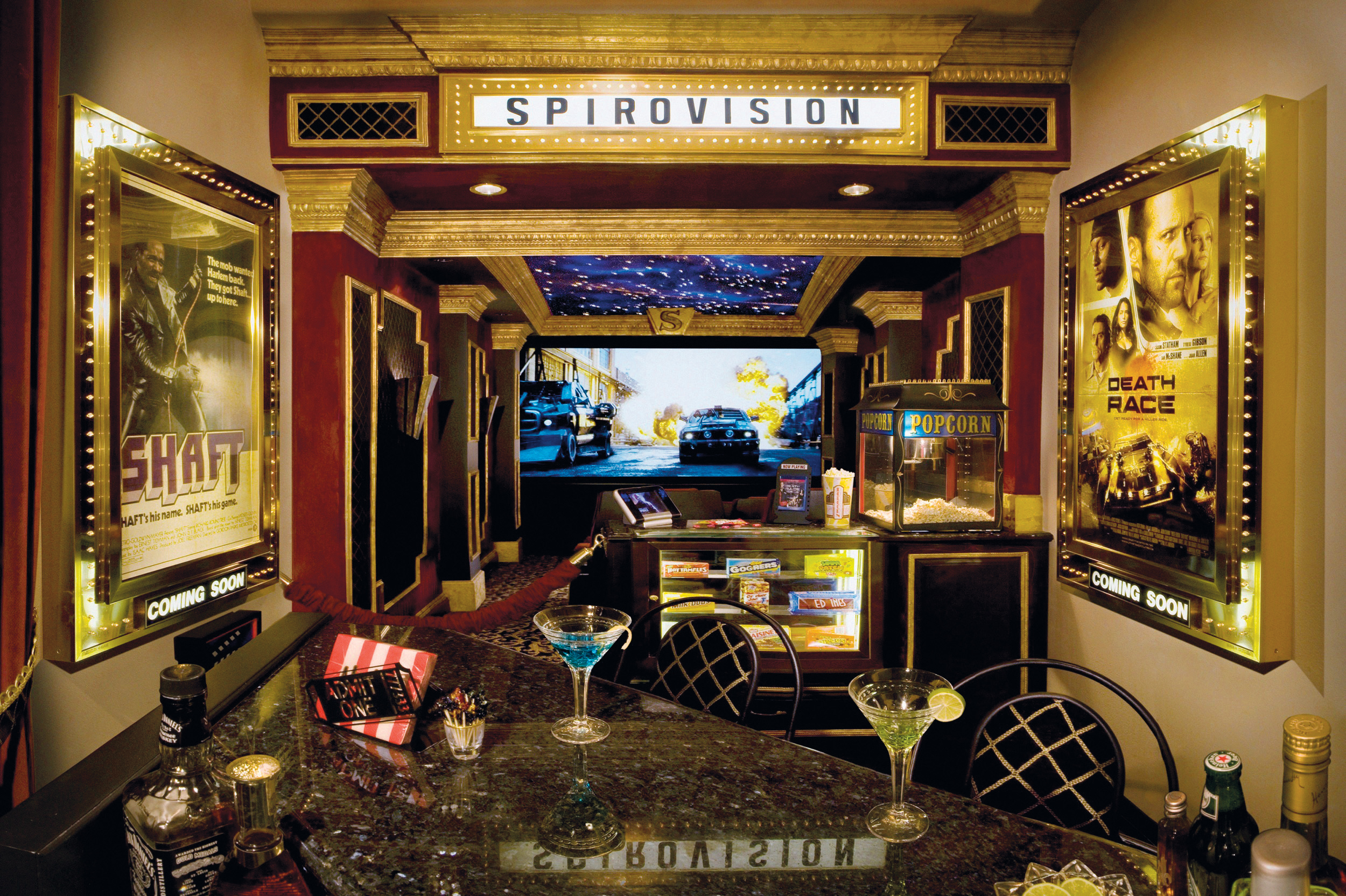 Being a director, the client wanted to have that unmistakable "film quality", so he opted for a 2.35:1 screen coupled with the reference JVC DLA-RS20 Projector, and a Schneider Cine-Digitar Anamorphic Lens for a smooth, high contrast image with rich, deep blacks. The commercial-quality audio was achieved with a full JBL Synthesis System that includes two 18-inch subwoofers. Eric Leicht of AV Partners used JBLs computer-based calibration system to fine-tune the Synthesis system.
While there is dedicated theater seating, the room was designed so that the entire back wall can slide into a special pocket, which opens the room to other areas of the house, allowing the screen to be viewed during parties. When it's time to watch a movie, the wall slides shut for optimum viewing and acoustically accurate sound. While the client wanted the screen to cover every inch of the wall, he also wanted old-fashioned curtains that would open and close. The solution was to build another pocket in one of the sidewalls, allowing the curtains to disappear when opened.

The theater is surprisingly open and spacious, given its relatively small size. One of the highlights of the room that helps create this sense of openness is a recessed hand painted, fiber-optic star field with two shooting stars, A hidden black light gives the star field depth. Every thing was built with exacting details such as the hand painted molding with gold leaf and pin stripes. A custom candy counter was built at the theater's entrance containing a hidden refrigerator, ice cream freezer, and a vintage popcorn machine. Custom cabinets were built below the bar and in the ticket booth door to accommodate more than 500 Blu-ray movies.
With 16 Xbox 360s all linked together and each equipped with its own HD LCD display, the appropriately named Game Room contains dozens of signed memorabilia from past sports legends as well as actual game jerseys and balls. Given the love of sports in this house, it's not surprising that all the TVs are game-ready with six of the 16 Samsung TVs equipped with their own DirecTV HD receiver. The other ten are set up on cable TV. Hidden JBL speakers provide the audio. If you get bored with all that, there is also a pool table, a poker table, air hockey, shuffle board, electronic darts and dedicated Fast and Furious gaming machines, If every homeowner did this, sports bars would be out of business.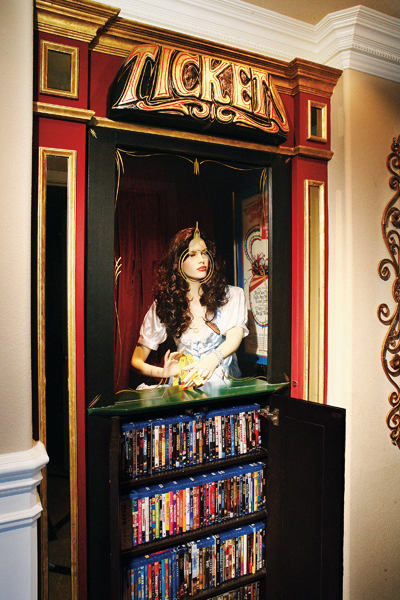 The Spirovision Theater and adjoining Game Room has become a place of enjoyment and relaxation for Razatos' friends and family with many late night sessions of gaming, movie watching, and just overall good times.
Contact
Hollywood Home Theatre
Dennis Dooley
661-944-7734
dennis@hollywoodht.com

Equipment
JBL Synthesis audio system
JVC DLA-RS20 Projector
Schneider Cine-Digitar Anamorphic Lens
Stewart 2.35 CineCurve Screen
Pioneer Elite BDP 95 Blu-ray player
Direct TV HD DVR
Sony mini HD DV
Xbox 360 (linked to the game room)
Playstation 3
RTI T4 Touch panel control system