The Lego Batman Movie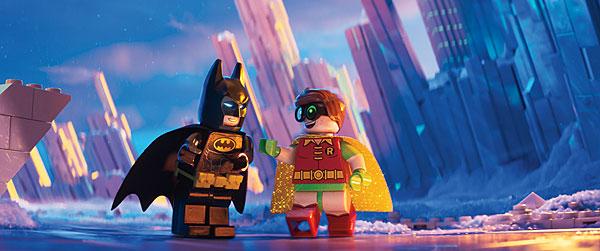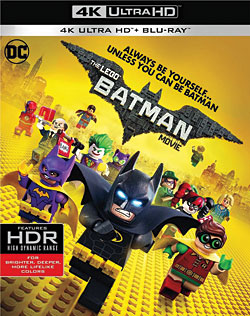 Lego Batman frequently seeks to overwhelm viewers with its incredible scale, from the bustling streets of Gotham City to the immeasurable expanse of the Batcave. The illusion is sold all the more effectively for the insane amount of detail throughout the 2160p, 2.4:1 frame, with exquisite layers of focus further conveying magnificent depth. (The 3D version, sold separately, is similarly breathtaking and well worth a gander.) The dynamic camerawork takes us between skyscrapers, under bridges, and past explosions at breakneck speed, and if some of the busier scenes become a tad pixellated, the eye mostly forgives this in the midst of this fundamentally blocky opus. The HDR colors in this toy-inspired universe are in a class by themselves, with some very deliberate schemes utilized, notably the triumphant Joker's garish palette in Act Three.
For all of its visual glory, Lego Batman's Dolby soundtrack (Atmos, its TrueHD 7.1 core reviewed here) is somewhat reserved. Despite the many attacks, chases, and wanton destruction, the speakers don't receive much of a workout. There's some very effective phasing of voices across the soundfield and pleasing bass in Lorne Balfe's unexpectedly epic musical score, but the surrounds are too often relegated to simple, uninspiring fill.
Director Chris McKay and a bunch of his crew provide a spirited audio commentary, the only bonus to be found on the 4K disc. On the bundled HD Blu-ray are an assortment of mixed-bag featurettes. The Digital Copy also supports the WB Movies All Access app, for additional content served up while you watch on compatible Android and iOS devices.
Blu-Ray
Studio: Warner, 2017
Aspect Ratio: 2.40:1
Audio Format: Dolby Atmos / TrueHD 7.1 core
LengthL: 104 mins.
MPAA Rating: PG
Director: Chris McKay
Starring: Will Arnett, Michael Cera, Rosario Dawson
Chief among Lego Batman's extraordinary feats is its ability to remain true to the dark essence of its enduring hero while weaving a family-friendly and wildly funny animated adventure. The backgrounds are littered with inside jokes and subtle bits of Batmania culled from the past eight decades. Of course, as anyone who's seen the original Lego Movie recalls, Will Arnett's version of the Caped Crusader is defined by his out-of-control ego, so this new story wisely begins with an over-the-top action sequence that removes all doubt as to why he's so beloved. But a disgruntled Joker, a new police commissioner, and a recently adopted youngster named Dick Grayson are about to turn The Bat's world upside down, and he'll never be the same. And as with all things Lego, plenty of cheeky surprises are in store.

SPONSORED VIDEO