LCDs From Sony, Samsung, Toshiba & Philips Sony Bravia KDL-46XBR4 LCD HDTV
Sony Bravia KDL-46XBR4 LCD HDTV
In our January 2007 LCD roundup, I evaluated Sony's high-end KDL-46XBR2, and their next-gen KDL-46XBR4 has some big shoes to fill. The new model retains the XBR Series' signature faux-glass aesthetic and customizable color panels; its 46-inch screen size was the smallest in the roundup, yet its dimensions were almost as large as the 52-inch models. It also retains its predecessor's extensive picture controls and its three HDMI inputs.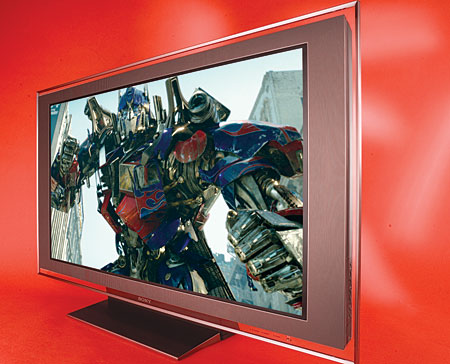 What's new? The KDL-46XBR4 adds Sony's popular XrossMediaBar menu system, TheaterSync for easy control of HDMI-connected components, and a special DMeX port to attach the Bravia Internet Video Link. It also has a 120-Hz feature called Motion Enhancer that effectively reduced motion blur in the text-based test patterns, at least with bright, slow-moving pans. However, with darker or faster-moving images, the text grew much blurrier. I noticed a similar result with real-world content; the slow-moving pan in Gladiator was incredibly clean and smooth, almost three-dimensional, while faster-moving pans on the Pirates disc showed more blur. Along with the Samsung display, the Sony's 120-Hz effect was the most pronounced, noticeably smoothing out film-based sources. I found it somewhat distracting at first but eventually grew accustomed to it. When I turned it off, I was much more aware of the inherent choppiness in film sources.
In handling standard-definition sources, the KDL-46XBR4 is markedly better than the 46XBR2. I saw few artifacts in my Gladiator and Bourne Identity DVD demos through both the component and HDMI inputs, and upconverted content had a nice amount of detail. Digital noise wasn't a concern. Even when I sat closer than the recommended viewing distance, I saw little noise in the smoke of Ladder 49 or light-to-dark transitions in my Lost: The Complete Second Season DVD. With 1080i content, the TV correctly deinterlaces 1080i but failed to pick up the 3:2 sequence in our Silicon Optix test pattern; however, the subsequent stadium pan looked fairly clean, and I didn't notice artifacts with real-world 1080i content. Should you mate the TV with a 1080p-capable player, the HDMI inputs accept both 1080p/60 and 1080p/24.
Both high-definition TV and film content looked very good, but this year's model didn't distinguish itself quite as well as the KDL-46XBR2 did. This year's entry suffers from an inconsistent color temperature that is excessively blue-green at the dark and bright ends of the range. White-balance controls are accessible via the user menu, but calibration didn't make that much of an improvement. The red, green, and blue color points are still fairly accurate in the Standard color-space mode, but that accuracy is sometimes overshadowed by color-temperature irregularities.
Detail in scenes from the Pirates, Kingdom of Heaven, and Black Hawk Down Blu-ray discs was very good, and the TV has ample brightness to produce a rich, vibrant image in a well-lit room. Its overall contrast is very good, but not as good as the numbers in our measurements box would have you believe. Using our standard testing procedure, this TV appears to have the best black level and light output, producing staggering contrast-ratio numbers. Apparently, some companies have learned how to beat our system by looking at the incoming video signal and adjusting the backlight, depending on the average brightness level. This artificially drives black and white levels to reach better numbers with static test patterns—and this is after we've turned off features like dynamic contrast and black correction. Put an all-black pattern on this TV's screen, and, after a few seconds, you will see the black level drop. This occurred no matter which backlight setting and power-savings mode I used. With real-world scenes from Batman Begins and V for Vendetta, this TV did not appear to produce the deepest blacks, although they were still quite good, and image quality holds up well in a dark room. Black detail and viewing angle were only average.
While the KDL-46XBR4 is a more versatile performer than its predecessor, rendering a nice-looking image with both standard-and high-definition sources, other LCD manufacturers are closing the gap in terms of high-end video performance. Sony still offers the most complete range of image adjustments and customization, and its 120-Hz Motion Enhancer often creates a strikingly smooth image.