LCDs From Sony, Samsung, Toshiba & Philips Toshiba Cinema Series 52LX177 LCD HDTV
Toshiba Cinema Series 52LX177 LCD HDTV
Toshiba also made an appearance in that January 2007 roundup. This time, we again pulled from the Cinema Series, going with the 52-inch 52LX177. Toshiba has made excellent strides in their LCD development. The 52LX177 possesses a number of attributes that the discerning theater fan will enjoy.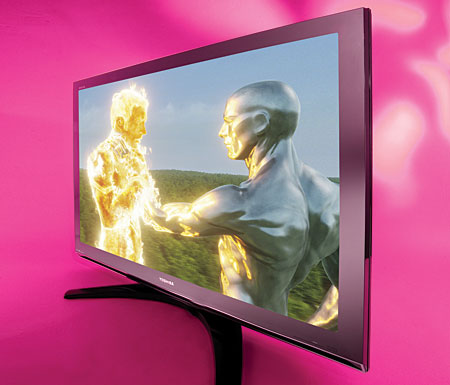 Toshiba has embraced an attractive gloss-black finish for this year's Cinema Series cabinetry, with a bit less frame around the edges and the SoundStrip2 speaker bar along the bottom. The TV sports three HDMI inputs that accept both 1080p/60 and 1080p/24, and the CE-Link feature makes for easier control of HDMI-connected components. There's also an Ethernet port to exploit Toshiba's THINC function, enabling you to access your e-mail and stream MP3 and JPEG files from a PC. The remote can be programmed for direct input access and is fully backlit in amber, not blue. There's a nice assortment of picture controls, including seven preset picture modes, a 100-step adjustable backlight, the ability to fine-tune the color-temperature presets by adjusting green and blue, and a ColorMaster Pro system that lets you tweak hue, brightness, and saturation of red, green, blue, yellow, magenta, and cyan.

The 52LX177 addresses motion issues via two features: its 120-Hz ClearFrame (on or off) and a Film Stabilization mode (on or off). On its own, ClearFrame somewhat reduced motion blur with our tests without dramatically altering the look of film-based sources. Add in the film stabilization, and the result is similar, but not quite as smooth, as that of the Sony and Samsung TVs, although the Toshiba did a better job than the Sony of reducing motion blur in faster-moving scenes. I like the decision to separate the two features so that you can reduce the blur without altering film quality, if you wish.
Toshiba doesn't play the overdrive game with black and white level, so their numbers are more reliable. At the minimum backlight setting, it measured an excellent 0.011 ft-L with blacks and 21.1 ft-L with whites, for a great contrast ratio of 1,916:1. That's a huge improvement over last year's model, and this TV consistently rendered the deepest-looking blacks and best black detail in my DVD and HD demo scenes; it also had the best viewing angle. The ANSI contrast is lower than it should be, but I still felt that this TV did the best job bringing out an image's fine shading and textures. It's also plenty bright to use in a sunlit room.
Through the component video input, the Toshiba struggled to hold the 3:2 sequence with our 480i Gladiator DVD, although it didn't flat-out fail. Upconversion was more of an issue, as 480i content looked very soft through component video. Both of these issues are rectified through HDMI. In general, the TV's performance is a step higher through HDMI with all signal types. It correctly deinterlaces 1080i and picks up 3:2 with 1080i sources, so a 1080p player isn't a necessity. The TV's bit depth is good, so I saw very little noise in the dark backgrounds of Heroes or the smoke of Ladder 49.
In the past, we've questioned why Toshiba TVs measure so very cool out of the box, even in their warm color-temp modes. Toshiba has somewhat resolved that situation; the 52LX177's Warm mode is more accurate than previous generations, although there is a bit too much green in the image out of the box. Its red and blue color points are quite accurate, but green is incredibly oversaturated, even for an LCD. Combine these two traits, and the color palette definitely veers toward the greenish-blue side. Calibration will improve the color temperature, although it's still very cool with dark content, causing night scenes in Corpse Bride to look blue. (White-balance adjustment is not accessible via the general user controls.)
As for that green color point, we experimented with the green ColorMaster Pro controls and were able to dial in a more accurate green in test patterns, but it still didn't look quite right with real-world signals. In direct comparison with the other TVs, the Toshiba's colors and skintones look more exaggerated; but its color and contrast really make the image pop. If you find the out-of-the-box color objectionable, I suggest you hire a professional calibrator who will take the time to carefully adjust the white balance, blue/ green drive, and ColorMaster Pro controls to suit your taste.
With the 52LX177, Toshiba did a lot of things right. They made smart choices with the black level and motion to create a very un-LCD-like LCD. Its price is still high compared with other technologies, but it's the least expensive 52-inch LCD we've reviewed to date.