LCDs From Sony, Samsung, Toshiba & Philips Samsung LN-T5271F LCD HDTV
Samsung LN-T5271F LCD HDTV
Samsung offers so many display options, I think they should commandeer Burger King's "Have it your way" slogan. Welcome to Samsung; would you like to try a plasma, LCD, or rear pro today? Our LCDs range in size from 19 to 57 inches. Could we interest you in some 120-Hz technology or LED backlighting to go with that?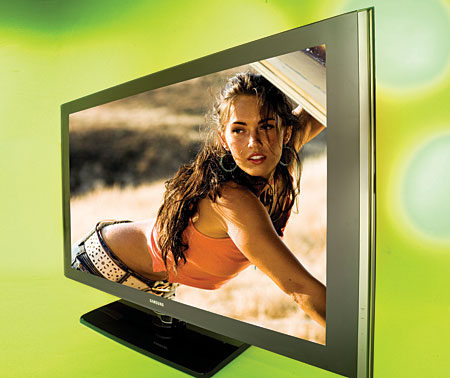 This 52-inch 1080p model hails from one of Samsung's higher-end LCD lines, evidenced by its $4,300 price tag, the highest in our roundup (yet still a drop from last year's models). It boasts a nice complement of features, picture controls, and connections, including a USB port for music/photo playback and three HDMI inputs that employ HDMI-CEC for easier control of HDMI-connected components. This is the only model with two RF inputs to access the TV's internal tuners. The remote has little black buttons on a black background, lacks dedicated source buttons, and has very limited backlighting, but the Samsung was the only model to sense which inputs are in use.

The LN-T5271F sports Samsung's characteristic glossy-black cabinet and curved, swiveling base; its thin, slot speakers and that hint of faux glass around the edges give it an added style. Look at the screen when the TV is off, and you'll notice that the screen is reflective, enough to see room reflections when the lights are on. Isn't one of LCD's stated benefits that it does not reflect ambient light the way plasma does? Just asking.
Samsung's 120-Hz technology, called Auto Motion Plus, includes four settings (off, low, medium, and high), and I could discern clear improvements in moving text patterns with each step up; however, the difference between low, medium, and high wasn't as clear with real-world material. When functioning properly, Auto Motion Plus consistently produced the smoothest, cleanest, least blurry images with all signal types. However, we reviewed a preproduction sample that occasionally slipped out of sync, making the whole image blurry; I'm going to give Samsung the benefit of the doubt that this was a problem with our sample.
If there's one thing we've come to expect from Samsung TVs of late, it's accurate color, and the LN-T5271F is no different. When set for the Auto color space, this TV has highly accurate red, blue, and green color points. If you prefer the more vibrant greens typically associated with LCD, switch to the Wide color space. The TV's out-of-the-box color temperature wasn't as even as we'd like, but it remained fairly close to D6500 and wasn't quite as cool with darker content. Thus, my Corpse Bride demo scene didn't look as blue as it did on the other TVs. You can access white-balance controls through the user menu, but calibration didn't produce that much of an improvement.
Another strong asset for the Samsung was its detail. It consistently rendered the most detailed image, without artificial enhancement, with both DVD and HD sources. This proved true through the component video and HDMI inputs. Furthermore, its good contrast ratio makes it easier to appreciate the TV's color and detail. It has plenty of light output to produce rich, vibrant images during the day, while its good black level helps the image retain saturation in a darkened room. As with the Sony TV, our printed contrast-ratio number isn't entirely accurate; in the Auto Energy Savings mode, the Samsung tracks the video signal to achieve such a high contrast ratio of 5,261:1. We obtained more realistic, but still excellent, numbers—ranging from 1,433:1 to 2,039:1—with the Energy Savings mode set to off or high. Based on my original setup, I felt that the Samsung lacked black detail compared with some of the other TVs; however, by experimenting with the gamma control, I was able to find a better compromise between black level and black detail.
In the processing arena, the deinterlacing of 480i content was good through component video but very poor through HDMI; with 1080i content, the TV passed our deinterlacing tests and looked artifact free through both inputs. If you use HDMI for your cable or satellite service, set your box to upconvert 480i. The HDMI inputs accept both 1080p/60 and 1080p/24.
The LN-T5271F does exhibit some common LCD issues, namely a poor viewing angle and a lack of brightness uniformity. At times, with dark content in a dark room, the right side of the screen looked lighter than the left. While I might overlook these traits in a budget LCD, I expect better from a $4,300 display and knocked some points off its performance rating as a result. Nevertheless, this is a good performer in all of the major categories; and, if you like the way 120-Hz technology renders motion, the Samsung is an excellent example of the form.