Last-Minute Holiday Gift Ideas
A few things to consider as we approach the home stretch.
I hate to be the bearer of bad news but if you're reading this and haven't finished your holiday shopping you're now officially a last-minute shopper. I'm right with you. In a normal year I'd be thinking two weeks is plenty of time to tie up loose ends. But in the Age of COVID, the world is upside-down and restrictions (whether government-mandated or self-imposed) are real and impacting just about everything — especially inventory levels and shipping times. Is the gift you've been contemplating in stock and, if so, will it arrive in time? On-time delivery was an issue last year so you can imagine how much pressure shippers are under this year with online shopping reaching all-time highs. If you, like me, find yourself running out of options, here are a few last-minute gifts ideas to consider, including a couple that don't require physical shipping.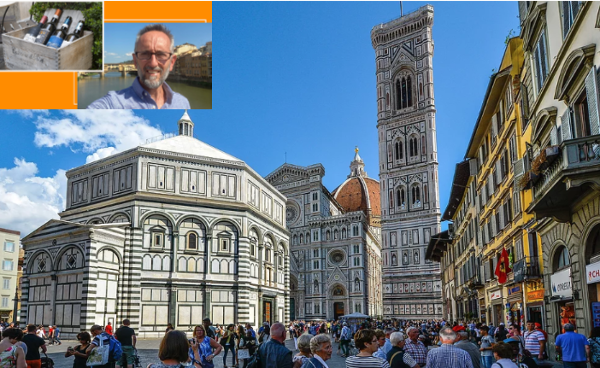 Give the Gift of Virtual Travel
It's hard to say when Americans will feel comfortable enough to venture back out and travel to destinations far and wide. Air travel took a nosedive when the lockdown started in March, hitting a low of 87,534 travelers on April 14, according to TSA checkpoint numbers — a staggering drop of 96% from the same day a year earlier. Eight months later, the numbers are up but still a long way from normal: Just over a million people took to the air the day before Thanksgiving, compared with the more than 2.6 million who flew on the same day in 2019 — a decline of 60%.
I toured Rome 20 years ago and want to go back to explore other parts of Italy, but when? Most of us are skittish about air travel and will likely remain so for some time, which is why I found the idea of virtual travel with a live tour guide intriguing. Maybe you will, too.
New York-based Discover Live has been "virtually transporting travel lovers to amazing places around the world" since 2018 and is currently offering live interactive experiences from two dozen tourist spots, including Paris, Rome, Venice, Luxor (Egypt), Lima (Peru), and Ljubljana (Slovenia), to name a few of its most popular destinations. The company also hosts personalized tours from London, Kilkenny (Ireland), Gdansk (Poland), Lisbon (Portugal), Belgrade (Serbia), and Zadar (Croatia) with plans to add Berlin, Ho Chi Minh City (Vietnam), Mexico City, and a tour of the Sydney (Australia) Opera House by mid next week.
Tours are conducted by "entertaining and knowledgeable" guides and, with one exception, last one hour and cost $199 for up to three people (add $29 for each additional participant). The exception is a two-hour tour of Florence for up to 15 participants that costs $750 and includes a class hosted by the Commonweath Wine School on wine from Italy's famous Tuscany region. A wine list with selections in each of four key categories is provided so you can taste along with your guide.
"All of our tours are conducted via late-model smartphones that can transmit HD-quality live video at resolutions usually between 720p and 1080p, and they follow routes that were pre-qualified for a strong internet signal," explains Discover Live founder Jay Wei. "Most of our consumer customers cast the tours onto their smart TVs — we actually encourage people to do so to maximize the tour experience. Our tour guides also use a three-axis gimbal (stabilizer) so video delivery is steady and smooth, even on uneven roads. We have conducted hundreds of tours just this year alone and haven't heard any negative feedback on video or sound quality."
Visit discover.live and click on the "Available for Public Booking" tab for the current list of tours with a description of each. Gift certificates are available.

Photo Restoration Made Easy
Most of us have a stash of cherished photos that instantly take us back to earlier times in our lives, or the lives of close friends and relatives. Photos that celebrate classic moments and provide a rare glimpse into the past. Problem is, the images are often dull or washed out, with poor contrast and muted colors (unless they're black-and-white) and, sadly, we never quite get around to doing anything with them.
Vivid-Pix has developed powerful software called Restore (for Windows PCs and Macs) that uses patented artificial intelligence (AI) to bring tired, old (or just plain bad) photos back to life with just one click. The program analyzes scanned prints, slides, documents, or digital images and, in a matter of seconds, adjusts color, contrast, sharpness, and brightness. It then displays a grid of nine enhanced images with slight variations in brightness, allowing you to choose the AI's top pick (the middle image) or the one that looks best to your eye.
You can crop and further tweak the selected image, if so desired, but chances are you won't have to. The program is compatible with JPEG, TIFF, PNG, DNG, BMP, and RAW file formats and, in addition to generating a new high-resolution image without affecting the original, the program automatically creates a file sized for emailing and sharing on social media.
Restore strikes me as the ideal gift for anyone who has an interest in reviving old photo collections but doesn't want to mess with complex programs like Photoshop. For $50, you can buy an electronic gift card and email it to your loved one with a special message. Visit vivid-pix.com for more information, including video tutorials and a free trial (no credit card required).
Earbuds with Built-In Sound Personalization
A few weeks ago, Monoprice, the online company best known for selling affordable A/V cables and accessories, introduced the Monolith M-TWE wireless earbuds that use app-based SoundID technology to create a custom sound profile based on the listener's hearing acuity and listening preferences. In other words, these are no ordinary earbuds, which is what makes them a cool, thoughtful gift for any music lover who takes on-the-go listening seriously.
Here's how it works: You download the free SoundID app and establish listening preferences based on personal taste. Then you pair the 'buds to the app and complete a short listening test that generates a profile unique to your hearing. In addition creating your "sonic fingerprint," the technology uses smart algorithms and machine learning to "evolve with you over time."
Besides producing highly personalized sound, the M-TWEs are water-resistant, super lightweight (each bud weighs less than a quarter of an ounce), and employ selectable noise cancellation with an "ambient" mode that lets outside sound in so you can hear what's going on and algorithm-based microphone echo/noise suppression technology to improve the clarity of phone calls. The buds also support aptX-enabled Bluetooth and are rated to play for up to 10 hours per charge plus an extra 20 hours form the charging case (a 5-minute charge provides one hour of play time). Five sets of silicone eartips are provided to ensure a tight, comfortable fit.
The M-TWE is currently on sale for $100 (regular price $130) but you'll need to act fast if you want a shot at having it delivered in time for Christmas. Monoprice says it is experiencing long than usual shipping times. Visit monoprice.com to order and sound.id for more detail on Sonarworks' Sound ID technology.
Give the Gift of Music
For the music lover who's too cheap to subscribe to a high-quality music service (or simply in the dark), give the gift of unlimited access to a vast library hi-res music. Qobuz offers gift vouchers for a three-, six-, or 12-month subscription to its Studio-Premier plan at $44.97, $89.94, or $149.99, respectively. You can personalize the voucher and choose when you want the lucky giftee to receive it. Click here to order.
Another gift-card-worthy service to consider is Tidal, which includes access to the excellent and ever-expanding Tidal Masters catalogue of MQA-encoded music though its $19.99/month HiFi tier (recommended) or you can go with the Premium plan, which provides standard sound quality for $9.99/month. Conventional (physical) gift cards are available at Walmart, Best Buy, and GameStop or you can order a personalized $20 eCard through PayPal for delivery via email on your date of choice. Visit tidal.com for more information, including a link to PayPal.
Related