Kubo and the Two Strings
Endless kudos to Kubo's studio, Laika, for doing more than anyone to keep the waning art of stop-motion animation feature films alive. Shout! Factory has been celebrating their most popular titles in recent 4K upgrades (available in standard or steelbook); among them The Boxtrolls, ParaNorman and Coraline; and now Kubo and the Two Strings. An original story with classic underpinnings, Kubo takes us along on a boy's quest to acquire some mystical armor in anticipation of a showdown with a powerfully malevolent foe.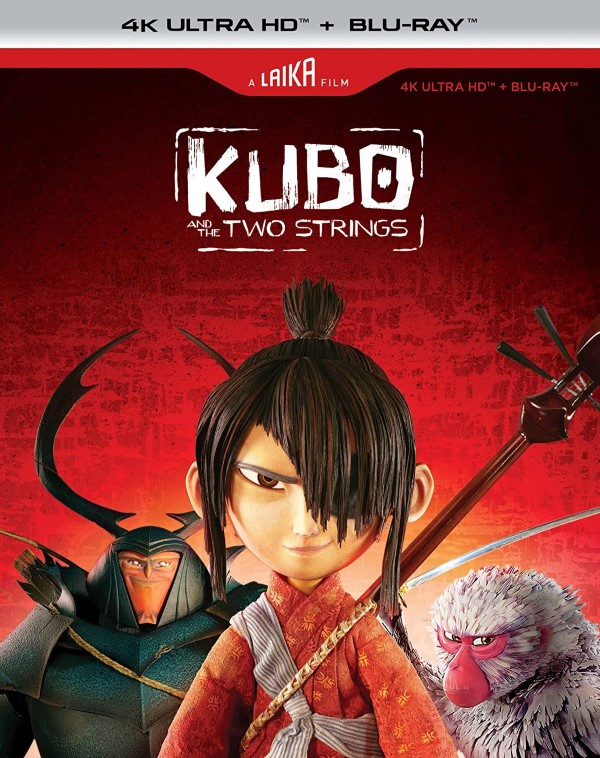 Armed only with his courage and his family's magical, musical shamisen, young Kubo teams up with an overprotective talking monkey and a beetle/knight (not Paul McCartney, although the work of George Harrison does show up in the soundtrack) for an exciting and amusing journey. Full of fantastical creatures and exotic locales, the movie is all the more dazzling for the unique look and feel that only this medium can deliver.
In a reversal of how I marveled at the photorealistic computer wizardry of The Incredibles, thinking that the consummately rendered family members looked like they could be stop-motion models, Kubo took me by surprise with the fluidity and precision of its hand-animated, painstakingly lit miniatures, sophisticated to the level of CGI perfection. The physical, practical effects were combined with virtual, digital imagery to expand the scope and the drama, leading Kubo to a curious combination of Oscar nominations for both Best Animated Feature and Best Visual Effects.
The 2.39:1 picture boasts eye-pleasing textures, as on Kubo's origami paper, and the fresh 4K restoration in Dolby Vision HDR does not disappoint with its bright highlights, notably in sunrises/sunsets, and colors that truly delight.
Likewise, a new Dolby Atmos remix built upon a 7.1-channel core infuses the movie with greater character thanks to its aggressive, clever, and sometimes subtle surround usage. (Beetle's arrows zipping across the soundstage are a quick little treat.) The big, evil forces opposing our heroes spill into the overheads at key moments, and Dario Marianelli's lilting musical score does its part to bring these little puppets to life, while the trebly strings of Kubo's instrument of choice are appropriately pristine.
Director/producer/animator Travis Knight's archival audio commentary has been ported to the 4K disc and to the included HD Blu-ray as well. This second platter is also home to copious still photos, storyboards and featurettes that explore the innovative solutions that made Kubo possible and remind us just how challenging this underappreciated filmmaking process can be: I wouldn't last a day before the stress would do me in.
Ultra HD 4K Blu-ray
STUDIO: Shout Factory, 2016
ASPECT RATIO: 2.39:1
HDR FORMATS: Dolby Vision, HDR10
AUDIO FORMATS: Dolby Atmos with TrueHD 7.1 core
LENGTH: 102 mins.
MPAA RATING: PG
DIRECTOR: Travis Knight
STARRING: Charlize Theron, Art Parkinson, Matthew McConaughey, Rooney Mara, Ralph Fiennes, Cary-Hiroyuki Tagawa