Joker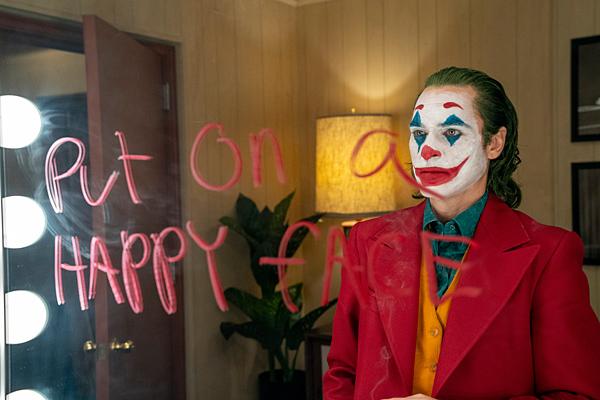 Joker
. The film's Arthur Fleck is a new creation fully outside any established cinematic or literary continuity, a man barely able to function on the mean streets of Gotham City circa 1981. We can feel him barely hanging on as he goes about his daily grind: caring for an ailing mother, toiling as a professional clown, and dreaming of a career as a standup comedian. The casting of
The King of Comedy
's Robert De Niro as the host of Fleck's favored TV talk show is clever indeed, but
Joker
also draws undeniable inspiration from another De Niro/Scorsese affair,
Taxi Driver
, with its desperate loner on final approach to his boiling point. In a town without pity, a world utterly lacking in human compassion, is a descent into violent crime inevitable? And how exactly might one man's last thread of sanity unravel?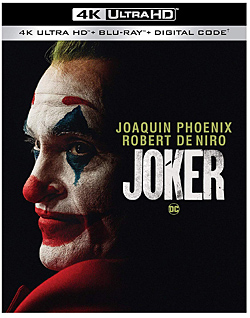 Alternate realities aside, there are a few unmistakable connections to the larger Bat-universe here, along with some crafty Easter eggs for the eagle-eyed. Joker's R rating is well-deserved for some gruesome fatalities, but more so for its overall psychological tone, which might leave you wanting a drink, a smoke, and possibly even a shower afterward.
Phoenix is in virtually every shot, the infinite nuances of his unconventionally handsome mug fairly begging to be scrutinized. Director Todd Philips, with the help of his cinematographer Lawrence Sher, conveys relentless desolation, the unforgiving precision of sharp focus rendering this world's unhappy existence immediate and unescapable. Shot almost entirely digitally and mastered in 4K, Joker displays a near-flawless 1.85:1 image on Ultra HD Blu-ray. The textures of cloth in the costumes exhibit a level of detail as strong as I've ever seen, and text—as on a social worker's ID badge—draws in the eye with its striking clarity. In a world this oppressive, bold colors are used sparingly, meaning that Fleck's hero (villain?) in his odd red, gold, and green suit stands in stark contrast to his surroundings. High dynamic range delivers a harsh burn in the sunlight of the outside world, while spotlights in smoky nightclubs have a subtle, yet pristine glow and the many dark shadows are conveyed with lifelike organic distinctions. (The movie was released theatrically, as now on disc, in Dolby Vision with a Dolby Atmos soundtrack.)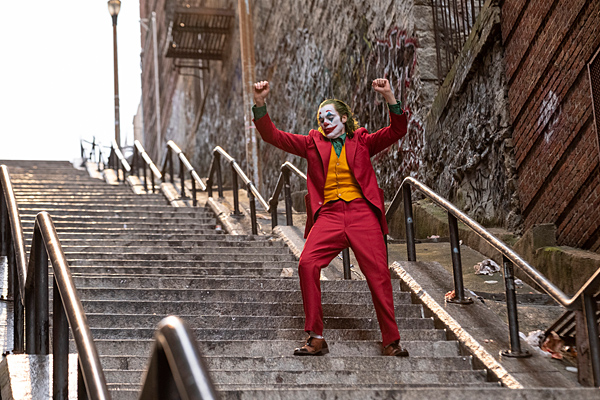 Unlike more traditional comic book adaptations, Joker makes no attempt to be sonically spectacular, opting instead to capture the ugly noisiness of a vast, crowded, decaying city. There are some refined bits of discrete placement in the various channels, but the Atmos track and its Dolby TrueHD 7.1 core are more memorably used to convey the overpowering rumble and squeal of a subway and the vitriolic cacophony of a protest mob. Much of the mood is set, and the story driven forward, by the foreboding thumps of Hildur Guðnadóttir's remarkable musical score, her use of mournful cello spreading across the speakers like Fleck's tortured soul.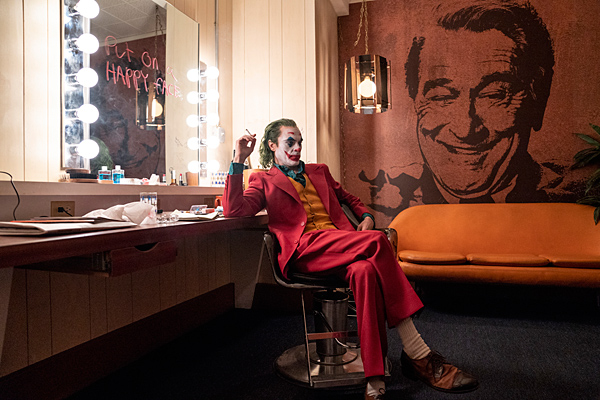 Extras including quick screen test clips and a chronological gallery of still photos from the movie are worth a look, but we are thankfully given a proper "making of" featurette packed with genuinely revealing interviews with the cast and crew. A study of alternate takes for one key scene offers further insight into Phoenix's creative approach to the material.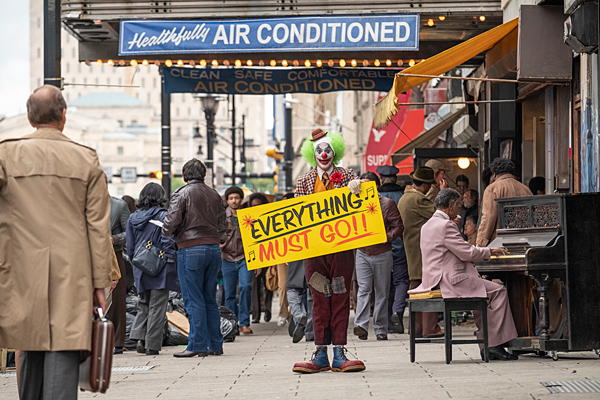 By going off-canon yet still fixating on one of popular fiction's most notorious figures (more or less), Joker delivers something so original and unexpected at every turn that I could hardly take my eyes off the screen. All involved in this production are to be lauded for giving us another entry on the short list of truly outstanding DC movies.
ULTRA HD BLU-RAY
STUDIO: Warner, 2019
ASPECT RATIO: 1.85:1
HDR FORMAT: Dolby Vision/HDR10
AUDIO FORMAT: Dolby Atmos with Dolby TrueHD 7.1 core
LENGTH: 122 mins.
DIRECTOR: Todd Phillips
STARRING: Joaquin Phoenix, Robert De Niro, Zazie Beetz, Frances Conroy, Brett Cullen, Glenn Fleshler
To the annals of unique interpretations and iconic performances of The Clown Prince of Crime we must now add Joaquin Phoenix and his exquisitely tragic turn as