JL Audio Brings the Boom to Architectural Audio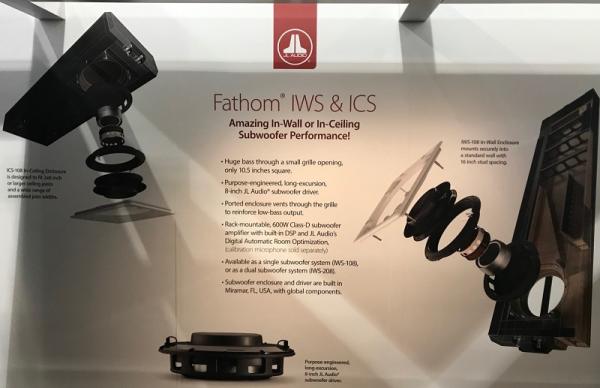 JL Audio has long been known amongst discriminating high-end theater owners as being on the shortlist of companies capable of delivering ultimate performance and chest slamming bass through its Gotham and Fathom subwoofer lines. While the company has offered an architectural line of subwoofers in the past, at CEDIA they demonstrated the new ICS-108 in-wall/ceiling subwoofer system.
Part of the Fathom series, the new subwoofer system comes in either a ceiling (ICS-108) or in-wall (IWS-108) installation configuration. The in-wall system features a large enclosure that is designed to be installed between 16-inch on-center 2x4 stud walls during construction prior to sheetrock installation, while the ceiling system features a different shaped enclosure with the same air volume (47.5 cubic inches) designed for installation in ceilings with 2x6 joists ranging from 16- to 25.5-inches on center.
Both systems utilize the same thin-line 8-inch diameter driver and are driven by the included 600-watt amplifier. The amplifier can drive two subwoofers, producing smoother bass response over multiple listening areas. Both systems are rated from 24.9–109 Hz ±1.5 dB with an impressive 24.6 Hz response at –3dB! The system includes JL Audio's powerful 18-band Digital Automatic Room Optimization (D.A.R.O.) system for room correction.
JL Audio is also bringing back the Fathom f110v.2 after more than five years. The company saw the need for returning flagship, high-performance bass performance into a smaller footprint and lower price point. The sub remains unchanged from its original design, which is to say it still looks great and rocks hard, with a single 10-inch driver driven by an 1100-watt amplifier.
All three subwoofers are available now, with the ICS-108 and IWS-108 retailing for $2300, and the Fathom f110v.2 fetching $3500.