Integra DHC-80.3 Surround Processor and DTA-70.1 Amplifier
Price
: $4,400
At A Glance
: 4K scaling • Reference-quality video processing • Audyssey MultEQ XT32 ups the ante for room EQ • Nine channels of THX Ultra2 amplification
I don't know what's more impressive, the fact that Integra can produce a new state-of-the-art surround processor each year, or that the company can find new audio/video processing modes to add to its already ridiculous list of features. The Integra DHC-80.3 is the latest home run from Integra, with some of the most future-proofing features the company's delivered yet. I can't imagine adding much more to a surround processor, but I'm sure Integra will pull some new surprises out of the bag next year.
I've reviewed several of the past incarnations of Integra's A/V processor, but this time up, Integra also sent out its nine-channel THX Ultra2–certified amp, the DTA-70.1. This monster delivers 150 watts per channel and sports balanced inputs and a gorgeous solid-aluminum front panel that matches the DHC-80.3 perfectly.
Bases Loaded
The DHC-80.3 isn't that much different from last year's DHC-80.2. We didn't review that model, but I had the privilege of owning it and using it in my home theater system. The biggest addition the DHC-80.2 added to Integra's list of stellar features was Audyssey's latest incarnation of its room EQ system, MultEQ XT32. This took its room correction software to a whole new level of performance and offers a whopping 32 times more filter resolution than the previous flagship MultEQ XT processing.
It also sports four times more filter resolution for the subwoofer channels and supports two independent subwoofers. To put it another way, the company literally added in its popular standalone SubEQ into the XT32 framework and substantially upgraded its abilities with the rest of your speakers.
When approaching the DHC-80.3's design, Integra must have realized it had already covered the gamut of available audio processing. Just look at the list: THX Ultra2, Audyssey MultEQ XT32 with Dynamic EQ and DSX processing, Dolby Pro Logic IIx and IIz, and Dolby Volume. Plus, add all the requisite high-resolution audio formats, including full 7.1-channel Dolby TrueHD and DTS-HD Master Audio, and all your favorite audio flavors are covered. The only notable audio feature added this year is DTS Neo:X, which is DTS's catch-up in the height and width game that Audyssey introduced with DSX. But to take the cake, Integra has added a video feature that steps into that future-proofing category more than anything we've seen to date: scaling to 4K resolution.
Beauty of the Beast
If you look at the DHC-80.3 from the outside, you'll see the exact same chassis as the DHC-80.2 and DHC-80.1 before it. It's a very classy design with a clean aesthetic that allows for full control of any feature right from the front panel. There's direct access to any input and a menu navigation pad so you can set up the processor from the front panel. The only real change from the previous models is the addition of a few more logos along the bottom.
The back panel is daunting at first, but the layout facilitates an easy hookup if you're a veteran to THX gear or other well-equipped components. All bases are covered, with just about every conceivable input. For digital, you get eight HDMI 1.4a inputs (full 4K and 3D video support) and two outputs, including one HDMI port on the front panel. You also get a trio each of coaxial digital and S/PDIF optical inputs, all of which are assignable.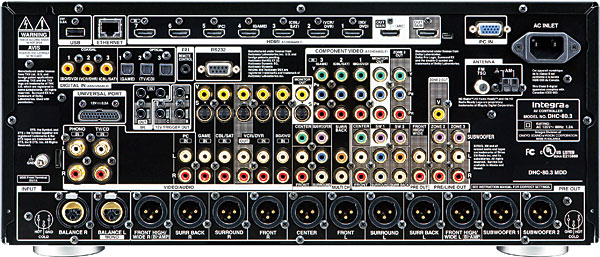 The DHC-80.3 has 11 balanced XLR outputs. That includes a stereo pair that's configurable for either height or width channels. If you aren't interested in adding more channels to your existing surround setup—or your significant other has better ideas for the space that yet more speakers would take up—you can configure them for biamping your main speakers. The DHC-80.3 will even support both height and width channels simultaneously if you're not using back surrounds; otherwise, it's one or the other.
The DHC-80.3 also includes full Internet audio connectivity with a rear-panel Ethernet connection. Services like Spotify, Pandora, and Rhapsody are supported, as well as a host of others. While the interface doesn't have the spit and polish of the app versions on my iPhone, it was easy to navigate and nice to have built in. The DHC-80.3 also connects to your home network for playback of music files on your system via DLNA. Unfortunately, I have all my files within iTunes on my iMac, so I couldn't get this up and running. Still, I had no issues at all playing back MP3 and FLAC files on memory sticks via the front or rear USB inputs. With the right setup, there's essentially no need for any secondary home audio network device, which saves you money and rack space. The Ethernet connection provides support for firmware updates. Integra also offers an optional USB Wi-Fi dongle (UWF-1) for wireless connectivity.

The DHC-80.3's operation is on par with previous models. The remote covers most of the bases nicely, and the setup menus are pretty straightforward as processors go. Some of the video setup can be a bit frustrating, but it depends on the level of adjustability you're going for. Integra also has a controller app for its products that's available for both Apple iOS devices and now Android devices as well.
It's 4K...Today
When we reviewed the DHC-80.1 (Home Theater, May 2010), we were more than satisfied with its level of video processing. It sailed through all of our tests and added some great features to its already reference-quality video processing, including ISF calibration (gray scale). The DHC-80.2 added HDMI 1.4a for seamless integration with the newest 3D format. The DHC-80.3 is a completely new beast. It not only adds a new video processing chip, but also a new video scaling solution that lets the processor scale sources to 4K resolution.
The last two Integra processors used the HQV Reon-VX chip for their processing duties. This is one of the best solutions out there. The DHC-80.3 ups the ante with the new HQV Vida chip, which is the latest and greatest solution from IDT. This chip didn't even so much as break a sweat in the most demanding video processing tests I threw at it, including the bevy of tests in the Spears & Munsil High-Definition Benchmark Blu-ray. These advanced tests are usually reserved for high-end standalone video processors, not integrated video processing like this. But the DHC-80.3 sailed through: It had no issues properly locking onto cadences and showed no signs of weakness with video-based material.
I did find one caveat, though. In its default configuration, the Integra changed the color space's bit depth, which in turn rolled off the video signal's chroma resolution. I even set the video output to Through, which I thought would defeat all video processing (it does for deinterlacing and scaling), but it didn't eliminate this issue. To fix the issue, I had to hold down the TV/VCR button on the front panel and then push the enter key until the display said, "Video Processor: Skip." I don't know why this is enabled by default or why there isn't an easier way to defeat it via the standard setup menus. Integra says a firmware update may have addressed this issue by the time you read this.