Hisense PX1-Pro 4K DLP Laser TV Projector Review

PRICE
$3,500
AT A GLANCE
Plus
Ultra-wide color gamut
Terrific lens for impressive focus
Built-in (ATSC 1.0) tuner
Minus
No dynamic tone mapping
Netflix not part of the Android bundle
Tuner doesn't support ATSC 3.0
THE VERDICT
With its onboard streaming capability and TV tuner, the Hisense PX1-Pro comes about as close as you can to the proverbial "Home Theater in a Box" concept—one that that lets you savor big-screen fun without leaving home.
Hisense is known by Sound & Vision cognoscenti as a brand taking ambitious steps to spotlight itself as an innovator in leading-edge television technologies with pricing it terms affordable. For those who do not peruse our pages, the Hisense name may be more closely identified with refrigerators and other home appliances. But as a manufacturer in the consumer electronics space, especially one in the business of making flat-panel televisions and projectors, you can legitimately claim to "have arrived" when your products occupy rack space in Costco alongside the best-known brands in TV.
In addition to offering a full range of flat-panel sets, China-based Hisense has been a longstanding proponent of ultra-short-throw (UST) projectors—a.k.a. "laser TVs"—having done much to elevate the category here and in the Chinese market where this technology rules supreme for its ability to deliver cinema-sized entertainment without the complexity of having to mount a projector on the ceiling. In 2018 we reviewed one of the brand's first models—simply called the Hisense Laser TV—and were impressed enough to award it a Top Pick, though at $10,000 it wasn't exactly a mass-market product. (The same can be said of the $25,000 Sony VPL-VZ1000ES we reviewed in 2017.) In recent years, we've also reviewed UST projectors in the $2,800 to $6,000 range from BenQ, Epson, Vava, and LG with mixed results.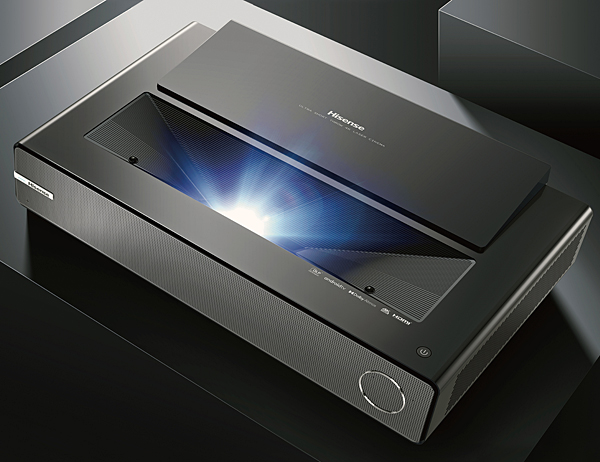 Today, Hisense has nine UST projectors in its Laser Series, all but two of which include a screen. The PX1 and its big brother, the $3,500 PX1-Pro TriChroma Laser Cinema—the subject of this review—are offered solo, making the screen an à la carte selection. The PX1-Pro is designed to be used (ideally) with an ambient-light rejecting (ALR) screen from 90 to 130 inches (diagonal) and is uniquely equipped with a motorized focus assembly to ease setup. Though the screens accompanying Hisense Laser TVs bear the Hisense name, the company currently has no plans to offer them separately but was kind enough to provide a 100-inch (diagonal) 0.4-gain ALR screen with our test sample (the model it bundles with its L9G Laser TV).
The PX1-Pro is reasonably compact and has a nice sense of style with a slate gray finish that helps make the unit disappear when it's lights out and lasers on (a far cry from the white lighthouse-beacon casings found on some competitive models). A perforated plastic grill spans the projector's 20-inch-wide facade, concealing a 30-watt speaker system designed to provide "Dolby Atmos sound." On the far left, the silver Hisense badge doubles as an LED power indicator (which can be turned off in the menu) and sits just above the system's infrared (IR) remote control sensor. A silver ring on the far right side serves an unknown purpose (aside from becoming distractingly highlighted by the slightest hint of stray light).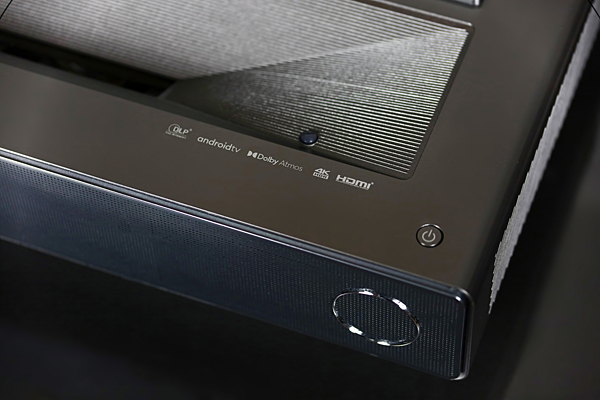 The topside of the PX1-Pro is equally spartan with a solitary power button in the front right corner and a beveled cavity for the projector's lens assembly. A pair of eye-protection sensors stand guard at either end of the cavity, ready to spring into action if someone (or something) gets too close to the laser light beams exiting the projector. (Hisense issues a very clear warning in its Quick Setup Guide: "Do not look directly at the lens when this device is on!" Ya think.) When an obstruction is sensed, the image slightly darkens and an onscreen message cautions that light output will be temporarily disabled after a 5-second countdown. When the sensors deem it safe, the image resumes. This feature is defeatable in the menu but if you have children, the best practice is to leave it enabled. One could argue that the safeguard doesn't go far enough to prevent eye damage (why the 5-second shutdown delay?) but my guess is the lawyers have already earned their retainers arguing this one—after all, somebody made swallowing detergent pods "a thing"...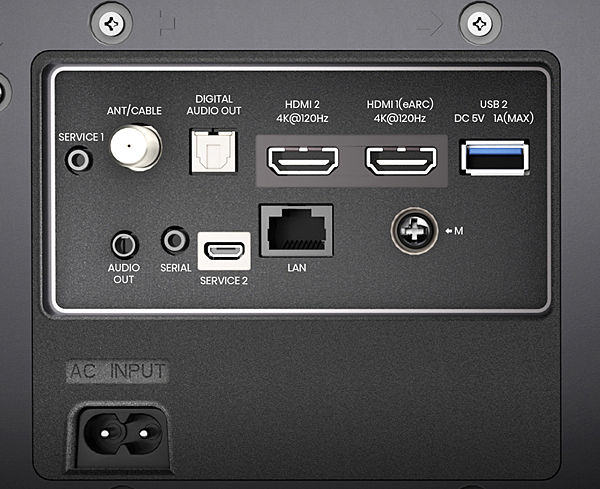 Except for a USB port on the left side of the projector, all of the PX1-Pro's connectors are arranged in a small cluster on the left side of the rear panel. Among them are two closely-spaced HDMI 2.1 ports, one with enhanced Audio Return Channel (eARC) capability, an Ethernet (LAN) connection, and two USB ports (one 3.0 and one micro 2.0 for service). Digital audio escapes via an optical output, while analog signals exit through a headphone-friendly 3.5mm stereo connector. A 75-ohm Ant(enna)/Cable jack is also provided for the onboard analog/digital (ATSC 1.0) TV tuner along with a home automation/Control4-compatible serial port. The projector supports the Google Assistant and (Amazon) Alexa voice platforms in addition to having onboard Wi-Fi and Bluetooth.
The bottom of the chassis is equipped with four leveling feet for quickly squaring the image with the screen, should the process be performed manually, and a wrench is included for making fine pitch and yaw adjustments. Hisense also provides a QR code you can scan on your phone to initiate an Auto-Geometric set-up feature, but hands-on adjustment using onscreen up/down/left/right buttons will deliver the best results.
The heart of the PX1-Pro is a triple-laser light engine comprising red, green, and blue lasers with a specified brightness of 2200 lumens and an anticipated lifespan of 25,000 hours. Hisense says the projector is designed to not only fully encompass the BT.2020 color space but to exceed it by 7%. Ambitious, indeed. The PX1-Pro is not a native 4K projector but rather mates a Texas Instruments DLP chip with a super-fast four-way pixel shifting mirror to fool your eyes into thinking they're watching native 4K—and convincingly so.