Hisense PX1-Pro 4K DLP Laser TV Projector Review Page 2
Hisense replaces the sequential color wheel found in most single-chip DLP projectors with its TriChroma laser trifecta in an effort to reduce or eliminate rainbow artifacts, while considerably extending the color gamut. I suppose I'm on the lucky side of this equation, as nothing ensnared my attention, but sensitivity to the "rainbow effect" varies from person to person so you'll have to make your own judgement call. Despite electronic focus, which in this implementation is pokey but controllable from your seat and extremely effective, the lens has a fixed throw ratio of 0.25:1 and no motorized zoom or lens shift. Digital geometric adjustments include Keystone correction, which I don't recommend using—one wrong click can really screw up the image.
Setup
The PX1-Pro projector arrived a week before the screen so I used a white wall as a stand-in—not to watch movies but to set up Wi-Fi and check for software updates. The unit displayed an up-to-date status with no indication (as of late August) that the Dolby Vision high-dynamic range (HDR) upgrade promised for the summer had yet been activated. The menu is logically arranged and easy to navigate using the supplied remote—there's even a full suite of calibration controls (more on those later). Using the microphone built into the handset to summon Google may be a bucket-list worthy pursuit for some but I skipped voice control in favor of button pushing.
Hisense touts the PX1-Pro as a streaming projector and that it is, using its Android TV smarts to provide access to Disney+, HBO Max, Hulu, Prime Video, YouTube, Showtime, Pandora, and Sling TV. Oddly, Netflix is left to peer longingly through the fence, which means fans of Formula 1: Drive to Survive will need to find a workaround. Unusual for a projector but nonetheless curiously convenient, I connected an indoor HDTV antenna to the PX1-Pro's antenna/cable input, tasking the tuner with seeking digital channels in the area. From my perch on the seventh floor of a Madeira Beach high-rise overlooking the Gulf of Mexico, the tuner reached across the bay into Tampa and registered a respectable 44 channels. Perhaps of note, the tuner is based on the original ATSC 1.0 digital TV standard, not the newer "NextGen TV" ATSC 3.0 standard, which supports 4K broadcasts (where available) and other internet-based features. With the PX1-Pro still projecting images onto the wall, I perused channels I recognized, while scoffing at You Tube "influencers" who proclaim you can have an eminently satisfying experience by merely pointing your projector at a wall. You guys have your eyes painted on.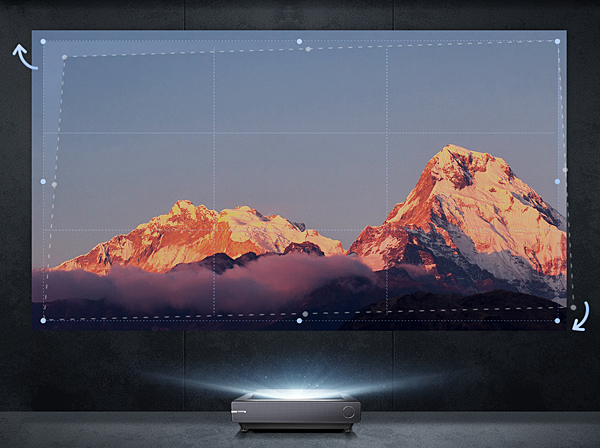 When the screen arrived, I mounted it on the wall, 30 inches off the floor, and used a Pelican equipment case to lift the projector to a height of 18 inches with the lens positioned at the center of the screen. Following guidelines in the owner's manual, I positioned the front fascia of the projector 2 feet from the wall. Of course, these measurements will vary depending on your screen size, so be sure to confirm your setup before buying furniture to support the projector.
HD/SDR Performance
I started with some preliminary daytime viewing, while toggling through the projector's picture modes to start the calibration process. With Color Temp set to Low, the Theater Day (Rec. 709) mode was closest to the D65 reference white point. With only minor changes (see Test Bench), grayscale was respectably linear and gamma tracked ruler flat to my 2.2 target. The screen tamped light down somewhat (as expected with an ALR screen) but I was pleased with the measured results.
It was time to see how the Hisense projector/ALR screen combo stacked up against my 65-inch OLED TV in daytime viewing. My regular HD/SDR benchmark, the Formula 1 World Championship, was in the midst of its regular summer standstill, so I kicked back and started channel surfing, stopping on a Yankees/Cardinals game at St. Louis. Watching a few innings in near twilight proved the PX1-Pro to be a capable performer, able to deal amicably with varied and complex motion, while adequately handling subtle shadow gradients and rendering textures such as team emblems raised against uniform backdrops with sculpted detail.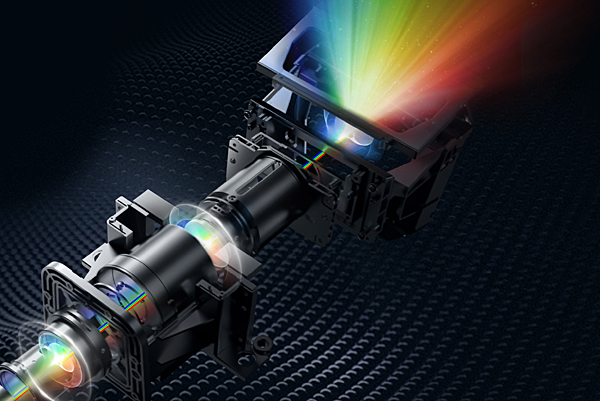 On a subsequent day, an endearingly energetic Little League Baseball World Series contest confirmed my earlier impressions. Though I did most of my viewing in the early evening, the calibrated Theater Day mode produced a highly appealing image with natural skin tones—so much so that in an uncanny moment of self-awareness I realized I never once reached for the remote to change a setting. Audio quality was adequate, with the onboard five-band EQ providing for a slight improvement in intelligibility, but I would continue to toss coins in a jar for that soundbar you've had your sights set on.
Ultra HD/HDR Performance
Moving on to a more critical assessment, I turned to my Fire Cube TV to stream the Hulu original series Only Murders in the Building, where three strangers with an obsession for the same true crime podcast find themselves swept up in a murder drama unfolding inside their exclusive apartment building on Manhattan's Upper West Side. Starring Martin Short, Steve Martin, and Selena Gomez, the show is deftly crafted, witty, and fortified by highly polished production quality. I settled on (and calibrated) HDR Standard as my preferred viewing mode, and when done, "cheated" by setting Active Contrast to Medium to add a bit more oomph to the tone mapping. The PX1-Pro crafted an addicting HDR palette, often forcing me to concede to yet one more episode. Whether chic, flamboyant, or frumpy, colorfully complex wardrobes accented each character's eccentricity. Creative set design and costuming on shows like this are finally delivering the HDR we were promised, accentuating depth, dimension, and mood up front, and not relying on post-production dial-turning to aimlessly miss the mark. The laser-equipped PX1-Pro takes full advantage of these opportunities, faithfully communicating the director's intent.
On occasion I detected a hint of laser speckle in a few scenes where deeper blacks would have been preferred. Still, at the close of each viewing session, I retired feeling the PX1-Pro had enhanced the story being told. For a textbook-style analysis of image fidelity, I connected a Murideo Seven 8K generator and sampled video files acquired in 6K and mastered to studio quality 4K/HDR10. Day and night urban scenes from Chongqing, China and London, England squashed any doubts I may have had about the ability of the lens Hisense paired with its TriChroma light engine to produce precisely finessed razor-sharp images.
Conclusion
The Hisense PX1-Pro provides exceptional performance at a price that seems inexplicably low given the technology at play, which is welcome news for videophiles. However, there are a few caveats. I can easily endorse this projector as long as we acknowledge that UST technology is not universally interchangeable with flat-panel TVs. While so-called ambient-light rejecting screens can work remarkably well in challenging daylight settings, the laws of physics remain undaunted. The PX1-Pro delivered image quality I could embrace when the ambient light in my room was subdued. That's not to say the screen didn't do its job—any equally rated ALR screen would yield a similar result—but for daytime viewing the setup worked best in moderate (or less) ambient light, not sunlit or otherwise bright conditions.
I will state, and emphatically so, the PX1-Pro delivered reference-level quality with network broadcasts and, with appropriate ambient-light conditions, did what every high-quality display should do with dramatic Ultra HD HDR material: step aside, while you're swept away, lost in new adventures. Whether casual viewing or in serious scrutiny, I never felt inclined to return to my OLED TV. My recommendation is to reward yourself, and the PX1-Pro, with a screen designed to work effectively in your viewing environment and enjoy life-sized action delivered with a precision only lasers provide.