Hisense 65H9D Plus LCD Ultra HDTV Review Page 2
At the opposite end of the light spectrum, I found that the H9D Plus is no light cannon. Its peak brightness in HDR, measuring a 10 percent-sized, 100 percent white window and with my preferred settings that minimized white clipping, was an unimpressive 328 nits. Fortunately, its subjective HDR performance was far better than that number might suggest, a result I can only attribute to the non-linear nature of human vision. Interestingly, as the 100 percent peak white source occupied more of the screen, the Hisense's peak output increased, reaching 412 nits with full screen white. The Sony XBR-65A1E OLED (re-measured directly after the Hisense readings) put out 615 nits in a 10 percent peak white window but only 140 nits with full screen peak white.
Beyond the image, there were a few annoying quirks with controls that didn't work as promised. Some of the color calibration controls either didn't function or didn't have enough range, especially the two-step White Balance gain adjustments, which worked in SDR but not at all in HDR—perhaps a limitation of the dedicated mode I used for HDR. In addition, the 60 percent step in the 10-step White Balance menu had no effect—and was badly needed at that level in HDR. Furthermore, calibrating SDR color using the Color Tuner CMS controls created a visible green shift in the picture, though returning them to their zero defaults resulted in color that was far better and surprisingly close to that of the recently reviewed Sony OLED previously mentioned that I still had on hand. The Color Tuner did work for my HDR calibration (again, in a different picture mode).
I lost count of the number of times that Motion Enhancement was engaged when I fired up the set, even though the menu said that it was off, with the Blur and Judder controls set to zero. I spotted the soap-opera effect immediately, and to defeat the "enhancement," I had to turn the Motion Enhancement control on, then off again. In another apparent firmware glitch, the set failed to play 60-Hz HDR content. This requires setting the menu's HDMI 2.0 Format control to Enhanced. But when I did so, the only 60-Hz HDR material available to me, Billy Lynn's Long Halftime Walk on Ultra HD Blu-ray, wouldn't play. Fortunately, there's no other 60-Hz HDR content out there that I'm aware of at this time.
Finally, the Hisense was also typical of LCD designs in displaying a noticeable drop in contrast when viewed off-axis. This is common with VA-type LCD panels.
Viewing UHD/HDR
Having read all of the above nitpicks, you might think that the 65H9D Plus produced a poor picture. Nothing could be further from the truth. Yes, its black levels and shadow detail were mediocre, most noticeably in a dimly lit or darkened room on full black fields and dark scenes (and sometimes on letterbox black bars).
However, with HDR sources, the image had plenty of pop (far more than the low measured peak light output led me to expect), with brilliant but largely natural colors and crisp resolution. A color calibration, despite the ineffectiveness of some controls mentioned above, subtly improved the set's performance. But even with just a modest fine-tuning of the settings on the basic controls, the 65H9D Plus's picture was rewarding—a good thing, since few buyers of a set at this price point would pay the $400 (or more) that a good SDR and HDR calibration would cost.
The Great Wall may have been a critical and commercial flop, but it's a beautiful production with searingly vivid colors and sharp detail. The Hisense didn't disappoint here, with particularly impressive reds, blues, and golds. Every scene looked as it should in both color and resolution as I've come to know this disc on other, more expensive 4K displays.
The same was true of Allied. Although the colors in this film are more natural and less vivid than those in The Great Wall, they were still impressive on the Hisense. The TV did emphasize some colors in both HDR and SDR. Greens, in particular, had that slightly Crayola look, but not to a cartoonish degree. Yellows and golds were emphasized, too, but only a little, and it was never bothersome. The TV's less than pristine blacks didn't do full justice to Allied's few important night scenes, but the contrast on these was acceptable.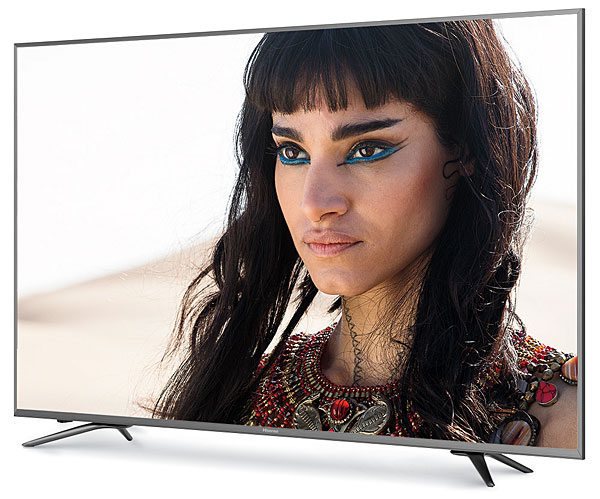 Even briefly comparing the Hisense with the calibrated Sony OLED set mentioned above—a $4,000 TV—the Hisense was far from embarrassed. Of course, it couldn't approach the OLED in its contrast, blacks, and shadow detail. But its color and resolution were in the same ballpark. In the acid test of filmed fleshtones, my preference went back and forth between the two sets. Fleshtones can be notoriously variable in movies, but neither set looked consistently better or worse than the other. As for resolution, the Sony did look a bit crisper on some UHD/HDR material, but it was so close that you'd be hard-pressed to pick a favorite. And on those bright HDR highlights, the Sony popped just a little more—but even when viewed side by side, the differences certainly weren't dramatic.
Viewing SDR
The TV did a solid job of upconverting 1080p high-def sources to its native 3840 x 2160 resolution. Hisense calls its processor Octa-core—or, in the mouthful version, 4-core CPU + FRC 4 Core GPU. Regardless of what you choose to call it, it did the job, and did it as well as any set I've yet reviewed.
While the 65H9D Plus had the same contrast shortcomings with 1080p standard dynamic range content that it had in HDR, its black levels and shadow details looked marginally better because of SDR's lower peak brightness. And within the narrower Rec. 709 color range of 1080p SDR, the Hisense never disappointed me. The Hisense's too-low SDR gamma found in any of its available gamma settings did make images on my other reference sets look a bit more saturated. (A low gamma makes the picture brighter, particularly in mid-brightness scenes, where most video lives.) But the Hisense's colors never looked pale or (apart from those demanding, dark scenes) washed out. Samsara was as brilliantly colored as I remember it, if just slightly warmer on the Sony. The Hisense was also, surprisingly, sharper on 1080p material than the Sony, though this was so subtle that you'd likely never spot it without a direct comparison.
I should never have loaded the last episode of season 6 of Game of Thrones into my player. It's such a compelling, spectacular, and densely packed hour of television that I wound up watching nearly all of it—for perhaps the third or fourth time. The Hisense showed its black-level limitations on the darker parts, particularly near the beginning. But as the story moved on to somewhat lighter scenes, the TV did extremely well. I even zeroed out all of the color calibration settings to simulate an out-of-the-box condition (though I left my changes to the other settings alone—changes that any viewer can make with a good test disc). Apart from those dark scenes, I lost myself in the experience. Isn't that what this whole home video thing is supposed to be about?
Conclusions
In some ways, the Hisense 65H9D Plus is a work in progress. It needs a bit more refinement in the effec- tiveness of its color calibration controls (and perhaps a firmware update to prevent it from defaulting to active Motion Enhancement when not commanded to do so). And its middling contrast, even at this low price point, prevents my full endorsement when there are competitively priced sets now that feature a potentially more effec- tive full-array local- dimming backlight. I'd be curious to see how the company does on other models that do feature FALD.
But this Hisense can produce rewarding images in both SDR and HDR. I enjoyed my time with it, and viewed by itself with my critical reviewer's eye, the set only rarely took me out of the moment. Furthermore, the audio continued to impress me, especially on that Game of Thrones episode, in which the music had the required impact, and then some. That's something we can rarely say with a straight face about a flat-screen TV. Hisense may still have some improve- ments here to be fully competitive in this price class, but the 65H9D Plus is a good start, indeed.