HDMI Forum Announces Ultra High Speed Cable Certification Program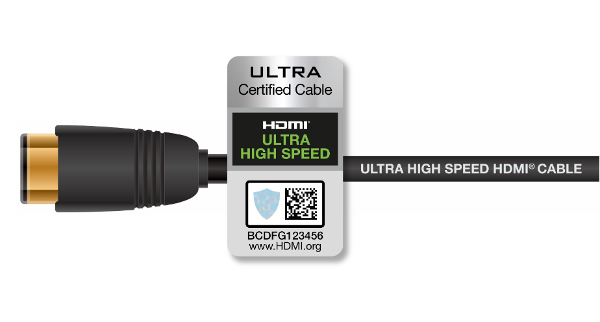 The HDMI Forum used CES 2020 as a springboard to announce a certification program for "ultra-high-speed" HDMI cables to ensure products marked under that banner are compliant with all HDMI 2.1 capabilities, including 4K and 8K video, high-dynamic range (HDR), variable refresh rate (VRR), and enhanced audio return channel (eARC).
The program is expected to roll out soon but a time schedule was not announced.
To become certified, a cable of any length must undergo testing at an HDMI Authorized Testing Center (ATC) to ensure it's compliant with HDMI 2.1 and meets requirements for minimizing electromagnetic interference (EMI). Cables that pass certification testing will carry an "anti-counterfeit" HDMI Ultra High Speed Certified Cable label (shown above) on their packaging.
The label provides visible verification that a product meets the HDMI Forum's requirements. "The Ultra High Speed HDMI cable is the only way to ensure all the features and capabilities of the HDMI 2.1 Specification are delivered from a source device to a display," said David Glen, president of the HDMI Forum and senior fellow at AMD. "Ensuring Ultra High Speed HDMI cables are compliant with the HDMI 2.1 Specification is essential to the HDMI eco-system."
More than 140 cable manufacturers participate in the HDMI Forum's existing HDMI Premium Certification Program, and retailers have come to rely on regular cable audit testing, an anti-counterfeit authentication label, and a supply-chain scanning app that is used to verify the authenticity of a label, Forum officials said.
The new certification program will be administered by the HDMI Forum's authorized agent, HDMI Licensing Administrator, Inc. (HDMI LA) as part of its existing certification program.
"The industry has had five years of experience with the HDMI Premium Certification program and many HDMI cable manufacturers are already testing and certifying their High Speed HDMI Cables and applying the anti-counterfeit labels," said Rob Tobias, CEO of HDMI LA. "Expanding this program to include the new Ultra High Speed HDMI Cables provides a seamless verification experience."
For more information, visit hdmiforum.org.