Harman/Kardon Soho Wireless Headphones Review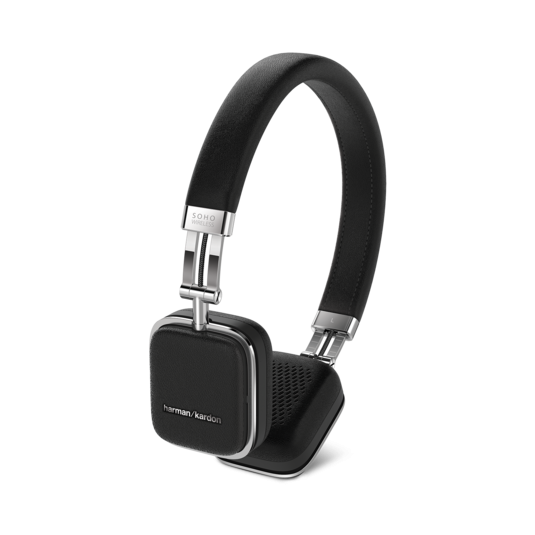 It's rare for a product to "wow" me right out of the box. So I surprised myself when I let out an audible "Ohh" as I opened the box containing the Harman/Kardon Soho Wireless headphones. They just oozed class and elegance—in fact, I'm reminded that I had a similar reaction to the Harman/Kardon Esquire Mini Bluetooth speaker. Black leather, stainless steel, and a hefty dose of panache. Could the Soho Wireless possibly sound as good as they look?
In a nutshell, yes, the Soho Wireless headphones sounded quite nice. I appreciate that they have three ways to connect—Bluetooth with aptX and AAC coding, NFC, and a removeable cloth-covered 3.5mm cable. They also come with a unique cloth-covered USB charging cable—I've never seen one like that. Controlling playback is easy via touch controls on the right earcup. Simple gestures—swipe up to raise volume, down to lower it, forward to advance a track, tap to pause, etc. make these a pleasure to use with a Bluetooth connection. The controls can also be locked out which comes in handy—the controls are quite sensitive and I found myself accidentally pausing a track when I was merely repositioning the headphones on my ears.
One thing that was interesting to me was how petite the headphones are. The earcups are small rectangles—these are on-ear designs. The earcups house a 30mm driver with neodynium transducers, covered with a flat cushion. The earcup is covered in black leather with subtle stainless steel accents. The headband is also leather, with a very minimal amount of cushioning. The headphones swivel and fold up into a rather compact package, and the Soho come with an attractive, slightly reinforced fabric carrying case. It won't protect against heavy pressure, but it does provide a bit of protection against scratches on the leather surfaces.
The controls are all on the right earcup—the 3.5mm input, micro-USB charging port, Bluetooth pairing control and the touch controls. I can understand putting the touch control on the right side, but it's hard to get used to having the cable connection on the right as well—most headphones with a single cord connection use the left side to keep the cable out of the way of most right-handed users—lefties might like these for that reason alone.
For such small headphones, I was also surprised by the sound. They have a very natural, accurate sound. The bass won't blow away your favorite DJ, but for many styles of music, the bass had plenty of punch and impact. Acoustic bass instruments were wonderful—anything I checked out by The Civil Wars was full and rich (can someone get them to reunite any time soon?) Even the latest mixes from David Guetta had a realistic amount of bass—nothing earthshaking, but natural and smooth. More importantly, the mids and trebles were clean, sharp and very balanced. Female vocals had a very pleasant clarity without ever getting sibilant.
As impressed as I was with the appearance and sound of the Soho Wireless, there was one thing that I wish were different. They're very lightweight and don't put a lot of pressure on the ears—this is good. However, because they're so light and the earcups are completely flat, I found them occasionally slipping off my ears. I have long hair that I try to push away from my ears when listening, but even just a few stray strands made the headphones a little less secure than I would prefer—I might need to cut back on that silky-smooth conditioner I've been using. Someone with hair that doesn't cover his or her ears might not have a problem with them. It could also be attributed to the difference in the size of people's heads—the headband wasn't a snug fit on me, but might be tighter on someone else. However, the loose fit was extremely comfortable for long hours of listening.
The trend these days is for brash and bold—plastic products with loud colors. The Harman/Kardon Soho Wireless is more sophisticated—in looks and sound quality. It's a grown-up look and sound for people who don't really care about what's trending this moment. The Soho Wireless have an appeal that's timeless.