Harman Kardon AVR 1700 A/V Receiver Page 2
Synthesized bass is a common element in movie scores, and in Arbitrage—with Richard Gere as a morally challenged Wall Street whiz—the level continued to be too high. Male voices were occasionally localized in the sub, though I must admit that had I not been listening for it, I might not have noticed it. A brief but loud car crash was palatable, as expected with this receiver. A taste of Billie Holiday with string orchestra reminded me how gorgeous Harman receivers often sound with well-recorded music.
Before and After Science
I finished the movie sessions and started the music sessions with two full viewings of the 2013 DTS Demo Disc, which alternates movie clips with songs. First I ran through it with EzSet/EQ still operating. My perception of the obese bass remained intact in the Hunger Games excerpt. Surround effects seemed vague and elusive in Prometheus. However, in "Listing"—a song by Minus the Bear with a 24/96 multichannel mix—the instruments in the surround channels sounded just right. EzSet/EQ did not obscure dialogue in any of the movies, though it did tone down the clatter in the Snow White castle battle scene.

Since EzSet/EQ cannot be switched off, and there is no pure mode that would bypass it, nothing short of a full system reset would defeat it—something I confirmed with Harman Kardon. I executed the reset by holding down the front panel's surround-mode button for five seconds, then re-entered the speaker distances and balanced the channel levels with a meter. Along the way, I noticed that the test tone for the subwoofer channel was a great deal higher than the other tones—for a moment, I was afraid it had damaged the sub. I turned it down to –10 decibels, the minimum setting, then adjusted the sub volume dial to an unprecedentedly low 9 o'clock, versus the customary 10 o'clock to noon. (A speculation crossed my mind: Had EzSet/EQ's bass correction been thrown off by a flaw elsewhere in the receiver that boosted the sub channel?)
Minus EzSet/EQ, my perception of some tracks on the DTS disc altered. In The Hunger Games, bass was far less boomy. In Prometheus, surround levels strengthened, enabling me to notice the quiet rainfall in the cave. Another effect I hadn't previously noticed was a subtle metallic sheen to the sound effects that accompanied flickering red light effects that shuttled through the cave. An almost subliminal acoustic guitar part in JJAMZ's "Suicide Pact" became audible for the first time, and the vocal had a more breathy quality. Not everything sounded notably different. But I concluded that anything the receiver could do with EzSet/EQ, it could do as well or better without it. I left it off for the rest of the music demos to gauge the amp's intrinsic qualities.
Getting Off EZ Street
For orchestral material, I turned to the ballet suites from Menotti's Sebastian and Prokofiev's Romeo and Juliet, which share disc three of the 14-CD box set Leopold Stokowski: The Stereo Collection 1954 to 1975. Much as I would love to hear this on mint-condition RCA Living Stereo vinyl—which would be above my pay grade—the CD transfer still made the NBC Symphony Orchestra sound smooth, sweet, spacious, rich, and well balanced through Harman's un-room-corrected amp. When the string section rose above the rest of the orchestra, it was not without bite, but not tinny or out of proportion. Using Harman's Logic 7 mode to rechannel two channels to 5.1 resulted in a slightly fuller sound with softer edges. With no buttons on the remote to change modes, I resorted to the plain-looking but functional graphic user interface.
Pink Floyd's Meddle is criminally underrated—it really deserves to get the full Immersion box-set treatment (with 5.1 mixes) accorded to Dark Side of the Moon and Wish You Were Here. My secondhand U.K. LP is slightly scuffed but more vivid in every respect than my first-generation U.S. CD. The AVR 1700 did not flinch at the double-bass-guitar attack of "One of These Days," including the awe-inspiring tremolo-bass solo in the middle, which required the receiver to make my Paradigms' 7-inch metal-coned woofers repeatedly, rapidly, relentlessly start and stop on a dime. And I was playing it pretty loud. The crispness and sparkle of acoustic guitars on subsequent tracks were not dumbed down or rolled off, despite what I've characterized as the amp's polite top end. In the screaming-gull section of "Echoes," modified wah-wah-induced guitar effects soared high over the abyss of slide-rubbed bass strings (you can find tutorials on how to reproduce these effects on the Internet). The sound's room-filling three-dimensionality was impressive—it almost sounded as if the receiver were running height channels, though it does not have that feature. Going to Logic 7 didn't really enhance it much: There was magic in the original two channels.
My copy of Kind of Blue, the Miles Davis milestone, is not one of the classic Six Eyes or 360 Sound pressings. Nor is it one of the recent speed-corrected digital releases. But what it lacks in collectability it makes up for with a pristine, noiseless playing surface. I paid the most attention to side two, the one that didn't require speed correction. The receiver did nothing to mitigate the gauzy character of the pressing—yet it preserved the gentle microdynamic contours of the bandleader's trumpet as it interacted with Bill Evans' piano. The twin saxes of John Coltrane and Cannonball Adderley were warm and smoky.
Discs, What Are They Good For?
So much for disc-based demos. For PC-sourced music, I downloaded and installed the Harman Media Manager to a PC running Win XP. Windows smacked it down with a security block, which I unblocked. Once HMM had scanned this old work PC for the few music files it contained, I gave it a spin, selecting a set of Beethoven piano sonatas by Artur Schnabel. The program operated much like AirPlay except substituting PC for iOS device. It gave me a choice of the PC's local media player or the AVR 1700. I chose the latter and was gratified to see the receiver power itself up, select the right input, and start playing the Moonlight Sonata. This startled my roommate: "You scared me!" Sound was what you'd expect of MP3 at 256 kilobits per second and never glitched.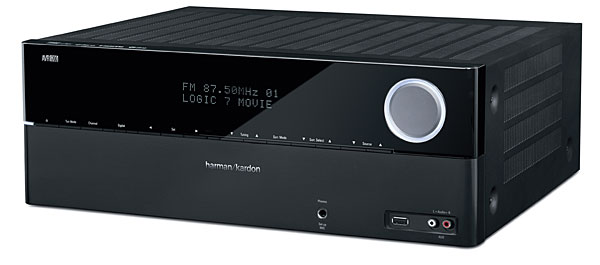 I moved on to other network features. At this point, the receiver dropped its network connection—another full system reset restored it. An audition of AirPlay from an iPod touch 2G worked as well as it always does, despite that device's ancient iOS version. The Harman Remote App requires iOS 4.3 and up, so I switched to a more up-to-date iPad 2. This proved to be an easy and fun way to operate the receiver, with source select buttons at the top of the screen, navigation and volume rings in the middle, and transport controls at the bottom. It looked beautiful in black, white, and shades of gray—in fact, it was far more attractive than the receiver's own GUI. I used it to activate vTuner Internet radio, chose the Ambient genre, and started playing music. It was too loud, so I tried the volume ring. It didn't seem to work—until I discovered that the circular fingertip motion has to be fairly fast.
The Harman Kardon AVR 1700 is a mixed bag. On the positive side, its Apple and network audio functionality is comprehensive if you include the optional Bluetooth adapter, and the Harman Media Manager app is a unique plus. When used strictly as a two-channel amp, the receiver had its moments of beauty. But it also has troubling weaknesses: Its room correction works poorly, at least in my room, and the only way to get around it is with a full system reset, which wipes out all your settings. The lack of a pure audio mode that bypasses the room correction only exacerbates the problem. Also frustrating is the remote's inability to switch surround modes on the fly unless you're willing to obliterate whatever you're watching with the onscreen interface. Uncluttering the receiver is a worthy goal, but Harman seems to have thrown out the baby with the bath water.
This receiver might appeal to someone who likes a smooth sound, has a good-sounding room in need of no correction, and is happily wed to Apple devices (or even a Windows PC) for music playback and control. It would not be ideal for a tweaky AVR veteran who wants to connect a rack of legacy gear and do a lot of A/Bing, but then, that's not the target audience here. Still, even for the less tech-saavy customer this piece seems to be aimed at, perhaps Harman Kardon needs to rethink the rethink.