Harman Kardon AVR 1700 A/V Receiver
Price
: $499
At A Glance:
Switch-mode power supply • Full Apple functionality • Unique Media Manager app
If you don't enjoy paradox, life is no more fun than a sack of dirt. Here's a long-running paradox in the home theater sphere: Some folks are turned off by audio/video receivers because they are so complex and loaded with features. So how do the people who design AVRs make them more appealing? Add more features!
With the AVR 1700, Harman Kardon is rethinking the budget AVR, and that means stepping away from the paradox. Yes, Harman is adding features, but it's also subtracting them to arrive at a new balance. In come AirPlay wireless connectivity and iOS-friendly USB connectivity. Out go legacy video and audio inputs and certain other features. Is the result something for which you'd pay a thousand dollars? No way. But what about half that amount? I can visualize some of you paying closer attention.
Five or Seven?
The AVR 1700 is one of eight receivers—evenly divided between models with five or seven amp channels—at prices ranging from $299 for the AVR 700 to $1,000 for the AVR 3700. Just to indicate what Harman Kardon is capable of, the top-line model has 7.2 channels, including provision for two subwoofers, Wi-Fi networking, 4K video passthrough, and many more connectivity options than the more basic model under review.
For this $499 receiver, HK economizes. It has five, not seven, amp channels, so you won't be able to use back-surround or front-height channels. As someone who maintains a 5.1-channel reference system and regards 5.1 as the bedrock standard in surround sound, I don't have a problem with this. A switch-mode power supply further reduces weight and power consumption. I couldn't help noticing this when I uncrated the receiver: It weighs less than 13 pounds.
HK ladles out strategically chosen new features with a generous hand. Having AirPlay in a $499 model is gratifying. If you're more of a Bluetooth type, adding the BTA 10 adapter ($59) won't stress your budget. Its analog outputs will interface with any receiver, including this one. There are both iOS and Android control apps plus an exclusive Harman Media Manager app. Plug the receiver's Ethernet connection into an Internet-connected router, and you can access media out of a connected PC via DLNA (which is built into HMM) or access Internet radio stations via vTuner.
You don't get most of these goodies in the step-down AVR 700 ($299). The AVR 1700 also has higher rated power, at 100 watts into either 6 or 8 ohms with two channels driven versus 75 for the bottom model. See our measurements for an independent perspective on the power ratings.
In a distinctive touch, HK offers the Harman Media Manager as a free download. It extends DLNA to computers running Mac OS or Windows XP and up, adding additional features. It edits your music library to update content identification, fills in missing cover art, and pushes music from PC to receiver. Normally, DLNA only allows you to operate the receiver/PC link at the receiver end. With HMM, you can do it either way.
The front panel continues Harman Kardon's distinctive bisected design, but now the bottom half is black, versus the previous gray. A skinny strip of buttons between the two halves includes surround mode and input select buttons. Since these buttons are (surprisingly) omitted from the remote, the only ways to change surround modes are via front panel or onscreen menu. That makes the front-panel buttons more important, so it's unfortunate that they and their almost invisible legends aren't easier to find. The volume control is flush mounted and encircled by a bright LED ring. If the ring seems distractingly bright, a remote button turns it off and dims the display. Another punch on the same button turns off the display as well, leaving only the power indicator lit.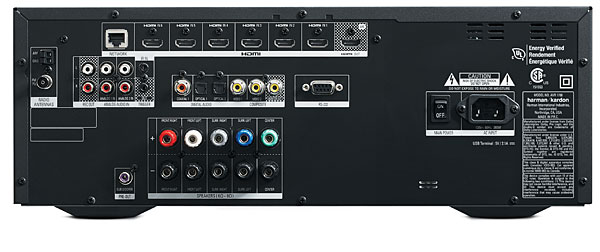 The back panel is stripped down even by budget receiver standards. There are six HDMI inputs (a reasonable number) and one output. In the absence of component video ins or outs, there is no way to connect a second HD display or a pre-HDMI HD source component. S-video is also omitted, as on most receivers nowadays. For legacy analog A/V sources, there are two composite video ins and one out. Digital audio inputs include two optical and one coaxial. Not surprisingly at this price, full sets of multichannel analog ins and outs are omitted, so this receiver isn't a viable option for someone who wants to use it as a preamp/processor with a separate multichannel power amp—or with a pre-HDMI disc player with analog outputs.
There are only three sets of stereo analog inputs, two of which are on the back panel, which may be at least one too few if you're connecting, say, an old set-top box, a phono preamp, and Harman's Bluetooth adapter. There's plenty of unused real estate on this back panel; Harman might have done well to add at least a couple more stereo analog ins. Perhaps the designers wanted to strip things down to make a statement about simplicity. A statement like: Don't freak out. You have to connect only a few things.
Associated equipment included five Paradigm Reference Studio 20 v.4 speakers, Oppo BDP-83SE universal disc player, Micro Seiki BL-51 turntable, Shure M97xE cartridge, and Onix OA 21s integrated amp serving as phono preamp. All A/V demos were on Blu-ray Disc with DTS-HD Master Audio soundtracks except for the first movie demo, which had a Dolby TrueHD soundtrack.
To set up EzSet/EQ, Harman Kardon's auto setup and room correction system, I plugged the setup microphone's minijack into an adapter to fit the quarter-inch jack on the front panel. EzSet appeared onscreen to be rounding off speaker distances to the nearest foot, though I'm told the inner workings are more precise. The onscreen display listed my speaker distances as 2 feet more than they actually were, so I adjusted them manually. It correctly detected my front left/right and surround left/right speakers as Large, though it mysteriously set a crossover of 200 hertz for the identical front center speaker, a setting more suitable for a speaker with virtually no bass response. The point was moot, since I changed them all to Small with an 80-Hz crossover, per my standard procedure.
Get Ready, Get EzSet
Stripped of its EzSet/EQ, this receiver continued in the Harman Kardon tradition with a polite top end; a big, smooth, crowd-pleasing midrange; and adequate bass. With EzSet/EQ operating, the polite top end became a little more reticent, though still listenable, and the bottom end put on a thick layer of flab (not that I should talk). In movie after movie, I found low-frequency effects somewhere between prominent and exaggerated. This came as a surprise: Most room correction programs tighten up my room's standing-wave-induced bass bloat, but this one seemed to accentuate it.
I watched more than my usual quota of movies with this receiver, and every one called my attention to the bass boost. It wasn't always unpleasant: In the Nicolas Cage vehicle Stolen—what is a Mark Fleischmann review without a Nicolas Cage reference?—the big, bassy sound made pounding action-movie drums exciting. Toppy effects like squealing tires in a car chase were comfy thanks to the receiver's restraint in the upper midrange, though the top end wasn't so rolled off that it ignored the sweet brass in Mark Isham's James Bond–like score. In the Creedence Clearwater Revival track that rolled over the end credits, it became obvious that the bass guitar was too loud.