Guardians of the Galaxy Volume 3
Guardians of the Galaxy Volume 3 finds our beloved band of misfits set on repairing the extreme damage done by Thanos during his run-in with The Avengers. But it isn't long before the Guardians' attempt to return to normal is upended by a brutal attack from a new enemy who has a direct connection to Rocket's turbulent past and will use any means to fulfill his quest.
Set to the backdrop of Awesome Mixtape #3, this volume is the final installment in the trilogy. Written and directed by James Gunn, this film like its predecessors is a perfect blend of tongue-in-cheek humor, action, well-shaped characters and inventive energy. This one adds a palpable level of emotion that underscores the narrative, while staying true to the arc across all three movies.
The video was rendered from 8K/6K sources, finished on a 4K digital intermediate, and marks the first Ultra HD Blu-ray release from Marvel that incorporates shifting aspect ratios to accommodate the IMAX scenes. This film is in-your-face colorful, relying on stylized visuals that employ stark contrast, varying chromatic elements and lots of CGI. The increase in detail and chromatic highlights are noteworthy, featuring rich primaries and gradational whites and gray tones. There is some innate softening due to the extensive CGI, but it's rarely depreciating.
High dynamic range plays a central role, as specular highlights appear vibrant, while mixed light/dark elements reveal appreciable dimension in blacks and shadows, giving the image lots of depth. Across the board, I found that it benefitted from the increase in resolution, emboldened color and high dynamic range treatment, for a visually compelling result.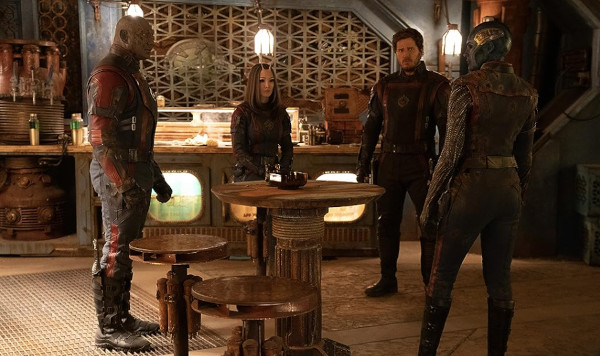 The Dolby Atmos mix makes effective use of the platform, offering rich sonic clarity and precise dialogue reproduction. The representation of subtle background sounds, off-camera cues and spatial dimension within the acoustic environment is excellent. The low-frequency effects channel is active as the subwoofer works in tandem with the rest of the system to convey the bass and impact associated with the action sequences. I enjoyed the track's balance of atmosphere/discrete object placement. Each complemented the source material and made for an entertaining listening experience.
Bonus content includes two production featurettes with insights from the cast/crew, deleted scenes, a gag reel and another terrific audio commentary from Mr. Gunn, a tradition for his films on disc. An HD feature film on Blu-ray and a Movies Anywhere digital code complete the set. Guardians of the Galaxy Vol. 3 is a befitting albeit bittersweet sendoff.
ULTRA HD 4K BLU-RAY
STUDIO: Walt Disney, 2023
ASPECT RATIO: 190:1/2.39:1
HDR FORMAT: HDR10
AUDIO FORMAT: Dolby Atmos with TrueHD 7.1 core
LENGTH: 149 mins., PG-13
DIRECTOR: James Gunn
STARRING:Chris Pratt, Zoe Saldana, Dave Bautista, Karen Gillian, Pom Klementieff, Vin Diesel, Bradley Cooper, Will Poulter