The Godfather Trilogy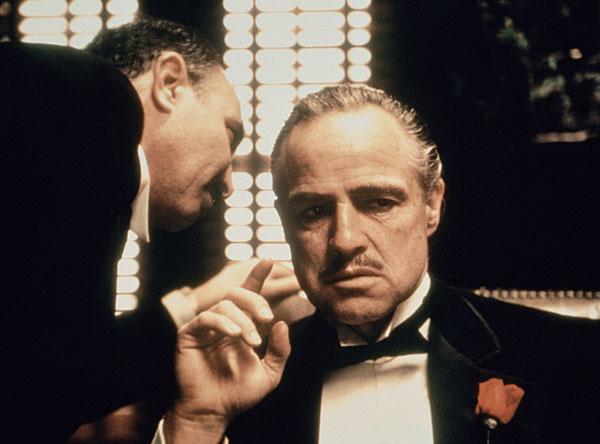 The Godfather still kills. At a recent theatrical re-release marking the 50th anniversary of the first film in the series adapted from Mario Puzo's bestseller, I witnessed the audience hanging on every emotional nuance set forth by director Francis Ford Coppola. Once the highest-grossing film of all time, this operatic tale of the Corleone crime family boasts bigger-than-life characters doing despicable things, spouting irresistible dialogue, and backing it up with copious violence. Part II is both prequel and sequel, with characters new and old seen through a fresh lens in another grand story: the "origin" of Don Vito Corleone, interwoven with son Michael's attempted business expansion into pre-Castro Cuba. Part III was reimagined and recut as Mario Puzo's The Godfather, Coda: The Death of Michael Corleone in 2020. While improved over past versions, it's by far the weakest of the lot, an outlier and a vain attempt to recapture past glory.
Watching the trilogy anew in this exclusive (for now) boxed set reminds us of Coppola's consummate filmmaking craft via the keen placement of actors throughout shots and clever use of sound. It's all undergone yet another painstaking restoration, with several thousand hours dedicated to physically repairing the negative and correcting color. The original mono tracks for The Godfather and Part II have been restored as well and are presented in Dolby Digital 2.0. I don't necessarily recommend this as an alternative to the 2008 Dolby TrueHD 5.1 audio (supplied again here), but it's a worthwhile journey back to the early '70s for fans, with some subtle differences.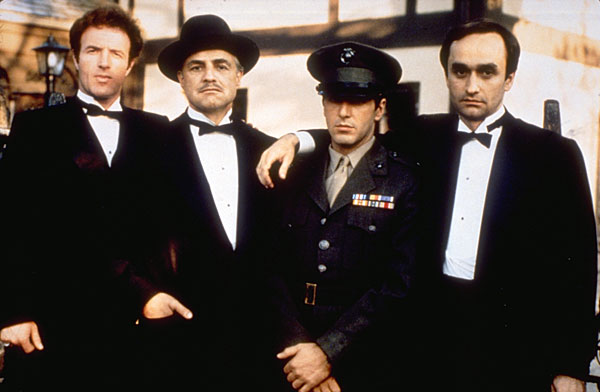 Gordon Willis, a Cinematographer who is unafraid to bathe his scenes in gooey shadows, is perhaps the greatest beneficiary of the Trilogy's transition to 4K and Dolby Vision HDR. The higher resolution draws out details in the costumes, sets, and locations, making them sing as never before: a ketchup bottle on a table, characters milling in the background, even the anachronistic World Trade Center lurking in the distance. Color is smartly utilized to evoke specific moods, particularly a nostalgic golden pall cast over the flashback sequences in Part II. Vibrant, celebratory hues can be seen in the wedding sequence that opens the saga before family business kicks in and things shift to somber tones. Sicily looks lovely, awash in blinding sunlight but with fine details discernible in every scene. The more recent Part III displays quite a bit of film grain plus a similar penchant for darkness and a frequent golden-brown appearance, although not so much as its predecessors. The Feast of San Gennaro sequence, meanwhile, treats us to a sudden explosion of color. In short, all three movies have a distinctly refreshed look that's stylized yet natural and different from any previous home version. But it's all wonderfully authentic to the source, thanks in large part to the new levels of gradation seen in the omnipresent blacks.
The Godfather and Part II's 5.1 soundtracks remain a fine update to the original mono, with thoughtful surround usage. The oh-so-quotable dialogue is always clear and the score is given a respectful balance within the mix. Action is typically contained to brief episodes of gunfire, or that infamous car bomb. The reduxed Part III more aggressively embraces the modern sonic toolkit, and the Atlantic City helicopter attack is about as close as we come to a demo scene.
Tucked away among the myriad audio options for Godfather and Part II are Coppola's archival commentaries, every minute of them pure bliss for aficionados. Both I and III offer optional on-camera introductions. New featurettes on the included regular Blu-ray bonus disc explore the preservation efforts, with before-and-after comparisons along with on-set home movies and still photos. Now-familiar legacy extras reaching back to the DVD release are capped by an extensive array of deleted scenes. A fourth 4K platter is also included with the supplements, carrying the long-unseen 1990 theatrical Part III and the slightly longer 1991 "Final Director's Cut," which effectively replaced it on home video. (So, three versions of III.) On the latter we can find Coppola's third commentary.
Paramount's epic set is the perfect introduction to The Godfather for a new generation, and a magnificent way for us original gangstas to revisit the family.
Ultra HD Blu-ray
Studio: Paramount
Aspect Ratio: 1.85:1
HDR Format: Dolby Vision, HDR10
Audio Format: Dolby TrueHD 5.1
Director: Francis Ford Coppola
Starring: Al Pacino, Marlon Brando, Robert De Niro, Diane Keaton, Talia Shire, Robert Duvall, John Cazale