Glory
Glory
is the 1989 Oscar-winning film (Best Supporting Actor, Denzel Washington) from director Edward Zwick that follows the true story of the 54th Massachusetts Infantry Regiment—the Union Army's second African-American regiment in the American Civil War—led by white Union Colonel Robert Gould Shaw (Matthew Broderick). While Shaw is a real historical figure, the many black soldiers depicted in the film are fictional, including Washington's moving Pvt. Trip, who arguably secured his golden statuette from one heart-rending moment as a tear rolls down his cheek while he receives a disciplinary flogging. Nine years before the visceral
Saving Private Ryan
, Glory also did not shy away from the violence of what was the bloodiest war in American history, and its battle sequences, shot with all the grit and intensity one would expect given the pre-CG effects, puts viewers in the middle of the great, chaotic bloodbaths.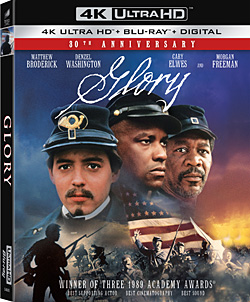 Now 30 years old, Glory was shot on 35mm Eastman 125T 5247 and 400T 5294 film stock. This new Ultra HD release from Sony originates from a 4K master with HDR10 high dynamic range and is framed at 1.85:1. The film's look has always been somewhat gritty and grainy given the slow- to medium-speed stocks and its production, and that stays true here, although the image is fantastically crisp and filmic. Scenes in battlefields have some frames that look a bit softer and drab, but most of Glory really pops. Sunsets feature an array of colors thanks to HDR's wide color gamut, and fires sizzle off the screen.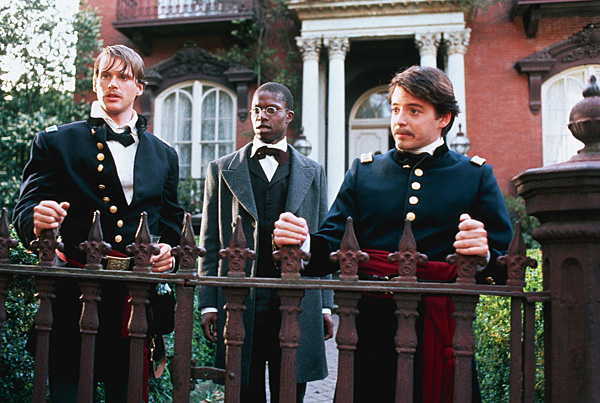 Glory arrives on 4K Ultra HD with a Dolby Atmos mix (compatible with TrueHD 7.1). From the fanfare in the opening scene that fills the overhead channels, we know this is going to be a good one. The booming cannon and gunfire in battle sequences will have you ducking for cover or charging into the call of duty. It's a brilliant mix all around.
Sony produced very few new special features for Glory on Ultra HD Blu-ray. The 4K disc itself has a picture-in-picture video commentary with director Edward Zwick, Mathew Broderick, and Morgan Freeman, plus a theatrical trailer. The included Blu-ray has a director's commentary and a series of recycled SD featurettes and deleted scenes. The most interesting feature is the Virtual Civil War Battlefield Interactive Map, which includes info on specific battles, bios, and clips from Civil War experts. A Movies Anywhere digital code is also included.
ULTRA HD BLU-RAY
STUDIO: Sony, 1989
ASPECT RATIO: 1.85:1
HDR FORMAT: HDR10
AUDIO FORMAT: Dolby Atmos with TrueHD 7.1 core
LENGTH: 122 mins.
DIRECTOR: Edward Zwick
STARRING: Matthew Broderick, Denzel Washington, Cary Elwes, Morgan Freeman, Jihmi Kennedy, Andre Braugher