Gattaca
Gattaca
tells the story of a future where genetically engineered humans are provided all the benefits of an advanced civilization while those that are genetically inferior are relegated to more menial jobs and not afforded the same opportunities as society's elite. Ethan Hawke plays Vincent, an "in-valid" who takes on the identity of one of the genetically elite, Jerome (Jude Law), to realize his dream of becoming a navigator at Gattaca, a prestigious space exploration corporation. The film moves slowly, but with stylish cinematography and excellent performances, it holds up well nearly 25 years after its initial release.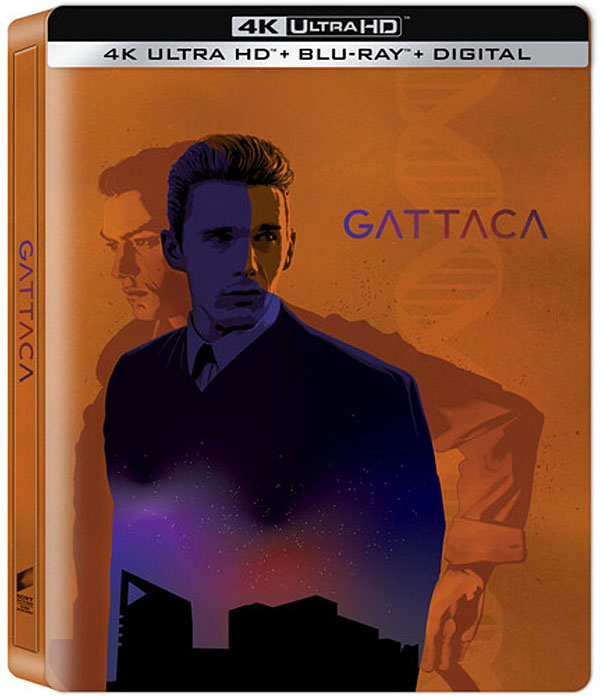 The film was shot in the Super 35 format and is presented here in a 2.39 aspect ratio. With a new 4K master sourced from the original camera negative, Gattaca exhibits a fair amount of grain that looks organic and natural but can also obscure detail. Although many of the scenes are intentionally quite dark, the HDR10 encode delivers excellent highlights, and the blacks always remain gorgeously inky and dark. The color palette is quite stylized with plenty of blue and green lighting and both the locations and actors are often bathed in gold or sepia tones. Except for the aforementioned grain which is most present in backgrounds such as overcast skies or distant buildings, everything on this transfer looks gorgeous. Close-ups of Gore Vidal as Director Josef reveal intricate detail in the tiny lines of his distinguished face. The youthful complexions of Uma Thurman and Ethan Hawke look squeaky-clean in comparison, and the image brings out the detail in their perfectly pressed jet-black business suits and meticulously coiffed hair.
An Atmos remix on the 4K disc offers a marked improvement over the Dolby TrueHD 5.1 soundtrack on the included standard Blu-ray. The surprisingly loud opening credits are more explosive in the Dolby Atmos version, and it better highlights details such as the faint clinking sound accompanying close-ups of falling strands of hair as they land on a metallic surface. Gattaca's sound design is not always very energetic, but the soundtrack does make good use of all channels when required, providing an expansive presentation of echoing footsteps or announcements on a PA system in hallways.
The bundled standard HD disc version of Gattaca appears to the be identical to the 2008 Blu-ray release and features the same extras: two featurettes, a documentary, deleted scenes, and outtakes. While mildly interesting, the picture quality of some extras is very poor. A digital copy code is provided.
ULTRA HD BLU-RAY
STUDIO: Sony, 1997
ASPECT RATIO: 2.39
HDR FORMAT: HDR10
AUDIO FORMAT: Dolby Atmos with Dolby TrueHD 7.1 core LENGTH: 106 mins.
DIRECTOR: Andrew Niccol STARRING: Ethan Hawke, Uma Thurman, Alan Arkin, Jude Law, Loren Deans