First Man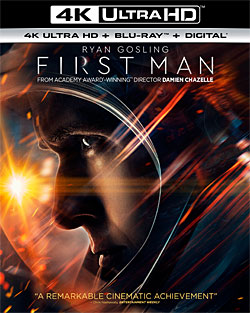 Much as The Right Stuff did 35 years prior, First Man pulls back the curtain to share previously unknown chapters of the frequently idealized, glamorized space program, and to its credit the movie succeeds in educating us. Both flight tests and space exploration are painstakingly recreated with elaborate special effects techniques, and the results come across as truly authentic. This is not a documentary, however, but a biography and historical chronicle, and too often the underlying human drama seems elusive, or altogether lacking. With his locked-down emotions, Armstrong was the perfect candidate for such a high-stress endeavor, but he remains an enigmatic figure as well as a tough sell as the central character in a cinematic epic.
DP Linus Sandgren used film formats ranging from 16mm all the way up to IMAX to achieve a number of different looks and moods. Subtle film grain imparts a subconscious nostalgia to the 1960s-set events, further enhanced by the restrained faux-natural lighting and the warm palette evident in scenes at dawn or dusk. The most dramatic choice is the shift from 2.39:1 to a large-format, 1.78:1 aspect ratio specifically for the climactic sequence on the lunar surface. The 4K-resolution image is worth the step-up from 1080p Blu-ray (also included), as when the tiny speck of a spacecraft moves across the black expanse of space. Presented in Dolby Vision, First Man displays outstanding dynamic range, whether in the bold searchlights that pierce the night or the detail visible in shadowy figures.
The disc's Dolby Atmos soundtrack proves to be a vital storytelling tool from the opening scenes onward. Any rocket-centric opus damned well better bring the bass, and First Man doesn't disappoint, delivering mighty yet precise rumble and boom. Even more impressive: the creaks and thumps enveloping the viewer during flight scenes, a detail that reveals what a noisily nerve-wracking proposition an astronaut's life must be.
A pair of deleted scenes and eight topic-specific featurettes are supplied on the 4K disc. The audio commentary proffers enthusiastic insights from Chazelle, along with comments from screenwriter Josh Singer and film editor Tim Cross.
ULTRA HD BLU-RAY
STUDIO: Universal Studios, 2018
ASPECT RATIO: 2.39:1/1.78:1
HDR FORMAT: Dolby Vision and HDR10
AUDIO FORMAT: Dolby Atmos with TrueHD 7.1 core
LENGTH: 141 mins.
DIRECTOR: Damien Chazelle
STARRING: Ryan Gosling, Claire Foy, Jason Clarke, Kyle Chandler, Corey Stoll, Lukas Haas

With his most recent film, First Man, Oscar-winning director Damien Chazelle has managed to do something remarkable: take one of the greatest achievements in all humankind and render it as cold as space itself. Astronaut Neil Armstrong (Ryan Gosling) sacrifices much and faces incredible challenges on his way to leaving those first-ever footprints on the moon.