The Fifth Element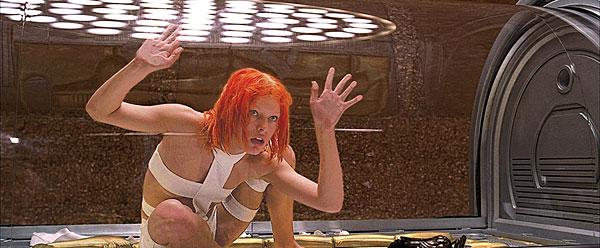 I remember the first time I saw the movie that I was blown away by the video quality but found the story to be a bit over-the-top. As time has gone on, I've come to appreciate it a lot more. The editing is fantastic, and director Luc Besson does a great job at crafting the narrative and getting the most out of his actors, especially Chris Tucker, whose portrayal of Ruby Rhod helped land him a leading role in the Rush Hour franchise.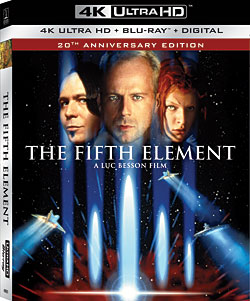 My last viewing of the film was a couple of years ago, on the "Mastered in 4K" Cinema Series Blu-ray release. This looks to be the same 4K master used for that release, but the UHD Blu-ray has the addition of Wide Color Gamut (WCG) and High Dynamic Range (HDR). The film looked fantastic on Blu-ray, and I wasn't sure what the added resolution would do for the picture. Details are a bit finer, and there's more texture in clothing and facial shots, but the 4K treatment also highlights more of the film grain. The WCG and HDR aren't earth shattering, but there are a few scenes where it does come into play, particularly the space scenes.
The Dolby Atmos track is just as impressive as the one found on the 2015 Blu-ray release. There are a few demo-worthy moments that highlight the overhead speakers, especially during the "unveiling" in the first act and during many of the action scenes. The bullets fly throughout the room, and you can hear their impact on the walls and ceilings, giving you that "being there" feeling and experience.
The supplements include 20 featurettes (all on the Blu-ray Disc) and a 10-minute retrospective titled "The Director's Notes: Luc Besson Looks Back" along with the Digital Copy.
There's no middle ground with this classic—you either love it or hate it. I started in the latter category on my first viewing but have changed my opinion. Highly recommended.
Blu-Ray
Studio: Sony, 1997
Aspect Ratio: 2.40:1
Audio Format: Dolby Atmos / True HD 7.1 core
Length: 126 mins.
MPAA Rating: PG-13
Director: Luc Besson
Starring: Bruce Willis, Gary Oldman, Ian Holm
Korben Dallas, a retired space fighter pilot, has been relegated to driving a cab in New York City, and since leaving the military, his life has been on a downward spiral. His luck begins to change when a beautiful girl named Leeloo drops into the back of his cab, and before he knows it, he's stuck in the middle of an intergalactic feud that happens every 5,000 years. It turns out the lovely young lady is the Fifth Element, who when combined with earth, wind, fire, and water becomes the perfect weapon to save the human race from destruction.

SPONSORED VIDEO